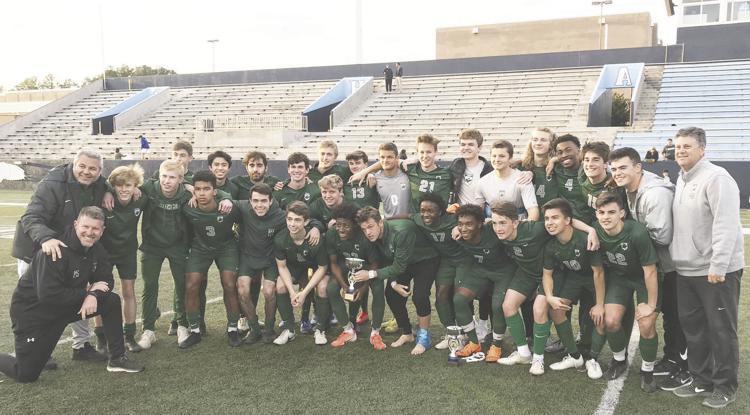 A pair of Midlands teams came away as winners of the 5th annual Capital City Cup Sunday at Chapin High School.
The Gold Division was captured by the second ranked Dutch Fork boys' soccer team. Nearly 24 hours after the boys' basketball team earned its first ever Class 5A Lower State title and state title game appearance this Friday, the school's other "football" team defeated top-ranked Wando in the semifinal and Region 5-5A rival and 6th ranked River Bluff in the final.
Both games were decided by a 2-1 score. This marked the second straight year the Silver Foxes had upended the defending Class 5A champions in the tournament.
Senior Jordan Johnson, who had a goal along with Damon Williams in the finals' win over the Gators, was named tournament Most Valuable Player.
"This gives us confidence," Dutch Fork head coach Jovan Brdarski said. "It was a good game, but it gives us confidence going ahead."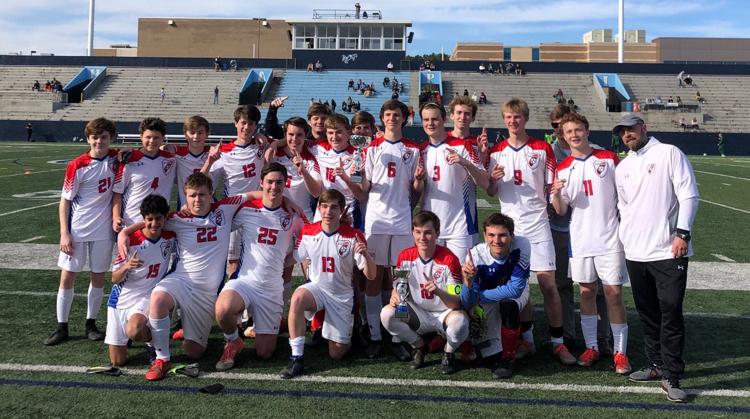 The Silver Division was won by SCISA school Hammond. The Skyhawks outlasted Westside 2-1 (11-10 on penalty kicks) in the semifinal and edged Gray Collegiage 1-0 in the final.
Despite the loss in the final, it was still a productive tournament for the Eagles. Head coach Kevin Heise explained bad weather has limited preseason game opportunities and the five games provided by the Cup were very beneficial in the development of his team.
"We're doing a lot of learning right now," head coach Kevin Heise said. "It's unfortunate because of the weather, we only got one scrimmage and a half in a Jamboree. Generally, we've got four under our belt right now and we kind of know what we can and can't do. Because of the weather this month, we've haven't been able to do any of that and I feel like we're kind of in pre-season, scrimmage mode because we haven't figured out certain roles."
THURSDAY'S RESULTS
Dutch Fork 5, Hartsville 0
Andrew Jackson 2, PAC 1
Ridge View 2, Hammond 2
North Augusta 9, Buford 1
Spring Valley 2, Chapin 0
Dreher 0, Blythewood 0
Gray Collegiate 5, Lugoff-Elgin 2
Irmo 8, Swansea 0
FRIDAY'S RESULTS
Cardinal Newman 6, Hartsville 0
Blythewood 1, Cane Bay 0
Buford 2, Columbia 2
A.C. Flora 2, Chapin 1
Dutch Fork 3, Hampton 0
Hillcrest 5, Ridge View 1
River Bluff 3, Dreher0
Wando 3, Spring Valley 1
Hammond 3, Clinton 1
Gray Collegiate 7, Southside 0
Westside 1, North Augusta 1
Lugoff-Elgin 2, Gilbert 1
SATURDAY'S RESULTS
Westside 7, Columbia 0
Andrew Jackson 9, Swansea 0
Cardinal Newman 4, Wade Hampton
Wando 2, A.C. Flora 0
Wade Hampton 5, Hartsville 1
Wando 1, Chapin 0
Lugoff-Elgin 8, Southside 0
Hillcrest 14, Clinton 0
Dreher 6, Cane Bay
Irmo 4, PAC 1
River Bluff 9, Cane Bay 0
Westside 4, Buford 0
Gilbert 2, Southside 2
SUNDAY'S RESULTS
(Silver Division)
Hammond 2, Westside 1 (11-10 penalty kicks)
Gray Collegiate 3, Andrew Jackson 1
FINAL - Hammond 1, Gray Collegiate 0
(Gold Division)
Dutch Fork 2, Wando 1
River Bluff 1, Cardinal Newman 0
FINAL - Dutch Fork 2, River Bluff 1