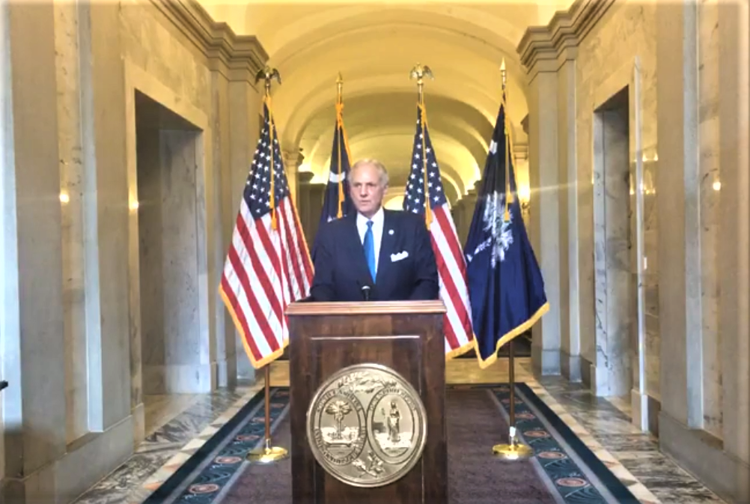 Governor Henry McMaster and other state officials held a press conference Monday at 4 p.m., providing the latest COVID-19 update for South Carolina.
McMaster issued a mandatory "home or work order," that will go into effect Tuesday at 5 p.m. According to the order, all South Carolinians must remain at home or work unless visiting family, exercising, or obtaining essential goods or services. 
Additionally, McMaster is requiring a limited capacity inside essential retail stores that will remain open. "They must limit customers, to have social distancing in stores. That specifically is no more than five customers for every 1,000-sq.ft., or 20% capacity, according to the fire marshall - whichever is less," explained McMaster. 
He mentioned that a violation of these orders is considered a misdemeanor, and will result in 30 days in jail or $100. 
"Why are we doing this now? Why not later or earlier? That is because it is time, according to the data, science, facts, and according to the expert advice and guidance as we have explained before," McMaster said. "Too many people are on the roads, on the waters, and in the stores. We've asked. We've urged. We've suggested." 
State Epidemiologist Dr. Linda Bell reported that as of Tuesday, there are 183 new cases of COVID-19 in South Carolina, bringing the state total up to 2,232. 
"We have seen an accelerated rate of new infections in South Carolina, with an average of 187 per day in the past week. This is an increase from an average of 90 being reported in the week prior," said Bell. 
"Our ability to combat the spread of the disease will depend on the actions that each of us takes," she added. "Please do your part. Stay at home, and limit your contact with others." 
There are currently 5,944 hospital beds available in the state, with a contingency plan to increase the number by 3,000 more beds - if necessary. The bed additions would be in place by May 5.
Additional information can be found at scdhec.gov/covid19.