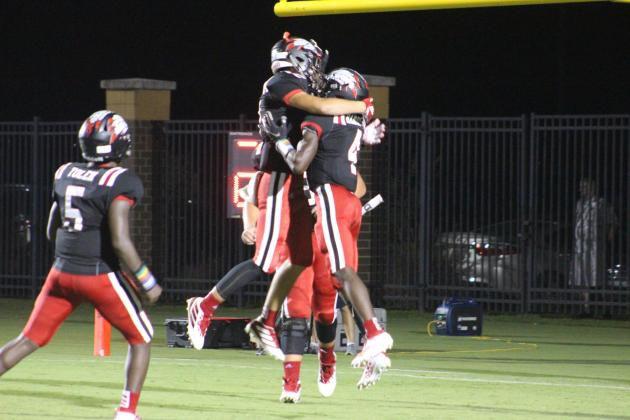 Gilbert and undefeated A.C. Flora make the Top Five of their respective S.C. Prep Media Football poll just two days before region showdowns.
Region 5-3A home showdown with ninth ranked Strom Thurmond.
The Indians (6-1, 1-0) moved two places to fifth place during their bye week. They place host to ninth ranked Strom Thurmond for first place in Region 5-3A.
Meanwhile, Camden dropped to sixth place after suffering its first loss of the season.
The Falcons (7-0, 2-0) are also ranked fifth in Class 4A and travel to Orangeburg-Wilkinson (6-1, 2-0). The two teams and Lower Richland are tied for first place in Region 4-4A.
In Class 5A, top-ranked and three-time defending Class 5A champion Dutch Fork (7-0-1, 2-0), idle eighth ranked River Bluff (6-1, 0-1) and Class 2A ninth ranked Gray Collegiate maintained their place. Lexington (6-1, 1-0) garnered votes in the Class 5A rankings and travel to Dutch Fork this Friday in a clash for first place in Region 5-5A.
Gray Collegiate also stayed at the ninth position in Class 2A. The War Eagles (4-3, 2-0) face Calhoun County Friday in a Region 3-2A showdown.
S.C. PREP FOOTBALL MEDIA POLL
(Class 5A)
1. Dutch Fork
2. Byrnes
3. (tie) Dorman
3. (tie) Fort Dorchester
5. Sumter
6. Clover
7. Carolina Forest
8. River Bluff
9. (tie) T.L. Hanna
9. (tie) Gaffney
Also receiving votes: Lexington, Laurens, Rock Hill
1. Myrtle Beach
2. Daniel
3. South Pointe
4. Wilson
5. AC Flora
6. Eastside
7. North Myrtle Beach
8. Belton Honea Path
9. Wren
10. Greenville
Others receiving votes: Hartsville, Walhall, Travelers Rest, Orangeburg-Wilkinson, Westwood
Class 3A
1. Dillon
2. Chapman
3. Chester
4. May River
5. Gilbert
6. Camden
7. (tie) Aynor & Wade Hampton
9. Strom Thurmond
10. Union County
Class 2A
1. Abbeville
2. Barnwell
3. Southside Christian
4. Oceanside Collegiate
5. Bamberg-Ehrhardt
6. Timberland
7. Saluda
8. Andrew Jackson
9. Gray Collegiate
10. Mullins