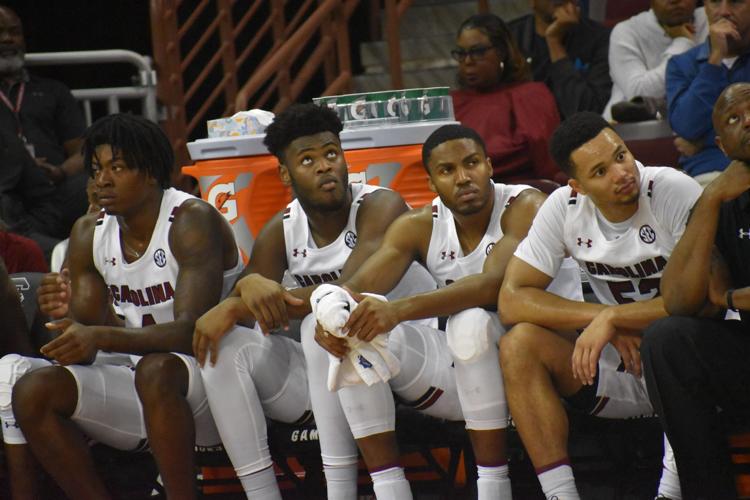 It may feel like a decade ago since the peak of the men's basketball program at the University of South Carolina, when the seventh-seeded Gamecocks made a magical run to the NCAA Men's Final Four in 2017.
Nevertheless, eighth-year head coach Frank Martin and the South Carolina men's basketball team will be back on the court Wednesday, where they will open the regular season against North Alabama at Colonial Life Arena.
 "I've been excited about this team since last year," said Martin.
South Carolina finished with a 17-16 (11-7, Southeastern Conference) record, narrowly missing the NCAA Tournament.
After missing out on March Madness, the Gamecocks lost four key players, but they return six of their top ten scorers.
The outgoing group of seniors heralded by Chris Silva, a 6'9" power forward who averaged 15.2 points per game in his senior season. Silva signed a contract with the Miami Heat of the NBA, starring in his first regular season game as a rookie.
South Carolina's top returning scorer is sophomore guard A.J Lawson, who averaged 13.4 points, 4.3 rebounds, and 2.9 blocks per game last season.
Lawson's court time is expected to further increase this season, especially after it was announced that the team's second-leading returner, sophomore forward Keyshawn Bryant, will be out for the season's first six weeks with a knee injury.
Until Bryant returns, Martin and the Gamecocks will have to find a reliable replacement.
The answer could come in the form of redshirt freshman Jermaine Cousinard, a three-star recruit from East Chicago, Ind.
It remains to be seen if the 6'4", 211-pound guard will settle into a starting role, but Cousinard made waves this summer at the South Carolina Pro-Am, scoring 118 points in three games.
It appears that Cousinard, who has been praised by the likes of former Duke standout R.J Barrett and basketball insider Cary Rich, is already being worked into South Carolina's rotation.
Martin said Bryant and Cousinard play "really, really well" together.
He also named a third player who could be an impact contributor on the perimeter at a press conference Monday: junior Jair Bolden, a transfer guard from George Washington.
 "I spent a great deal of time with Jair Bolden, AJ, and Jermaine at the three perimeter spots," Martin said, referring to the Gamecocks practice Saturday.
Lawson and Bryant were serious scorers in 2018-19, accounting for 30.8 percent of South Carolina's scoring average per game.
They will be accompanied by four familiar faces, including sophomore forwards Justin Minaya (7.4 points per game) and Alanzo Frink (2.7 points per game) along with well as redshirt freshman T.J Moss (6.3 points per game).
Last but not least, forward Maik Kotsar is the team's lone senior. Kotsar isn't a serious scoring threat, with only 6.7 points per game last season.
Nevertheless, Kotsar should play a role in the paint and on defense, which could be especially important without the presence of game-changer Chris Silva. Kotsar is the Gamecocks' second-leading returning in rebounds (4.7) and blocks (0.9), and steals (1.0).
"Maik has had the best preseason that he's had since he's been here," said Martin.
A number of other players should also figure into the rotation, and in South Carolina's first few games, fans will be able to get their first sense of what that might look like.
The Gamecocks added five freshman players, as well as one other transfer: forward Micaiah Henry, a senior graduate transfer from Tennessee Tech.
Getting out of the gate could be crucial for South Carolina this season. The team finished No. 4 in the SEC last season, but a 5-7 start in non-conference play was a big factor for being passed up on Selection Sunday.
The Gamecocks have 13 games scheduled for November and December before the conference slate, highlighted by a home contest against Houston and back-to-back road games at Clemson and Virginia.
The full schedule can be found here.