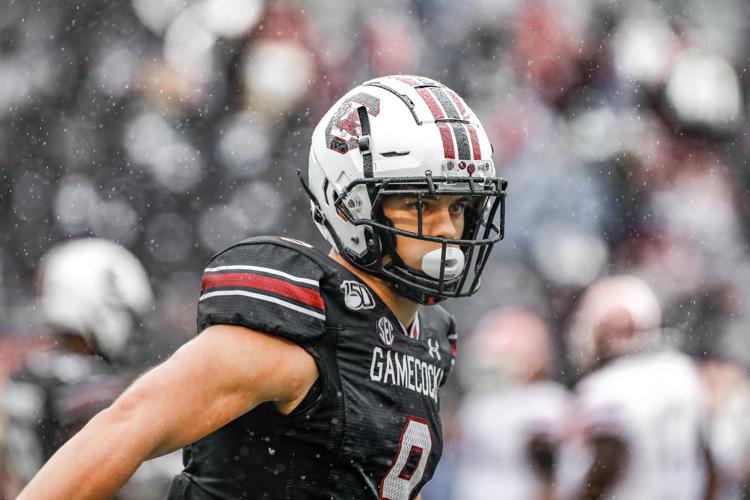 After dropping back-to-back contests against Florida and Tennessee, 3-5 (2-4, Southeastern Conference), South Carolina will need to win three of their four final games to reach six wins and qualify for a postseason bowl game.
"It's time to go to war," said sophomore quarterback Dakereon Joyner. "That's the only statement I can make. It's time to go. We have four games left and we have to win out from here. Our team is very desperate and we know how to win."
South Carolina's first challenger will be the 2-5 (1-3, SEC) Vanderbilt Commodores, a team that is well-rested and coming off of a big upset win against the then No. 22 Missouri Tigers on Oct. 19.
"All in all, they're a team with grit," said sophomore tight end Nick Muse. "They haven't had the season that they wanted, just like we haven't had the season we wanted," he said.
South Carolina has a lot of issues, and there's little room for error to reach six wins. The Gamecocks have struggled with completing passes defending opposing quarterbacks. The defense is ranked No. 108 overall in passing yards allowed per game, giving up 351 total yards to Tennessee's attack, which is led by quarterback Jarrett Guarantano.
The junior only averaged 70.5 passing yards per game against SEC opponents before last Saturday.
The passing offense has struggled at times behind new freshman starter Ryan Hilinski, who has 1,517 yards, eight touchdowns, and three interceptions. Hilinski has shown potential as a true freshman, but he's been asked to do a lot behind an offensive line that has experienced insatiability.
South Carolina has completed 58.25 percent of passes, ranking No. 90 in the nation. When they are, those passes aren't gaining enough yards. The Gamecocks are No. 122 in the nation in passing yards per completion, averaging 10.10 yards. Comparatively, Vanderbilt's numbers haven't been great. The Commodores allow 253.4 passing yards per game, checking in at No. 101. The Commodores are No. 92 in passing yards per game, averaging 207.7.
Vanderbilt takes advantage of cover zero and cover one defense, an aggressive scheme in which every player lines up in man-to-man coverage except for the safety. "They're very disciplined in what they do and their techniques," said South Carolina head coach Will Muschamp.
The Commodores' defense allows an enormous average of 455.6, but they were stout against Missouri, holding quarterback Kelly Bryant to 140 passing yards while only allowing 293 total yards.
Another strength for Vanderbilt is redshirt senior running back Ke'Shawn Vaughn, who has 703 yards, the No. 4 most in the SEC this season. They are also an excellent team on third down defense, only allowing a 33 percent conversion rate.
South Carolina will once again need to establish a running game, which was the team's strength in conference victories against Georgia and Kentucky.
Tavien Feaster (572 yards, two touchdowns) and Mon Denson (229 yards, three touchdowns) will attempt to reestablish a rushing attack that struggled without senior Rico Dowdle, who suffered an ankle injury. Dowdle is listed as inactive for this weekend.
They struggled establishing an attack last weekend in Knoxville without senior Rico Dowdle, and he'll be out once again. Playing at home against Vanderbilt, who is ranked No. 108 in rushing yards allowed per game, could be a great opportunity to re-establish the attack.
Vanderbilt lags behind the rest of the nation in many significant statistical categories, but the Commodores are well-rested and confident after a big upset. The Gamecocks will need to channel the strengths they utilized against Georgia and Kentucky to pick up their third conference win: running the ball well and playing excellent defense.
Hilinski has shown that his arm can be a weapon, and if the freshman improves his accuracy this weekend, it could provide a huge difference.