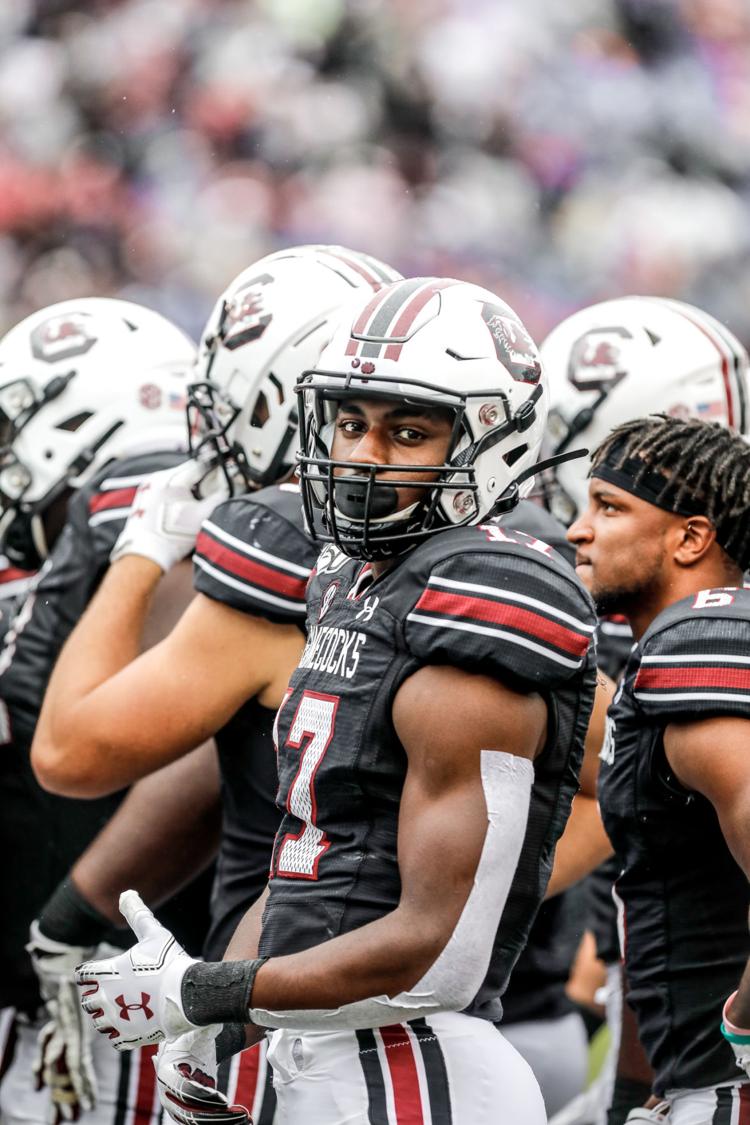 After back-to-back victories over Kentucky and Georgia that changed the course of their season, fourth-year head coach Will Muschamp and his South Carolina Gamecocks were shackled by No. 9 Florida in a 38-27 loss during a rainy afternoon at Williams-Brice Stadium Saturday.
South Carolina may have lost the game to Florida, but it was also defeated by poor play-calling from Southeastern Conference officials, as two no-calls on apparent penalties during two Florida touchdowns in the second half led to 14 points.
After the heartbreaking loss, the 3-4 (2-3, Southeastern Conference) Gamecocks aim to continue their progression against the 2-5 (1-3) Tennessee Volunteers, who they will face at 4 p.m. Saturday. The game will be nationally broadcasted on the SEC Network.
Muschamp, who has a 7-0 overall record against Tennessee, aims to maintain perfection against the Gamecocks division rival, but he's preparing for the contest just like any other.
"Every week's a season," Muschamp said. "There's a new season this week." For South Carolina and Tennessee, the stakes will be high as both aim to chalk up another win in their fight for bowl eligibility.
The Gamecocks have an easier path than the Vols to reaching six wins, as South Carolina would only need two more victories if they were to win this weekend. Tennessee, on the other hand, would need to win four out of their five remaining contests.
The Vols, who are a four-point underdog, could shake things up with a win, though: it would heavily increase the odds of qualifying for a bowl game and give much-needed life into the program in head coach Jeremy Pruitt's second season in Knoxville.
When South Carolina is on offense, expect the Gamecocks to attempt to immediately establish a running attack. Tavien Feaster (492 yards, four touchdowns) and Mon Denson (217 yards, two touchdowns) will be asked to continue to carry the load for a rushing offense that is ranked 36th nationally in average yards per game, with 196.6 yards.
The Gamecocks have averaged 179.5 yards per game in their past two games against top ten opponents with loaded defenses. Georgia's rushing defense is 5th nationally, giving up 85.7 per game, and Florida's defense is fourth overall in the SEC, giving up 124.1 yards per game.
The Volunteers rank 11th in the SEC for rushing yards allowed, giving up 156.9 average yards per game. Here, South Carolina has the clear advantage. Now, they just need to execute.
If the Gamecocks run the ball well and play excellent defense, it may not be necessary, but it wouldn't hurt South Carolina if freshman quarterback Ryan Hillinksi improves from last weekend's performance against Florida, where he only competed 48.6 percent of his passes.
Hillinksi has been serviceable and safe as South Carolina's new leader, but last weekend's game was played in heavy rain, and he has experienced elbow tendinitis and some knee issues this season.
While the freshman has had some growing pains this season, good news was delivered from South Carolina's camp earlier this week. "I thought he looked the best he's looked at a Tuesday practice since the injury," Muschamp said. "Sharp throwing the football."
While the Gamecocks could potentially exploit Tennessee's rushing defense, Hillinski will be challenged by the Vols secondary.
Allowing 203.9 yards per game, the Vols passing defense is eighth overall in the SEC. Their performance last weekend against No. 1 Alabama wasn't bad, allowing 233 yards.
Comparatively, South Carolina's passing defense allowed 495 yards against the Crimson Tide, and is currently ranked 90th nationally.
Tennessee's defense has forced 10 interceptions, led by defensive back Nigel Warrior, who has three. When the Vols offense takes the field, they will have two quarterbacks suiting up: junior Jarrett Guarantano and freshman J.T Shrout.
Freshman Brian Mauer, who has started at quarterback the last two games, was ruled as "probably doubtful," for Saturday. Guarantano, who started 22 consecutive games before being replaced, has competed 53.3% of his passes for 70.5 overall yards per game against SEC competition.
The other option is freshman J.T Shrout. 90 percent of his game action was against FCS Chattanooga, where he completed three of 10 passes for 23 yards. The California native threw 25 interceptions during his senior season of high school.
The Vols passing attack is ranked 101st overall, but an opportunity could be presented if South Carolina's passing defense doesn't play well. The Gamecocks rushing defense appears to have an advantage at the line of scrimmage, though. South Carolina is 55th overall in rushing yards allowed per game, and Tennessee's rushing attack, led by junior Ty Chandler (406 yards, two touchdowns) is ranked 92nd in the nation.
Last but not least, taking advantage of turnovers will be a major factor in the game. Both division rivals have gained 13 interceptions and fumbles each, but the Gamecocks have a much better turnover margin than Tennessee.
South Carolina has a statistical advantage over Tennessee in most categories, and they will need to establish a running game, play excellent defense, and make less mistakes to win.
The Vols should benefit from an improving defense and a raucous home-field advantage at Neyland Stadium, but will need their rushing and passing offense to improve while forcing turnovers and limiting mistakes.