The South Carolina Gamecocks women's basketball team finished the regular season as the nation's consensus No. 1 team, earning 26 of 32 first-place votes in the final Associated Press women's basketball poll released Tuesday.
The Gamecocks finished No. 1 for the tenth week straight.
South Carolina defeated No. 9 Mississippi State 76-62 in the SEC Tournament Championship on March 8, securing their status as the SEC's No. 1 team in the regular season and postseason.
The Gamecocks were riding a 26-game winning streak with a 13-0 record against nationally ranked opponents and were expecting to be named the No. 1 overall seed in the NCAA Tournament.
But after the NCAA announced the cancellation of both the men's and women's tournaments on March 12 in response to concerns about COVID-19, South Carolina was left with no options.
Nevertheless, South Carolina's 2019-20 campaign will forever go down in history, as the Gamecocks finished with 32-regular season wins and a .969 winning percentage, both which became new school records.
South Carolina was among the nation's leaders in essential team statistical measures instrumental to controlling and winning basketball games, including field goal shooting, rebounds, blocks, and assists.
Head coach Dawn Staley's team was comprised of 61 percent underclassmen, including five freshmen and three sophomores.
The talented freshmen were taken under the wings of two seniors, point guard Tyasha Harris and forward Mikiah Herbert Harrigan.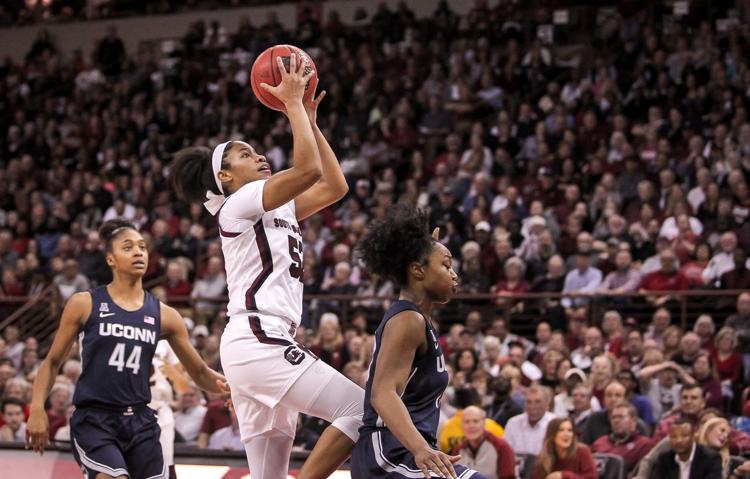 From 2017-2020, South Carolina won 84 percent of their games, with an 11-2 overall record in the NCAA Tournament. The Gamecocks dominated SEC opponents, winning two regular season titles, and three tournament titles.
Despite the cancellation, the dynamic duo finished their last game on top, winning the SEC tournament championship at Greenville's Bon Secours Arena for their unexpected finale.
The pair's veteran experience was complemented by freshman class that was ranked No. 1 in the nation. The 'fab five' group was crucial to the Gamecocks' success, but no rookie player provided the impact that forward Aliyah Boston did.
In a statement rookie season, the 6'5" forward accounted for 86 blocked shots, equaling 30.3 percent of South Carolina's total. The Gamecocks were No. 1 in the NCAA with 284 blocks.
Boston was No. 1 in the SEC for field goal percentage and earned 310 total rebounds.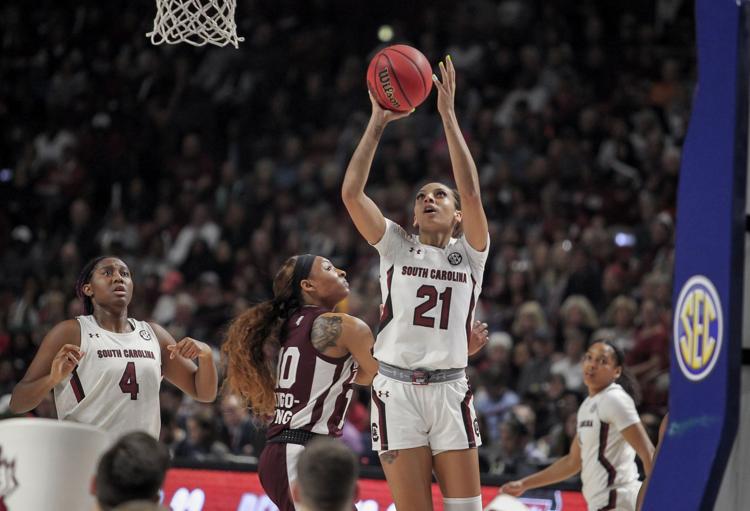 She also recorded a triple-double, a feat only accomplished by 22 Division 1 women's players in the 2019-20 season.
Boston was the second player in program history to receive All-American honors during her rookie season.
Josh Staley, who is Dawn's first cousin, said that he was shocked after the announcement of the tournament's cancellation. Frustrated and emotionally charged, he even suggested that tournament games be played in front of no audience or rescheduled to a later date.
"I just wanted to hang on to a little bit of hope," he said.
They've always been familiar with each other, but the Staleys' relationship has grown tremendously since Dawn arrived in Columbia in 2008, leaving her first head coaching position at Temple to take on the same role with the Gamecocks.
Fast forward 12 years, and Dawn has become Columbia's newest rockstar.
After she won her first championship in 2017, the city government designated an official holiday in her name, and UofSC renamed the portion of Lincoln St. in front of Colonial Life Arena "Dawn Staley Way" in her honor.
Even then, Dawn still isn't the only Staley running a basketball program in town.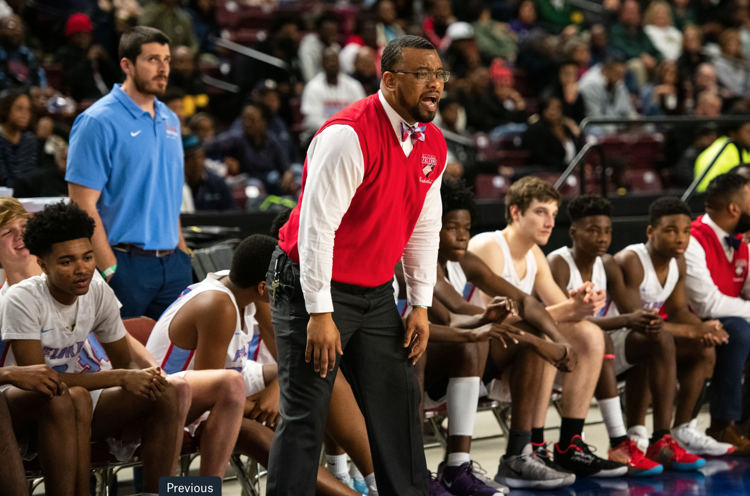 Josh is the head men's basketball coach at A.C Flora High School, located three miles northeast of downtown in Forest Acres. In six seasons, he's built a reputable program, winning two state championships.
Dawn and Josh talk regularly, with basketball typically the main item on the menu.
Josh knows how to run a basketball program, and he sees all of the intangibles of a championship team, including the head coach, assistant coaches and student-athletes.
"I knew Dawn was capable, so I'm not surprised. She is a very stand up woman, and that's what I admire about her," he said.
South Carolina's performance was certainly aided by the Gamecocks pure athleticism,
but a combination of hard work and excellent communication between Staley, her assistants, and the players was what made the team click.
Josh described the relationship he saw between Dawn and point guard Tyasha Harris as a prime example. "Out there on the court, the point guard is an extension of the head coach. I can see that connection between Dawn and Tyasha," he said.
Josh's heart goes out to South Carolina, the hometown team, and Dawn, who shares the bond of coaching basketball. But his natural coaching instincts manifest his deepest regrets, which goes to the Gamecocks seniors.
"There's no control over it. It's completely frustrating," he said.
Other than calling plays, high school and college coaches have a unique number of responsibilities, including mentoring and teaching student-athletes during the ups and downs of their young, developing lives.
"For the seniors, it hurts. It's gut wrenching," he said.
Harris and Herbert Harrigan were freshman on the Gamecocks 2017 national championship team, and had all sights locked in on winning their second career title
in New Orleans.
"They were going to win it all, and they got it snatched from them. I embrace their burden at the highest level," Josh Staley said.
South Carolina captured the hearts of fans in the Midlands the state, while representing the university in a first-class manner.
"What they represent, it means so much to the community," he said.