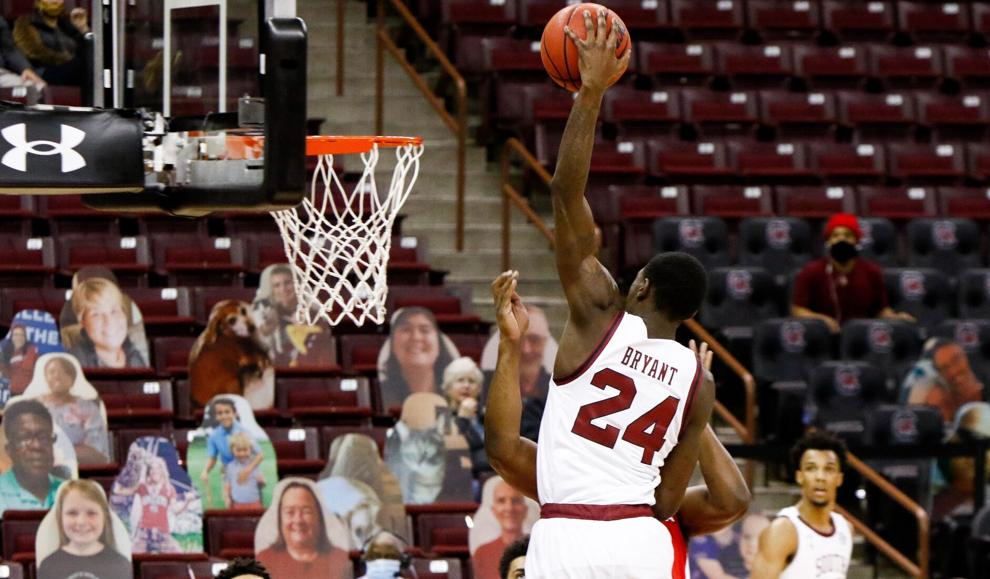 The USC men's basketball team ended its three game losing streak Wednesday night at the CLA with a dominating 83-59 win over Georgia. The Gamecocks had dropped consecutive games to LSU, Missouri and Auburn. In their defense, the Gamecocks were coming off a COVID shutdown and had very little practice time. Plus, they were without big men Alanzo Frink and Jalyn McCreary. Frink was declared out for the rest of the season this week. McCreary played Wednesday night for the first time since Jan. 6. Keyshawn Bryant led the Gamecocks with 19 points and 10 rebounds as the Gamecocks improved to 4-5 overall and 2-3 in the SEC. They can get to .500 on both marks Saturday night with a win at Vanderbilt.
The women racked up two more SEC road wins this week, Sunday at LSU and Thursday night at Mississippi State. The Gamecocks now have a 10-game overall winning streak. They've won 24 straight SEC regular season games matching the school record, and 27 in a row overall. They've won 21 straight road games and 18 straight SEC games on the road. In Thursday night's win over Mississippi State, Zia Cooke led the Gamecocks with 19 points. USC is back at home Sunday afternoon to face Alabama.
USC football coach Shane Beamer had a moment this week when he had his complete staff together. He officially introduced offensive line coach Greg Adkins Wednesday. Later that day, however, running backs coach Des Kitchings left for the Atlanta Falcons. So, Beamer sill has one spot to fill and he hopes to accomplish that this week.
The Gamecocks also learned their SEC schedule for 2021 to go along with the four games that were already set. Here's the complete Gamecock football schedule for 2021:
Sept. 4 EASTERN ILLINOIS
Sept. 11 at East Carolina
Sept. 18 at Georgia
Sept. 25 KENTUCKY
Oct. 2 TROY
Oct. 9 at Tennessee
Oct. 16 VANDERBILT
Oct. 23 at Texas A&M
Oct. 30 OPEN DATE
Nov. 6 FLORIDA
Nov. 13 at Missouri
Nov. 20 AUBURN
Nov. 27 CLEMSON
The Gamecocks suffered a major recruiting setback Thursday with a former commitment, 2022 QB Gunner Stockton of Tiger, GA, committed to Georgia. Stockton is the top ranked dual-threat quarterback nationally in his class. He had committed to the Gamecocks last August but decommitted Jan. 12 after Mike Bobo left for Auburn.
On the positive side of recruiting, the Gamecocks added teammate transfers from Saint Francis, PA this week in QB Jason Brown and WR EJ Jenkins. Both had career seasons in 2019, the last season they were able to play. Saint Francis did not play in the fall and cancelled the spring season. The Gamecocks have 22 of their 25 spots filled for the 2021 class with National Signing Day coming up Wednesday.
The Gamecock baseball team opened pre-season practice Friday. The Gamecocks are ranked as high as 18th in the pre-season polls and are expected to have one of the better pitching staffs in the SEC. Their schedule is not yet complete but they will open the season at home against Dayton on Feb. 19.