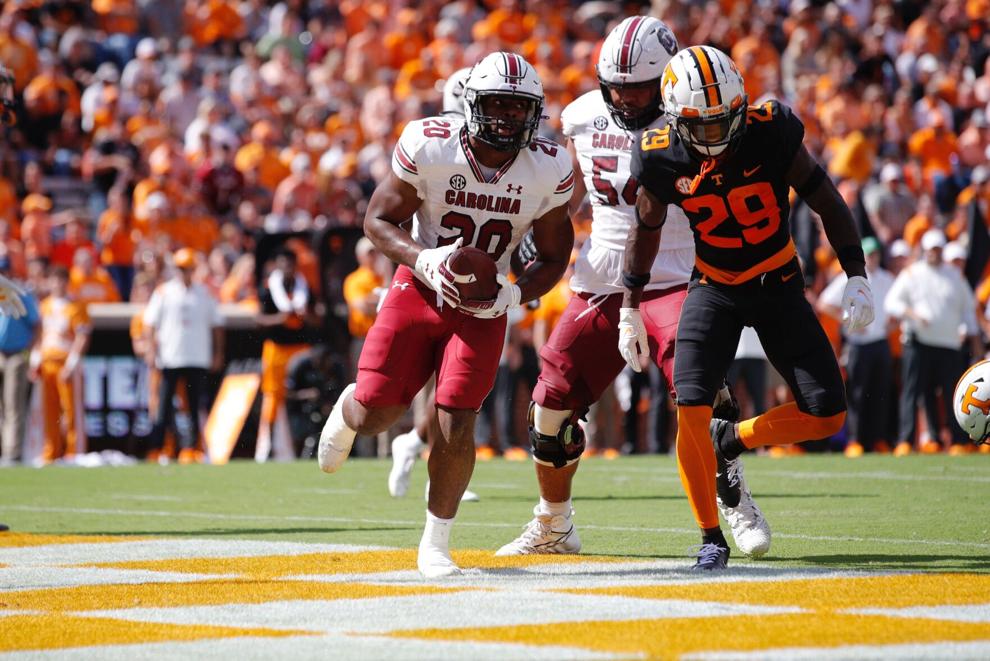 The Gamecocks dropped their third straight SEC of this season Saturday, and ninth straight dating back to last season, falling at Tennessee 45-20. UofSC is 3-3 overall at the halfway point of the season with Vanderbilt coming to Columbia this Saturday for Homecoming.
The Gamecocks fell behind 35-0 to a quickly improving Vols team that improved to 4-2 overall and 2-1 in the SEC. To their credit, they fought back in the second half and actually closed to within 38-20, and had ball possession, early in the fourth quarter. But after turning the ball over on downs at their own 41, the Gamecocks yielded a final touchdown to the Vols for the final 25 point margin.
UofSC managed 370 total yards, and Kevin Harris scored his first two touchdowns of the season after scoring 15 last season. The Vols totaled 472 yards and quarterback Hendon Hooker passed for 225 yards and three scores.
The men's soccer team earned its first conference win of the season Saturday night 2-0 at UAB. Logan Frost scored both goals, the first in the 31st minute and the second in the 52nd minute. Last Sunday, UofSC played to a 2-2 tie with Florida Atlantic. The Gamecocks are 4-6-1 overall and 1-2-1 in Conference USA.
The 19th ranked women's soccer team Thursday night lost for the first time this season in SEC play falling 2-1 at Ole Miss. The Gamecocks are 9-3 overall and 4-1 in league play. The Gamecocks will host 12th ranked Tennessee Sunday afternoon.
The volleyball team dropped a three set match to #22 Tennessee in Columbia 25-22, 25-20 and 25-17 Wednesday. UofSC is 11-5 overall and 3-3 in the SEC and will play Wednesday night at Mississippi State.
The top-ranked women's golf team finished sixth earlier in the week at the Windy City Collegiate in Chicago. The Gamecocks fired a final round of four-over 292, the second best score of the day, to jump up the leaderboard. Fifth-ranked Stanford won the event and finished 29 shots ahead of the Gamecocks. Hannah Darling was the top finishing Gamecock tying for seventh at four-over.
The men's golf team opens play Sunday at the SEC Match Play at Shoal Creek in Birmingham. The Gamecocks will open with Florida Sunday morning, and the winner will play Vanderbilt Sunday afternoon. All 14 SEC teams are in the field and each will play five matches.
The swimming and diving team opened its season Saturday and delivered wins for first year coach Jeff Poppell. Gardner-Webb was the opponent, and the men won 192-75, and the women scored a 222-68 victory. Next up for the Gamecocks will be a trip to Georgia Oct. 23.