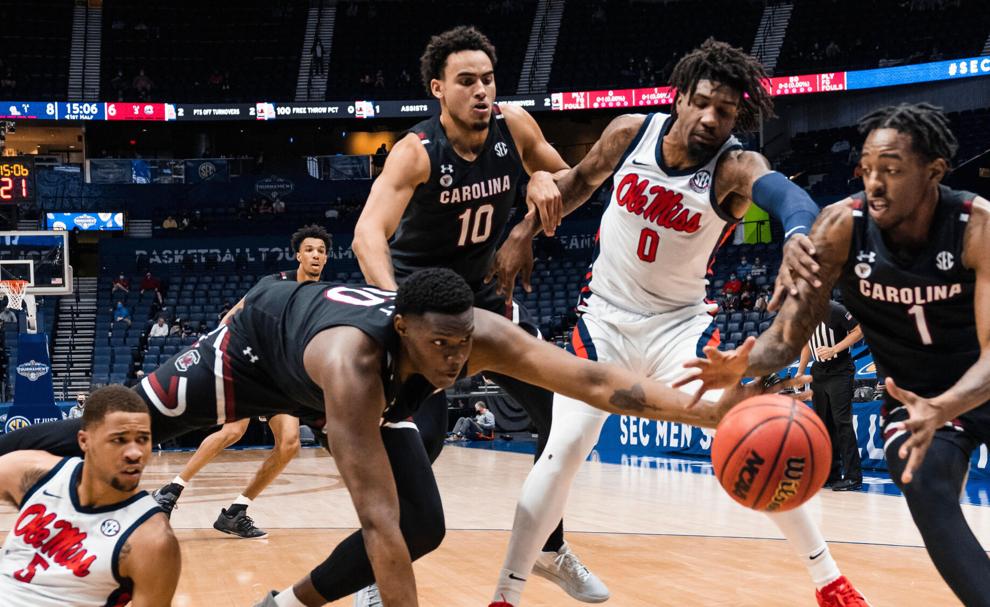 The USC men's basketball season came to an end Thursday night in Nashville in the second round of the SEC Tournament. The Gamecocks lost to Ole Miss 76-59 to end their season with a 6-15 mark, their poorest of nine seasons under Frank Martin. The Gamecocks played shorthanded as Martin sat down Seventh Woods, Jermaine Couisnard and Keyshawn Bryant for what he called physical and mental health issues. An already challenged Gamecock offense could not muster enough without those three, though big men Jalyn McCreary and Wildens Leveque scored career highs of 15 and 14 points respectively. But the Gamecocks shot just 36% for the game and made only 2 of 11 three point shots.
The USC women will certainly be a No. 1 seed for the NCAA Tournament when the field is announced Monday. The Gamecocks swept through the SEC Tournament in Greenville last weekend to win their sixth tournament title in seven years. Aliyah Boston was named the tournament's MVP.
All of Dawn Staley's recruits for the incoming class were named McDonald's All-Americans. And guard Raven Johnson of Atlanta was named the winner of the Naismith High School Trophy by the Atlanta Tip-Off Club. She averaged 15 points, 6 assists, 5 rebounds and 4 steals per game this season.
The Gamecock baseball team has climbed to as high as No. 5 in the national polls. They are 11-0 and winners of 16 in a row dating back to last season after sweeping Mercer last weekend and winning at The Citadel Wednesday night. The Gamecocks will play at weekend series at Texas starting Friday night.
The 20th ranked Gamecock softball team opens SEC play this weekend at home against No. 19 Arkansas. The Gamecocks won two out of three in a tournament at North Carolina last weekend, and defeated Georgia Southern 9-1 in six innings on Wednesday. They are 13-3 overall including 8-1 at home.
The men's golf team returns to action Monday at Auburn University of the Tiger Invitational. The women will play this weekend at the Augusta Invitational.
There will be a new coach for the swimming and diving program. USC announced during the week that McGee Moody, the longest-tenured coach in the program's history, is stepping down after a mutual agreement with the school. "The past year has been hard on everyone … athletes, coaches and administrators. We have poured everything into this past season," said Moody in a statement. "Over the past couple of years, I have not been satisfied with our results at the SEC level. I believe that attempting to pour more of myself into this job will affect my family, my health and those are things I am not ready to sacrifice. Therefore, we believe now is the right time to step away and give someone else the honor to lead the program." Moody directed the men to a 66-60 overall record and a 77-63 mark on the women's side. The men's team won a team-best 10 meets under Moody in 2010-11 while the women claimed a high of nine wins in 2014-15. "I am appreciative of McGee's many contributions to our swimming and diving program," said athletics director Ray Tanner in a release. "McGee's passion and commitment helped drive Gamecock swimming to some of our best NCAA finishes in school history. We wish McGee and his family all the best in his future endeavors."
The 14th ranked men's tennis team plays at 24th ranked Mississippi State Friday and 19th ranked Ole Miss Sunday. The Gamecocks are 8-4 overall and 4-2 in the SEC. The women will host Arkansas Friday and Missouri Sunday. They are 4-9 overall and 1-5 in league matches.