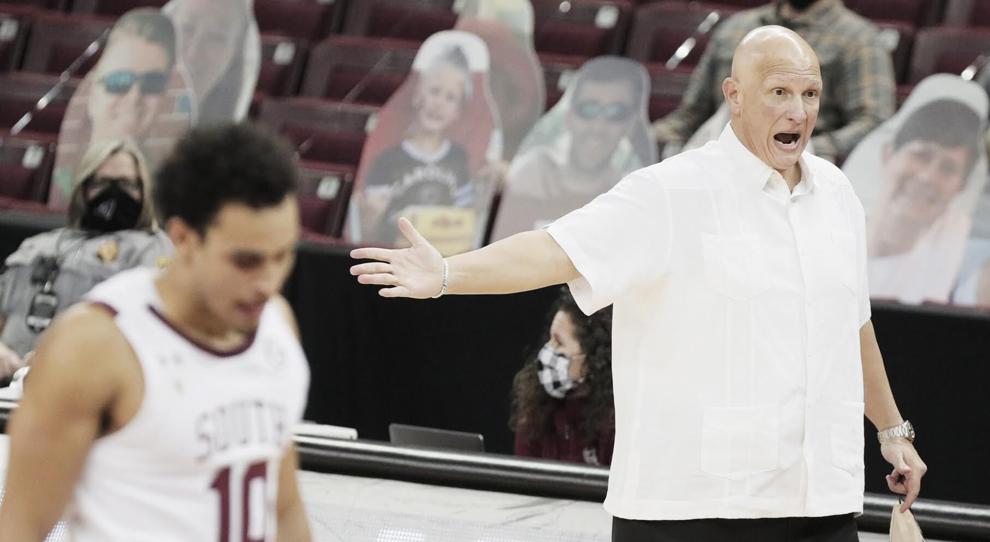 The Gamecocks women's basketball team had an impressive week with road wins at 10th-ranked Kentucky Sunday and at Vanderbilt Thursday night. The Gamecocks rallied from nine points down at the half to win in Lexington. In Nashville, it was no contest as Dawn Staley's team won its 20th straight SEC game 106-43. Victaria Saxton led the Gamecocks with 20 points. They return home to play Arkansas Monday night.
The men were sidelined during the week by COVID-related issues. Frank Martin's team has been one of the hardest-hit teams in the country with the virus, prompting two lengthy shutdowns. The Gamecocks have played just one SEC game and had two more postponed due tot his most recent outbreak. They are scheduled to play at LSU Saturday night but Martin and assistant coach Chuck Martin will not make the trip due to COVID. Assistant coach Bruce Shingler will serve as the acting head coach. Martin is going through the COVID issue for a second time and said Friday this time has been a lot rougher on him.
New football coach Shane Beamer had a busy week bringing in new assistant coaches and players as the new semester began Monday. After losing offensive coordinator Mike Bobo and offensive line coach Will Friend to Auburn, Beamer hired Marcus Satterfield as his offensive coordinator and quarterbacks coach. Satterfield most recently was assistant offensive line coach with the Panthers.
Beamer also hired Justin Stepp away from Arkansas to coach his receivers, Pete Lembo from Memphis as special teams coach, Clayton White from Western Kentucky to be his defensive coordinator and linebackers coach and former Florida secondary coach Torian Gray as his secondary coach.
Beamer also lost his defensive line coach Tracy Rocker to Auburn during the week, so he is still working to hire a new defensive line coach and an offensive line coach to fill out his staff.
Frida the Board of Trustees approved a two year contract for Satterfield at $900,000 per season, and a three year-contract for White making the same amount. The board also approved a three-year contract for Gray that will start at $350,000 and top off at $500,000 in year three.
The Gamecock staff has hit the NCAA Transfer Portal hard since coming on board. This week they added to the roster CB David Spaulding from Georgia Southern, LB Daryl Williams from Delaware, LB Jordan Strachan from Georgia State and WR Ahmarean Brown from Georgia Tech.
The Gamecocks also are close to adding teammates from Saint Francis, PA in QB Jason Brown and WR EJ Jenkins. Both are waiting on admissions to approve their transcripts and they plan to arrive in early March.