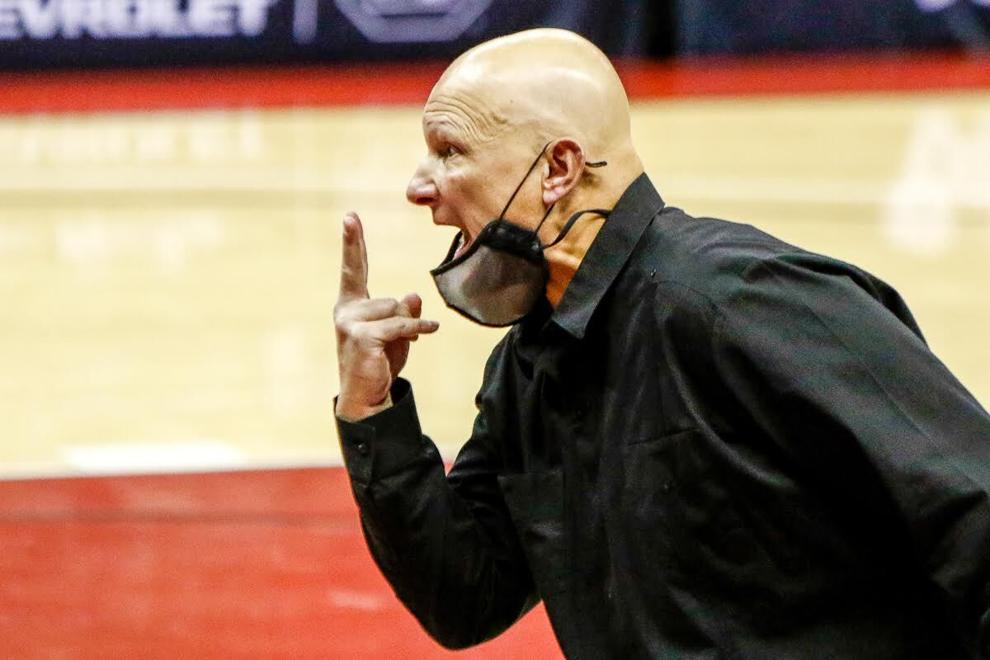 Men's basketball coach Frank Martin met with the media Thursday on a Zoom call and declared himself 100% healthy for the upcoming season. In fact, Martin stated he has never felt better in his life. He had a difficult 2020-21 season twice contracting COVID-19. He lost all of his hair and developed arthritis in his hands. Martin cited his physical and mental state as a primary reason for the team's lackluster season. But with a roster of eight new scholarship players, and with his son transferring in from Upstate as a walk-on, Martin said he is rejuvenated and back coaching his old way. All the players are now on campus with the exception of freshman Taquan Woodley. His school year did not end until late June and he's still going through the NCAA Clearinghouse process. Martin added that when he went out to rebuild his roster for this season, his goal was to improve the team's overall shooting. He believes that was accomplished with what he termed a number of "sharpshooters" in the group.
The volleyball team announced its 2021 fall scheduled this week. The Gamecocks will play 15 matches at the Carolina Volleyball Center. They will open the season Aug. 27 with the Carolina Classic. Washington State, Rice and Pitt will join the Gamecocks for the two-day event. The Clemson match, which was cancelled last season due to COVID, will be played in Columbia Sept. 3. And the SEC schedule will have a new twist this season. The SEC slate begins on Sept. 22 at home with a match against Georgia and the first week wraps up on the road with a match at Texas A&M Sept. 26. The following week shows the first look at the new schedule format for conference play. This fall, the teams will borrow from the 2020-21 schedule look with six series that feature back-to-back match days and six standalone matches. The six opponents the Gamecocks will have a series with this season are Missouri (Road, Sept. 30-Oct. 1), Tennessee (Home, Oct. 8-9), Alabama (Home, Oct. 23-24), Ole Miss (Road, Oct. 29-30), Kentucky (Home, Nov. 4-5) and Florida (Road, Nov. 20-21). Three of South Carolina's six series come against the SEC's national tournament participants from 2020-21, including national champion Kentucky.
The baseball team is preparing for the MLB Draft that begins Sunday. Several current Gamecocks and a number of recruits are likely to be drafted. According to MLB.com, righthanded pitcher Thomas Farr, at #139, is the highest rated Gamecocks among the top 250 players in the draft. RHP Julian Bosnic is #187 and outfielder Brady Allen is #193.
The football team scored two more commitments out of Georgia last week. SAF Emory Floyd (6-1 165) of Powder Springs picked the Gamecocks over Georgia and Florida. And DT Felix Hixon (6-4 280) of Jackson went with the Gamecocks over Wisconsin, Illinois, Georgia Tech and Virginia. Hixon is the 15th new commitment for the Gamecocks' 2022 class which totals 17 at this point with the inclusion of two transfers.
USC 2022 class
TYRESE ROSS SAF 6-2 185 TRANSFER WASHINGTON STATE
KARON PRUNTY CB 6-1 189 TRANSFER KANSAS
GRAYSON MAINS OT 6-5 265 SUWANEE, GA
BRADEN DAVIS QB 6-5 185 MIDDLETOWN, DE
DONOVAN WESTMORELAND LB 6-2 195 GRIFFIN, GA
KAJUAN BANKS CB 5-10 170 TALLAHASSEE
JY'VONTE MCCLENDON SAF 6-2 180 LAKELAND, FL
JAMAAL WHYCE DT 6-4 250 MIAMI
PEYTON WILLIAMS SAF 6-0 180 ROCKLEDGE, TX
CASON HENRY OT 6-6 290 MARIETTA, GA
KYLIC HORTON WR 6-4 180 CLARENDON HALL
ANTHONY ROSE SAF 6-4 180 MIAMI
RYAN BRUBAKER OT 6-6 280 STEVENS, PA
LANDON SAMSON WR 6-1 185 SOUTHLAKE, TX
NICK EMMANWORI SAF 6-4 195 IRMO
EMORY FLOYD SAF 6-1 165 POWDER SPRINGS, GA
FELIX HIXON DT 6-4 280 JACKSON, GA