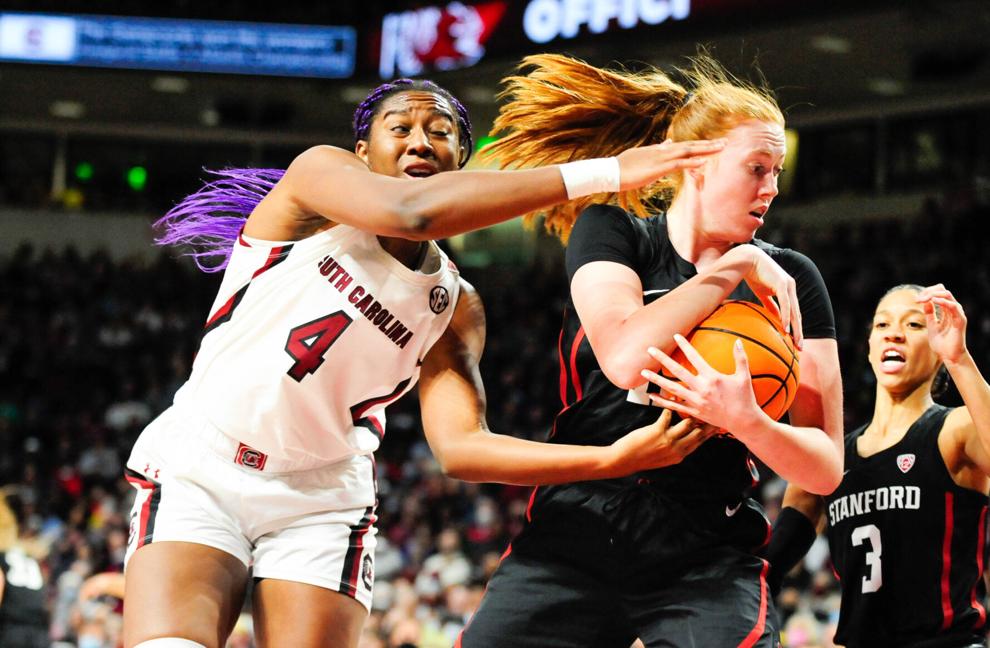 The women's basketball team went into the Christmas break with a bang. The top-ranked Gamecocks rallied from 18 points down Tuesday night to defeat defending national champion and second-ranked Stanford in Columbia 65-61. With that victory, Dawn Staley's team improved to 12-0 on the season with half of their wins coming over teams ranked in the top 20. The 18-point rally to victory was the greatest in the program's history. Destanni Henderson, who had missed the previous three games with an ankle injury, was outstanding with 17 points, seven assists and seven steals. But the Gamecocks were led by Aliyah Boston with 18 points, including the go-ahead basket with 65 seconds to play. Boston also had 11 rebounds for her fifth straight double-double. The Gamecocks will open their SEC schedule Dec. 30 at Missouri. The Tigers are 10-2.
The men also hit the Christmas break on a winning note, a 105-75 victory over Army Wednesday night in Columbia. The Gamecocks scored 61 points in the first half and were never threatened in the second half. Freshman Devin Carter scored a career high 23 points on 8-13 shooting to lead the Gamecocks. Fellow guard Chico Carter Jr. made 7-13 from the floor and finished with 20 points. The Gamecocks are 9-3 and will close out the non-SEC portion of the scheduled at home Dec. 29 against SC State.
The football team has relocated to Charlotte for the final practices leading up the Dukes Mayo Bowl Thursday at Bank of America Stadium. The Gamecocks held their first practice in the Queen City Sunday morning. Earlier in the week, veteran linebacker Sherrod Greene announced he will return for another season in 2022. Greene arrived at UofSC in 2017 but has been beset by injuries much of his career. He suffered a season ending leg injury this season against Georgia in the third game.
The baseball team was 44th in the pre-season ranking released this week by Collegiate Baseball. The Gamecocks are the only team in the state ranked in the top 50 and one of 10 teams from the SEC. The top five ranked teams were Texas, Vanderbilt, LSU, Texas Tech and Stanford.