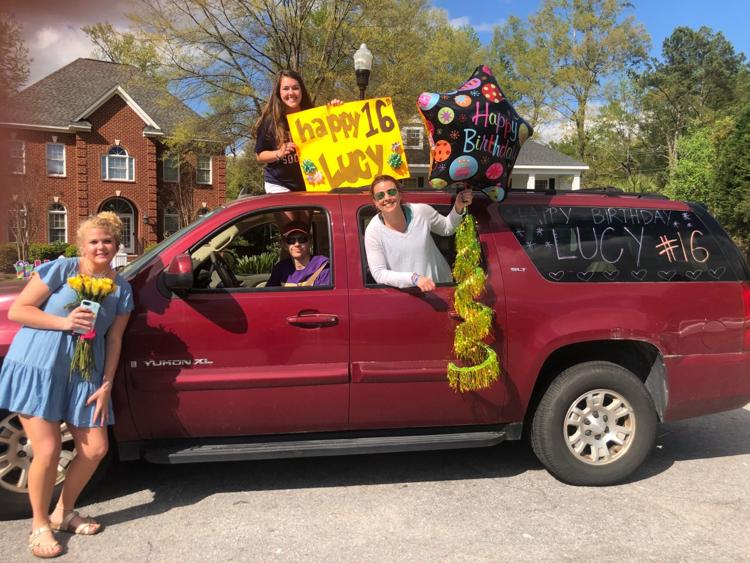 Note: Click on video to enable play
Lucy DeLong had accepted that her sweet sixteen wouldn't be what she had originally envisioned. Her mother, Krista, had planned a trip to New York to celebrate, but due to the COVID-19 crisis and the need for social distancing, Lucy knew she'd be staying home. What she didn't know, was that her mother had planned a surprise.
"I was trying to figure out what we could do, and we live on a street where we're all very close. So I was talking to all the mamas and my sweet neighbor said, 'What if people just stay in their cars, and ride by to say hi?' So then it kinda took wings from there, and I called her very best friend from school," said Krista.
In just one day, nearly two dozen people decided they wanted to participate in a "drive-by" birthday parade for Lucy. Krista said on the day-of, Lucy was a bit sad at the house, thinking of her would-have-been plans.
"She was tearful and it was all I could do to not just say 'Hush, you're going to see your girlfriends later today!' I finally tricked her into thinking one of our neighbors was going to do a birthday photo shoot with her in the yard, so that's how I got her changed," explained Krista.
When Lucy walked out the door, she began to hear horns and saw a caravan coming down her street, according to Krista. People from her neighborhood, her friends at Heathwood Hall, and even her friends' siblings and parents were all waiting to drive by in festively-decorated cars to wish her a happy birthday.
"When I went outside and saw all my friends, I've never felt that loved. It was just the best feeling," Lucy said. "It was all my closest friends and neighbors, I just felt so connected."
In addition to the 20-car parade, Krista also contacted the owner of Card My Yard to put a large "Happy birthday Lucy" sign in their front yard.
It might not have been the celebration Lucy expected, but she said it was even more meaningful than a "normal" party.
"It was definitely more memorable than any kind of party or dinner I could have done. It was perfect," she said.
Krista noted that each participating vehicle with more than one person inside was made up of family members who live together. She said "rule following" and social distancing was an important factor of the event.