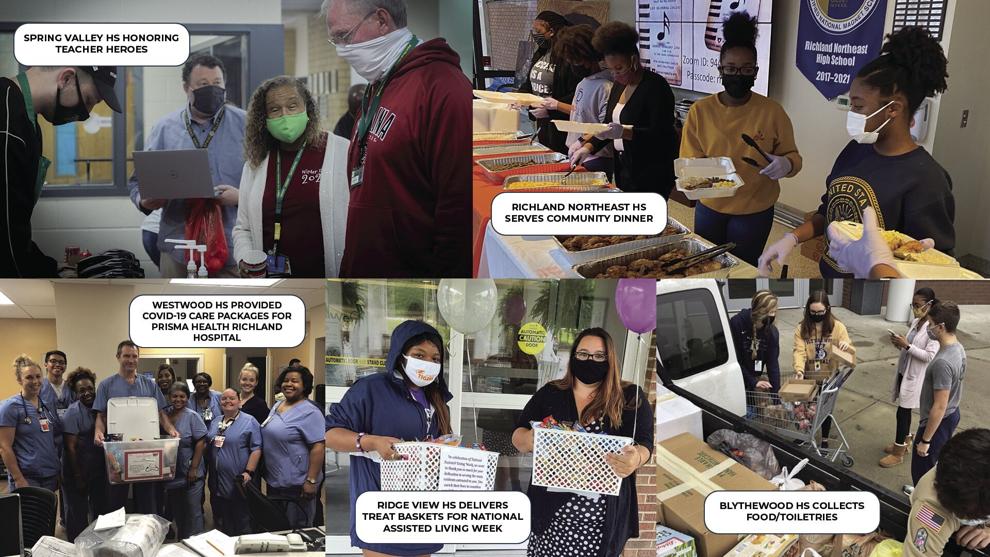 The National Student Council (NatStuCo) is recognizing student councils at Blythewood, Richland Northeast, Ridge View and Westwood High schools for their record of leadership, service and activities which serve to improve the school and community.
Blythewood and Richland Northeast earned a National Council of Excellence Award. Ridge View and Westwood were named 2021 National Gold Council of Excellence winners. 
To meet the requirements for the National Council of Excellence Award, a student council must meet a variety of criteria. Basic requirements such as a written constitution, regular meetings and a democratic election process are criteria in determining the award winner. The councils also must have demonstrated successful sponsorship and participation in activities such as leadership development and service to the school and community. Councils awarded the gold level of the award must have successfully demonstrated the highest levels of leadership.
Each of the schools took on multiple projects throughout the year.
Blythewood addressed racial issues within their school and community through its student-led, Blythewood Racial Issues Committee.
Richland Northeast addressed hunger in the community by having drive-through community dinners.
Ridge View delivered treat baskets to three local facilities during National Assisted Living Week.
Westwood delivered COVID care packages to nurses and doctors at Prisma Health Richland Hospital. Each of the schools also collected non-perishable food items, toiletries, clothing and other items through their winter service programs. 
This is the first time Blythewood and Richland Northeast have won the award, the thirteenth time for Ridge View and seventh time for Westwood.
At the state conference in March, the South Carolina Association of Student Councils presented Richland Northeast, Ridge View, Spring Valley and Westwood High schools with an Honor Council Gold Award.
Blythewood received a Merit Silver Council Award. All schools placed in the top three in a variety of categories including video, school recognition, community service and school spirit.
Blythewood senior class secretary, Talia Textus and Ridge View student body president, Yazmine Latimore were inducted into the Terry McCoy Leadership Hall of Fame.
Richland Northeast student body president, Ebony Christie and Spring Valley student body president Makayla Ball won the Terry McCoy Leadership Hall of Fame Award.