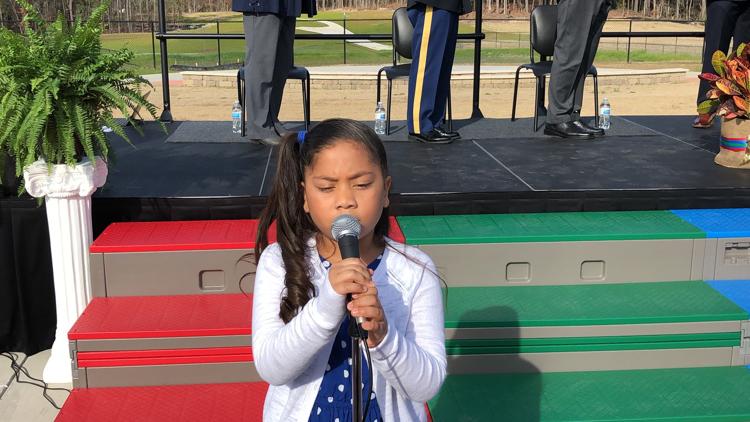 Fort Jackson representatives held a dedication ceremony Wednesday for newly-constructed Pierce Terrace Elementary School. The school's name honors the Vietnam War Congressional Medal of Honor Recipient, Larry Stanley Pierce. Construction was completed last year, and the facility opened January 8.
The ceremony began with the National Anthem, led by eight-year-old Jasmine Smart, who is a second grader at the school. Jasmine said she loves her new school, and has dreams of being a doctor or teacher one day. The ribbon cutting was conducted by four students.
Director of Department of Defense Education Activity (DoDEA), Tom Brady made a special appearance to celebrate the nearly 74,000 sq.-ft. school for pre-K to second grade.
In addition to Brady, Fort Jackson Garrison Commander Col. John W. Hankins, the DoDEA Southeast District Chief of Staff Greg Bull, the Fort Stewart/South Carolina Community Superintendent Mr. Brian Perry, and Pierce Terrace Elementary School Principal Dr. Raymond Burk delivered remarks to students and special guests.
With rifle training fire deep in the background of Ft. Jackson, Brady said the most important mission they all have is to educate children. "But also, we have to provide such a quality education that the men and women that we put in harm's way don't have to worry about the education of their children, they can focus on the mission. We have an important aspect of readiness that we take very seriously," he added, while rifle training fire could be heard in the background. 
DoDEA supports 174 schools in 14 districts all over the world, with more than 73,000 students.
Pierce Terrace Elementary is a new, state-of-the-art facility, costing $31.8 million and constructed by the U.S. Army Corps of Engineers.
Hankins said the facility is truly impressive. "We see all around us that the dream so many people helped catch and turn into reality is a truly, truly impressive educational facility," he said. "The investment also reflects the Department of Defense's commitment toward ensuring a high quality of life for the soldiers, families and civilians comprising the Fort Jackson community. With a great facility comes great expectations, and we are all incredibly excited about the opportunities to exceed them."
Students led guests on guided tours of the new school following the ceremony. The facility holds a children's library, broadcasting media studio, and multiple open-area classrooms, referred to as "neighborhoods."
More information on the school can be found at www.dodea.edu/PierceTerraceES