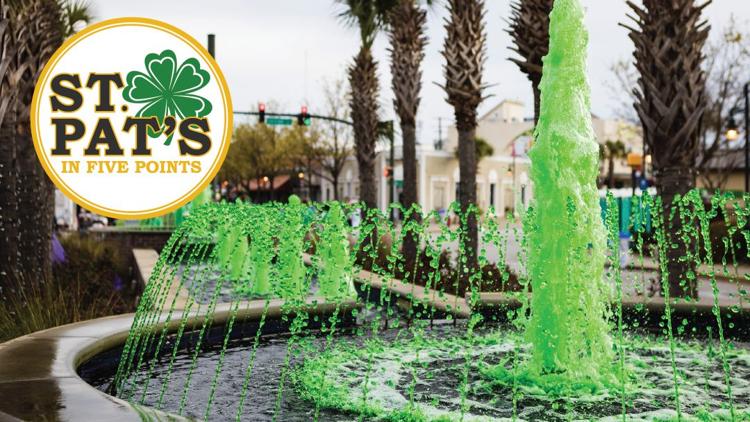 Five Points Association Executive Director Kelsey Hennighan addressed a crowd Thursday to reveal the highlights of the 38th annual St. Pat's in Five Points Festival. The event is the biggest attraction the organization plans every year.
"Today, we are overjoyed to unveil some of the exciting highlights for this year's festival, and let me just tell you this is only the beginning," she said.
According to Hennighan, the event will begin with the Get to the Green 5k, 10k, and family fun-run. Families are encouraged to stay for the St. Pat's Day parade, then visit the "Pot O' Gold" on the 800 block of Harden Street. The area will house a dedicated "kids' zone" with enhanced family-friendly features.
One of the new features for this year's festival will be a "Pot O' Gold pass." If parents want to experience the family fun then come back later, they may obtain the pass for a one-time reentry into the festival.
Hennighan introduced the festival's emcee, FatRat Da Czar, who announced the performance lineup:
Headlining the show will be SC-based Band of Horses.
Other well-known artists include pop-trio SHAED, known for songs like "Trampoline," along with country artists Rodney Atkins and Canaan Smith.
Additional performers include:

The Nude Party

Big Something

Briston Maroney
Villanova
Sadler Vaden (of the 400 Unit)
Mo Lowda & the Humble
Stop Light Observations
The Vegabonds
Stagbriar
Little Stranger
The Ramblers
Kenny George Band
Haley Mae Campbell
Daddy's Beemer
Whitehall
Ashley Wright & the Vance Gap Ramblers
Mark Rapp & the Soda City Brass Band
Syr
More information can be found at stpatscolumbia.com.