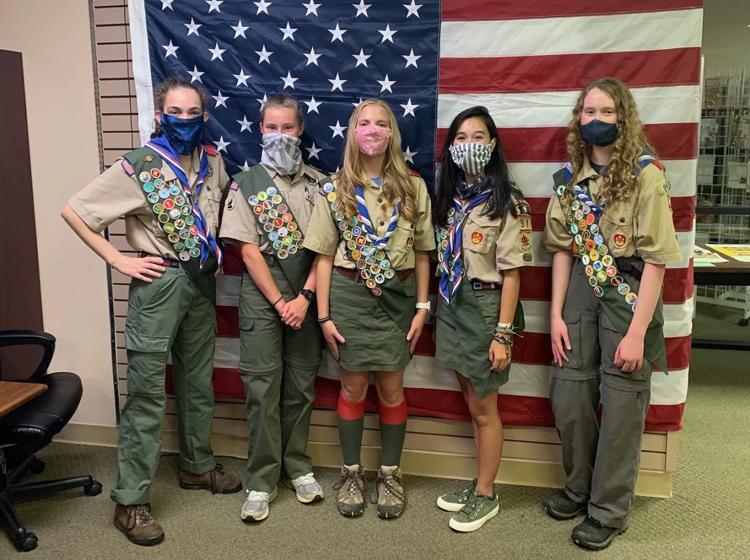 Five young women from the Midlands became part of the first group of females in the nation to earn the rank of Eagle Scout in the Boy Scouts of America Thursday night.
Cameron Caulk of West Columbia, Reagan Millman and Madelyn Ridley of Lexington, Grace Franklin of Irmo, and Ava Phelps of Columbia all passed the final board of review, officially becoming Eagle Scouts. To achieve the rank, they were required to serve in leadership roles in the troop, show scout spirit, lead others in a community service project, and earn at least 21 merit badges.
"These remarkable young people have made history and we are excited for them," said Doug Stone, Scout Executive of the Indian Waters Council of the BSA.
For most of the girls, scouting ran in the family.
"I've grown up in a family of outdoorsmen- I was camping at age three. When my brother got into webelos, every meeting I would ask my dad, 'Can I go, can I go?' And of course the answer was no. So, when I heard that females could get involved in scouting, I absolutely wanted to do it," said Ava Phelps.
Cameron Caulk, a junior in high school, said she wanted to get involved because it's something her older sister didn't have the opportunity to do. "I was able to not only be a leader, but also to help other girls feel like they were good enough," said Caulk.
The girls expressed their gratitude for the program, all saying that BSA helped them find their individual directions in life.
Grace Franklin, the eldest of the group to receive the award, said participating in the BSA helped her to form ideas of what she wants to do going into college, "I want to run a summer camp to help teach kids the importance of the outdoors- I think it's one of the most important things we can learn," she said.
Reagan Millman also said scouting helped her explore her interests. "Scouting helped me realize that I'm very interested in law enforcement. I'm hoping to get into the Air Force Academy and when I graduate as an officer, join the military as an MP," she said.
Stone called the young women future leaders of our nation.
"We believe strongly that the more people in this world who live up to the values and responsibilities of being an Eagle Scout, the better. We hope these young women inspire others to join Scouting, live its ideals and make a difference in their lives and communities," said Stone.
The BSA officially started allowing girls to join the organization in February of 2019. While most of the girls said that they've received positive reactions to the new allowance, some explained that there is occasional push-back. "It's mixed reactions- some people are really excited about it, but some people are less excited and you just have to remind yourself that instead of using that negativity to bring you down, you just need to build yourself a stairway to go above them and that negativity," said Caulk.
Phelps said she thinks the values taught in BSA are important for both boys and girls to learn, and is proud to be a scout. "To me, it was never a thing of being the first girl, or because I was a girl. I really just wanted to be a part of this important program. Generally, there are a few boys who are in scouting and kind of help me with [push back] at school and stuff, but I've never really faced any issues with that, and I'm not afraid to say I'm in scouts and I'm proud to be a part of this program," said Phelps.
Stone said the girls earned every bit of the award through a very high level of commitment, leadership, service, and skill and character development, just as the Eagles before them.
More information on the local programs of the Boy Scouts of America and the Eagle Scout Award can be found at indianwaters.org.