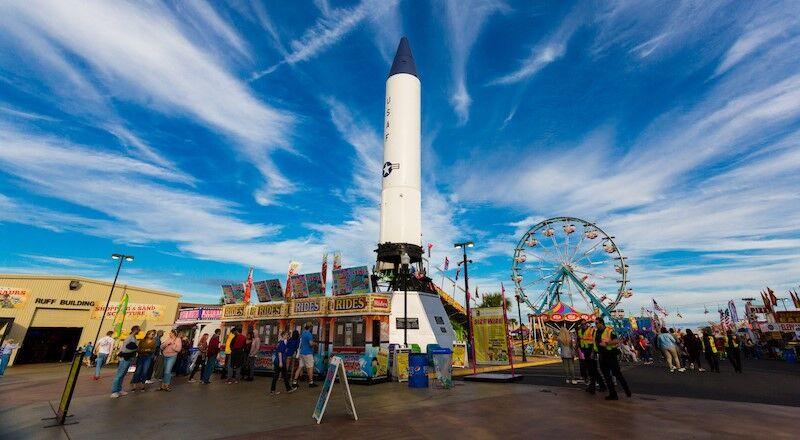 Gamecock Athletics released information regarding fairgrounds parking for Oct. 16. Gamecock Club members with seasonal reserved parking in the Lexington Medical Center Fair Park will not have access to their pre-assigned parking location for the Vanderbilt vs. South Carolina football game Saturday. This is due to the in-person State Fair taking place in the fairgrounds.
Those impacted should note that their parking for the season does not include a hang tag for this game, as fairgrounds parking for the game will be open to the public assigned on a first-come, first-serve basis.
The Fairgrounds parking lot will open at 9 a.m. for both fair and football parking. Parking is $20 in the LMC fair parking lot. Cash and credit cards will be accepted. Vehicles will be parked on a first-come, first-served basis and fairgrounds employees will handle all parking-related matters in that lot.
Drivers can enter through either gate six off Assembly Street, or gate 10 off Bluff Road. Gates seven, eight and nine will be used as exit gates only. Tents, awnings, chairs or grills will not be allowed and Gamecock Club hanging tags will not be recognized.
Patrons with a handicap parking tag will enter the fairgrounds through gate six or gate 10. Handicapped parking is available in designated spots only and on a first-come, first served basis. There is no handicapped shuttle available to the stadium from the fairgrounds.
University of South Carolina parking lot opening times:
Garnet Society lot – 9 a.m.
Gamecock Park – 10 a.m.
Woodstock – 10 a.m.
Armory – 11 a.m.
First-come, first-served parking will be available in the Gameday lot inside of Gamecock Park for $40, cash only. Fans should enter off of National Guard Road. The Woodstock lot will also have parking, located at the end of National Guard Road, for $20 cash beginning six hours prior to kickoff.
Shuttle service will run from Colonial Life Arena, where parking will be available for $10 per vehicle. The shuttle service will begin at 1 p.m. and runs for 90 minutes after the game. Shuttle drop off will be on Rosewood Drive in front of the State Fair and fans can then walk from Rosewood Drive to make their way to Williams-Brice Stadium. Fan shuttles and ADA shuttles are expected to experience significant delays due to traffic pre and post-game.
State Fair admission gates will open at 10 a.m. The State Fair will not honor game tickets for entry. Everyone who wishes to attend the fair must purchase an individual fair ticket for entry.
Traffic delays around the stadium and fairgrounds are anticipated. Fans are encouraged to arrive as early as possible on Saturday to help alleviate the heavy traffic congestion that will occur closer to game time. Traffic on Assembly Street will run both directions before and after the game.
Game time between the Gamecocks and Commodores is scheduled for 4 p.m. Saturday.