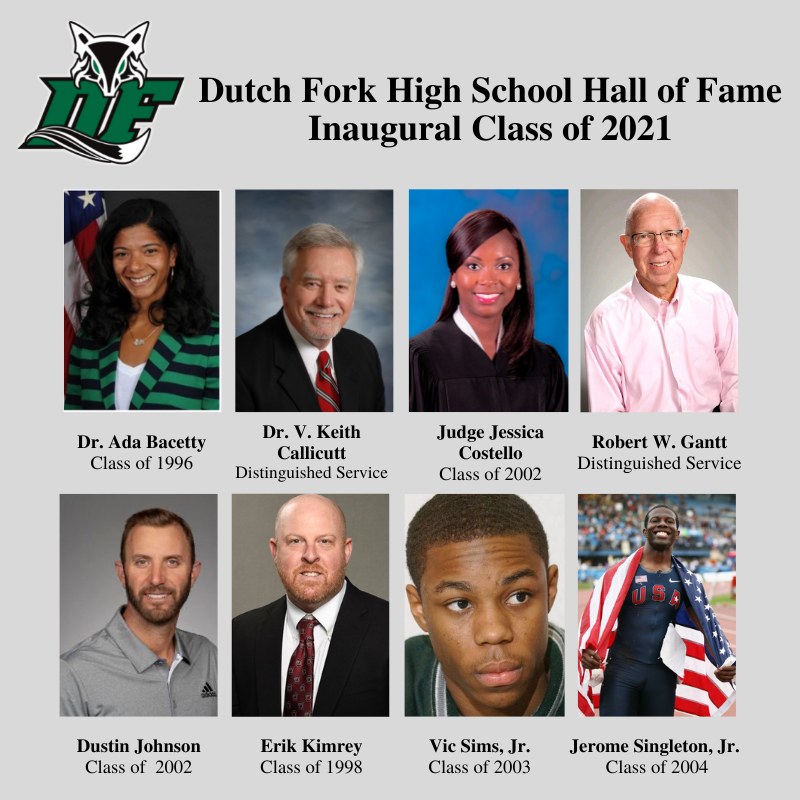 Dutch Fork High School has established a Hall of Fame for the first time in school history.
From standout athletes to future doctors and judges, the Dutch Fork High School Foundation selected its inaugural class which was recognized during halftime of Friday's home game against Spartanburg. 
Created in 2020 by Principal Gerald Gary and the Dutch Fork High School Improvement Council, the Hall of Fame recognizes  alumni, teachers, athletes, coaches and contributors whose outstanding performance or service distinguishes them and brings prestige to Dutch Fork High School and the entire Dutch Fork community. 
All nominees to the Hall of Fame must be individuals of high moral character who have embraced the school motto "To Go Forth and Serve."
"Each inductee has left his or her mark on our special community," Gary said.
The eight inductees are:
Dr. Ada Bacetty (Class of 1996) - A graduate of South Carolina State, she is currently the Department Chief for the Biological Threat Reduction Program of the Department of Defense Cooperative Threat Reduction Program at the Defense Threat Reduction Agency. From 2008-16, she served in various roles for the Department of Defense, was a director for the USDA Foreign Agricultural Service and was Senior Policy Advisor for the chairman of the House Appropriations Subcommittee. She has authored numerous publications and presented at several national and international forums. 
Dr. V. Keith Callicutt - The first principal at Dutch Fork High School, he helped stress the importance of developing the "Fox Family". He served four years as a teacher, four years as an assistant principal, 12 years as a high school principal. He also served 21 years as a superintendent and four years as the Executive Director of the Pee Dee Education Center. Most recently, Dr. Callicutt was selected as 2021 Alumnus of the Year at Francis Marion University, receiving the Professional Industry Award in Education.
Judge Jessica Costello (Class of 2002) - Currently serving on the Hillsborough County Court bench in Florence, Costello presides over County Civil and Domestic Violence Injunction matters. She was also appointed to the Florida Children and Youth Cabinet. Last year, Costello accepted an appointment to the Florida Supreme Court Criminal Court Steering Committee. Prior to her judicial appointment, Judge Costello proudly served her community advocating for victims as an Assistant Statewide Prosecutor with the Florida Attorney General's Office. 
Costello has served as a member of Florida's Anti-Terrorism Task Force and the FBI's Joint Terrorism Task Force Executive Committee. She has also worked with community leaders and nongovernmental organizations to engage and inform the public about issues related to crime in our community. Recognized for her commitment to equal justice under the law, she was named Florida's Gang Prosecutor of the Year in 2015. She has been named a Top Government Attorney by Florida Trend since 2014 and was named to the Tampa Bay Business Journal's "Up and Comers" Hall of Fame in 2016. She was named a "Woman of Color Leading Change" by the YWCA of Tampa Bay in 2017, and received the University of Florida's Outstanding Young Alumni award in 2018. In 2020, Judge Costello was recognized for her leadership and service as an Honorary Inductee into Florida Blue Key, the oldest and most prestigious leadership honorary in the State of Florida. 
Robert Gantt - Since 1994, he has served as the "Voice of the Silver Foxes", calling Dutch Fork baseball and basketball and football games. Gantt's many years of service are truly a labor of love for District Five and its students. His duties have included serving as president of the Irmo Elementary Parent Teacher Association (PTA) for two years, chairperson of the IES School Improvement Council (SIC) for a year and also a member for four additional years, a member of Dutch Fork Elementary SIC for two years, member of Irmo Middle Parent Teacher Student Organization (PTSO), chairperson of the Dutch Fork Middle SIC for two years and chairperson for the Dutch Fork High School SIC during the first three years the school was open, In addition, Gantt spent four years as a member of the Parents Advisory Cabinet, Calendar Committee, Building Committee, Strategic Planning Committee, Personnel Committee and Fine Arts Committee. He was elected to the School Board in 2000 and held his seat for 20 years. 
Dustin Johnson (Class of 2002) - The world's number one golfer, he was a member of the 2002 Class 4A state championship golf team. He was a two-time first team All-American at Coastal Carolina. As a pro, Johnson has won 27 career professional wins, including the 2016 US Open and The Masters in 2019, is a two-time PGA Tour Player of the Year and was the FedEx Cup champion last year. 
Erik Kimrey (Class of 1998) - While playing for his father and head coach Bill Kimrey, the younger Kimrey set 5 state passing records as a senior. He was a three-time letterman at the University of South Carolina, where his game-winning fourth down touchdown pass against Mississippi State in 2000 remains legendary. After serving as a graduate assistant under Lou Holtz with the Gamecocks, Kimrey spent 17 years as Hammond School head coach. He led the program to a SCISA record 12 state titles and posted 194 wins. He's currently the tight ends coach at South Carolina
Jerome Singleton, Jr. (Class of 2004) - The son of the Commissioner of the SC High School League, Singleton overcame an amputation of his right leg below the knee due at 18 months old due to a birth defect to compete in the 2007 US Paralympic National Athletics Championships. He also won a silver medal at the 2008 Paralympic Games, was part of the gold-winning 4x100 relay team and won the 100 meters at the 2011 IPC Athletics World Championships in New Zealand. He holds a dual degree in mathematics and applied physics as well as a degree in industrial engineering. 
Vic Sims Jr. - A three-year swingman on the boys' basketball team, Sims led the Silver Foxes to their first ever region title and the Class 4A state final. Sims' life was cut short at the age of 18 in April 2003, due to an enlarged heart, the result of cardiac arrhythmia. In 2004, Vic's parents, Patricia and Vic Sr., joined forces with non-profit organization "Heartfelt," founded by Holly Morrell, whose goal is to bring awareness and use of early detection methods to prevent sudden cardiac arrest. Through this organization, "A Heart For Sports – The Vic Sims Foundation," was started to bring in volunteer doctors and machines to perform mass heart screenings for local student-athletes at their schools. These screenings include electrocardiograph and ultrasound tests. Dutch Fork High School was the first school to receive these screenings. His legacy continues to live on at Dutch Fork, where his jersey and picture are framed in the school's Athletics Hallway.