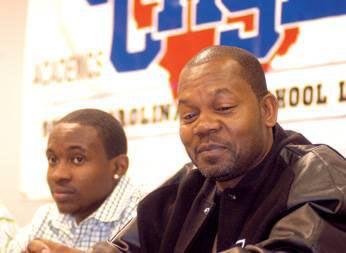 As a player and high school boys' basketball coach, Zam Fredrick has made history.
A national scoring champion at the University of South Carolina, Fredrick has won nine state titles at alma mater Calhoun County. It was also during a four-year stretch from 2006 to 2009 that the Saints became the first school in the modern era and first in 86 years to win four consecutive state titles.
This Friday at the home of the Gamecocks, another school and head coach will look to match Calhoun County and Fredrick's feat. Nationally-ranked Dorman, coached by Lexington High graduate Thomas Ryan, is seeking to win a fourth consecutive Class 5A state title.
The Cavaliers (29-1) can do so by defeating Dutch Fork (21-9), also coached by a Wildcat alumnus and former Bailey Harris player and assistant Brett Jones.
Watching from afar, Fredrick sees great similarities in Dorman's success as compared to his "4-Peat" group.
"I can't help but to notice it," he said. "Dorman has been dominant the past few years and being a basketball person and a sports aficionado, I can't help but keep an eye on things. So, I've been watching what they've done and I'm pretty impressed with the way they play.
"As far as getting that "4-Peat", that's a very difficult thing to do. They seem to be in pretty good position the way things shape right now. But getting all the way through the playoffs and winning it is going to take a lot. If they do it...it speaks volumes to the commitment that program has made to basketball."
ONE GAME AT A TIME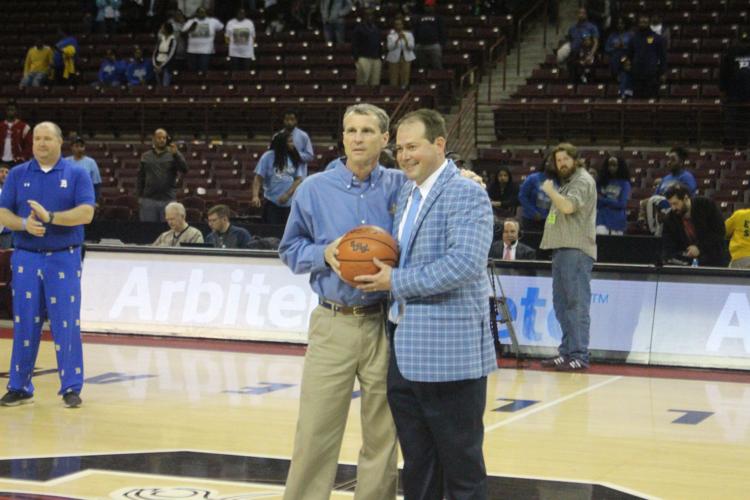 Like Dorman, the Saints made winning championships look easy. During the four-year run, Calhoun County posted an 111-2 overall record, which included a state-record 81-game winning streak, to go with the four Class A titles.
Led by future Gamecock and Super Bowl champion wide receiver Alshon Jeffrey, Calhoun County's fullcourt pressure defense overwhelmed opponents in all classifications.
The team also posted victories out-of-state victories over teams in Florida and North Carolina.
"We were able to focus on one game, just that game that we were playing next," Fredrick said. "The next game was always the most important one. We never got ahead of ourselves. It was easy enough for us to just focus in on playing one game at a time and that's the key to having any kind of long term success.
"It's understanding that you can't get to second base before you get to first base. So, we always were able to do that and that's how we conducted practices and games. We never talked very much what was going to happen 2-3 weeks down the line or we were going to play down the line. It was a matter of 'Who's up now' and let's take care of that."
ALSHON JEFFREY
Fredrick called the state-record winning streak a "manifestation' of that approach. The centerpiece of that success was Jeffrey, with whom the Saints were 109-1 when he played and finished his career with 102 straight victories.
Jeffrey's versatility in playing all five positions and ability to uplift his teammates' play was something Fredrick fondly wished could have carried over onto the college hardwood.
"With the qualities he brought to the floor, he would have been exceptional even as a basketball player at the next level," Fredrick said. "He's one of the very few guys that I coached, that I've known even as a player, that didn't have to score 30 points, didn't have to be the seven-footer that had 20 rebounds and blocked shots. But could be on the floor and...when you look at the final stats, you won't see his name written all over the stat sheet. But his signature would be all over the game."
Fredrick said the team's biggest strength was their unselfishness. He cited contributors like guards Deandre Guinyard, J.R. Johnson and David who had no problem sacrificing offense in order to shut down opposing top scorers.
PLACE IN STATE HISTORY
Dorman's recent run of success has reignited debate about the top boys' basketball teams in South Carolina history.
Unsurprisingly, Fredrick did not flinch in making a case for his Saints.
"My team should be at the top of that list," Fredrick said. "We reset the mode and, at the time, we established a style that was totally ours. We're not 5A and 4A. I know a lot of people like to think that's a different or better brand of basketball. I'm here to tell you my teams of the past would play against any one of them and do fine.
"You're going to mention all-time teams or whatever, you better start with Calhoun because those teams were no joke."
As for a fictional matchup with the Cavaliers?
"That would be a pretty good game, but, in the end, Calhoun will prevail," Fredrick said. "My guys would find a way to make that happen and we'd hit them in ways that no team has ever hit them. They're good, but my teams would beat them."
Tipoff for Friday's state final is 8:30 pm. The Dorman/Dutch Fork game, as well as the entire "Weekend of Champions" will air on Spectrum Cable (Channel 1250) and wach.com.