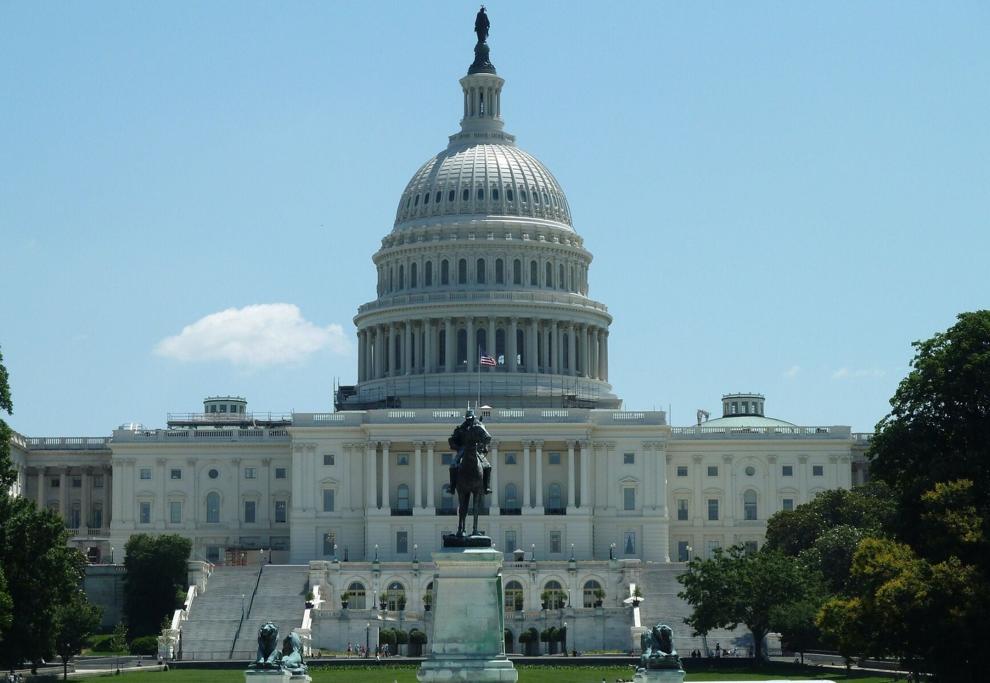 Unemployment benefits for around 14 million people expired Saturday and a partial government shutdown could begin Tuesday, depending on whether President Donald Trump signs into law a pandemic aid and general spending bill or Congress takes action to change the bill or pass another.
The bill provides $892 billion in COVID-19 relief along with $1.4 trillion in ordinary spending to keep the government operating normally. The relief includes $600 stimulus checks for millions of people. Trump has said that is not enough. "Why would politicians not want to give people $2,000, rather than only $600?" he asked via Twitter Friday.
As of Saturday, he had neither signed nor vetoed the bill. If he does neither by Jan. 3, the term of the current Congress ends and the bill ceases to have any effect. Meanwhile, if either this bill or another to fund the government is not passed by midnight Dec. 28, many government programs will shut down due to lack of operating budget, and tens of thousands of workers could be furloughed.
South Carolina Senators Lindsey Graham and Tim Scott both voted in favor of the bill. In the House, South Carolina Representatives Joe Cunningham, Jim Clyburn and Tom Rice voted yes. William Timmons and Ralph Norman voted no, and Joe Wilson and Jeff Duncan did not vote.
Graham said he supports Trump's "demand to increase direct payments for long-suffering Americans to $2,000 per person."
Scott, who said he led more than a dozen of the provisions in the bill, said "The passage of critical COVID-19 relief, government funding and tax extenders is a huge boost for the American people." He has not commented on Trump's reaction to the bill.
Cunningham said "I support $2K direct payments and I'm willing to hop on a flight today to vote for it. But this is no way to negotiate or govern. Pres Trump's obsession with overturning the election has clearly taken priority over COVID relief and govt funding. No more games. Lets get it done."
Clyburn said the bill "is not sufficient, but it is a step forward, and House Democrats will continue to fight to get Americans much needed relief." He has not commented on Trump's reaction to the bill.
Duncan has not commented publicly on the bill or Trump's reaction.
On the day of the House vote, Norman said "Folks, we just received a 5,600 page PDF that represents one of the largest spending bills in our history, and NOT ONE Member of Congress will have had time to read through it before voting later today. This is awful governance, and a disservice to the American people." He has not commented on Trump's reaction to the bill.
Rice said "While it is not nearly perfect, the COVID relief package puts money in the hands of Americans and provides relief to small businesses, restaurants, and hotels to revitalize our economy during these unprecedented times." He has not commented on Trump's reaction to the bill.
Timmons said "I support the bipartisan, bicameral COVID-19 relief bill. It provides additional funding for the Paycheck Protection Program to help keep workers paid, provides funding for building out rural broadband and telehealth services, and includes money to safely reopen our schools. This bill will help unemployed Americans and working families and contains a host of other provisions to help support the American people and rebuild our economy. I have been waiting for months to cast this vote, and I would have voted in favor of this relief package today had it not been wrongfully attached to a bloated government funding bill. But I do not support the reckless, multi-trillion-dollar government spending bill that is chock full of unnecessary spending. I have opposed wasteful government spending since I came to Congress, and with our national debt quickly approaching $30 trillion, I could not support this colossal package." He has not commented on Trump's reaction to the bill.
Wilson, who has been quarantined since testing positive for COVID-19, said on Dec. 21, "Although I am grateful that a coronavirus relief package is coming to provide relief to families, small businesses, and workers, it is disappointing that House Dems refused to come to a bipartisan agreement sooner while thousands of jobs and families suffered." He has not commented on Trump's reaction to the bill.