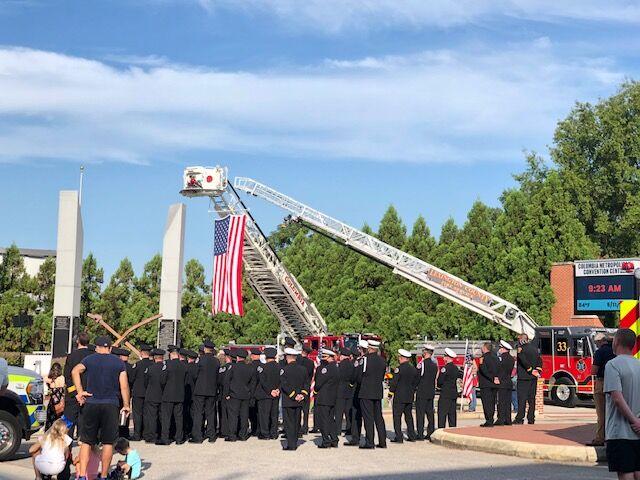 Members of the Midlands gathered at Columbia's 9/11 memorial monument Friday to honor the lives lost in the tragic terrorist attacks of September 11, 2001.
Military service members and first responders gathered in front of the monument, located on the grounds of the Columbia Metropolitan Convention Center.
Two bells were rung at 8:45 a.m. to denote 30 seconds to the time of the first plane strike. Four more bells were rung later in the service to denote 30 seconds to the second, third and fourth plane strikes that occurred at the World Trade Centers, the Pentagon and the plane that landed in a field in Somerset County, PA.
Governor Henry McMaster addressed the audience Friday morning, as he reflected on the tragedy of 9/11. He expressed his thanks for the first responders who made sacrifices for the country and thanked active military and first responders. McMaster also expressed the importance in remembering 9/11 and its impact on the strength of American people.
"This day helps us remember our country that was made by people like us and helps us to remember that we are strong because we remember, and we remember because we are strong," he said.
Dawn Yamashiro lost her brother in the 9/11 attacks. He worked in the North Tower, in a place in the building that was above the point of impact. She recalled that she was "paralyzed" when she learned of the attacks because she knew her brother was at work. "My brother was a regular person who went to his job that day and did not return," she said. "How do you tell your kids that?"
Yamashiro expressed her sorrow for the loss of innocent civilians and first responders. "My purpose for coming to any 9/11 event is to try put a face to what happened," she said. "I want to make sure that we never forget because it is personal."
University of South Carolina president, Bob Caslen expressed his gratitude for the military and all who were involved in helping others that day. "On September 11, 19 years ago, we saw ordinary people choose duty in the face of death," Caslen said.
The ceremony concluded with a bagpipe performance and a benediction. Those interested in donating or volunteering with the 9/11 Remembrance Foundation of South Carolina can visit the foundation website for more information.