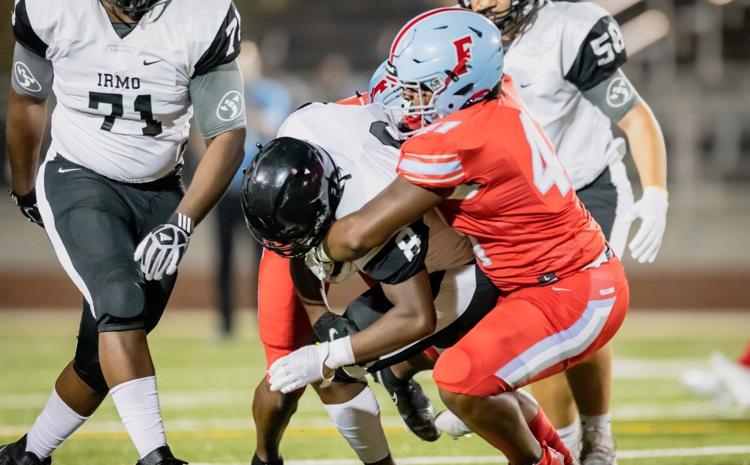 For the first time in recent memory, CA Johnson has cracked the Top 10 of the SC Prep Football Media poll.
The undefeated Hornets enter the poll in the 10th position thanks to a 3-0 start. They play host to second-ranked Lamar Friday at Bolden Stadium in a matchup to determine the Region 2A champion.
This is not the only Top 10 matchup with region title ramifications in the Midlands. Fresh off earning its highest poll ranking in school history, second-ranked Gray Collegiate will travel to third-ranked Newberry.
The War Eagles and Bulldogs are two of four ranked teams out of Region 3-2A facing each other this weekend. Sixth ranked Saluda plays host to seventh ranked Batesburg-Leesville at 11 a.m. Saturday.
AC Flora also moved up to number 2 in Class 4A. After a bye week, the undefeated Falcons return to action Friday against arch rival Dreher at Memorial Stadium.
Dutch Fork remained atop Class 5A having clinched an eighth consecutive region title. The Silver Foxes play host to Spring Valley Friday in a non-region matchup.
Ridge View also received votes in Class 5A and will face Blythewood Friday at Westwood High School.
Camden placed fourth just ahead of Gilbert in this week's Class 3A poll. The Indians look to clinch a third Region 5-3A title in  fiveyears Friday for "Homecoming" against Swansea.
Fairfield-Central moved to ninth in Class A
SC PREP FOOTBALL RANKINGS
Class 5A
1. Dutch Fork
2. Fort Dorchester
3. Gaffney
4. Dorman
5. Byrnes
6. Sumter
7. T.L. Hanna
8. Northwestern
9. Goose Creek
10. Boiling Springs
Receiving votes: Carolina Forest, Hillcrest, Ridge View, Berkeley
Class 4A
1. Myrtle Beach (14)
2. AC Flora
3. North Myrtle Beach
4. Westside
5. South Pointe
6. Greenwood
7. Greer
8. Beaufort
9. Greenville
10. West Florence
Receiving votes: Catawba Ridge, May River, North Augusta, Hilton Head, York
Class 3A
1. Dillon (10)
2. Chapman (4)
3. Daniel
4. Camden
5. Gilbert
6. Wren
7. Oceanside Collegiate
8. Aynor
9. Fairfield Central
10. Chester
Others receiving votes: Belton Honea Path, Orangeburg-Wilkinson, Palmetto, Union County, Lake City
Class 2A
1. Abbeville (14)
2. Gray Collegiate
3. Newberry
4. Cheraw
5. Chesnee
6. Saluda
7. Batesburg-Leesville
8. Barnwell
9. Timberland
10. North Central
Receiving votes: Christ Church, Pelion, Wade Hampton, Andrews, Woodland, Phillip Simmons, Latta
Class A
1. Lake View (11)
2. Lamar (3)
3. Southside Christian
4. Blackville-Hilda
5. Whale Branch
6. Bamberg-Ehrhardt
7. Carvers Bay
8. Wagener-Salley
9. Johnsonville
10. CA Johnson
Receiving votes: Green Sea-Floyds, Ridge Spring-Monetta, McCormick, Williston-Elko, Branchville