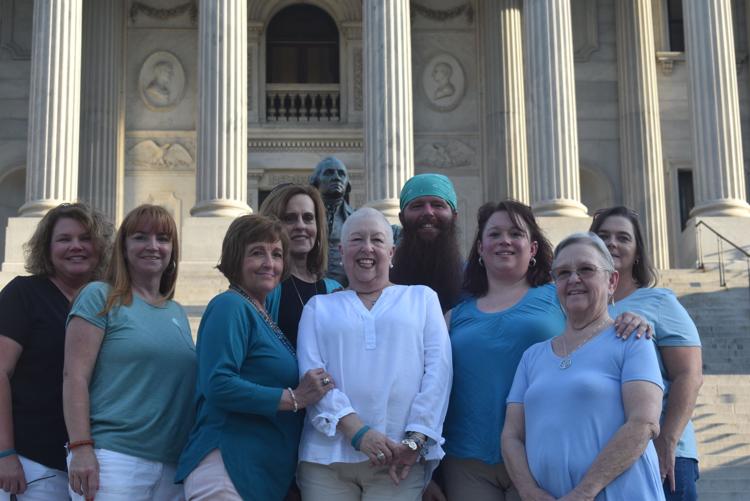 The Ovarian Cancer Coalition of Central South Carolina held its 14th annual Cathy B. Novinger Butterfly Release for Ovarian Cancer, on the State House front lawn Thursday afternoon.
The event, named in honor of the organization's founder, allows participants to release hundreds of butterflies into the air. The release was especially meaningful to Katherine Odom, a 61-year old resident of Hartsville.
Odom is a three-and-a-half year cancer survivor, and said she and Novinger became friends while they underwent chemotherapy together. She now honors her late friend by attending the event.
While the cancer has a 95 percent three-year survival rate, Odom continues to fight, crediting doctor William Merritt, as well as God, for keeping her in check.
Ovarian cancer is known as "the disease that whispers," because the symptoms are subtle, according to Sandy Boozer, the secretary and treasurer of the OCC's coalition board.
"Signs aren't easy to detect. It begins with stomach problems, which unfortunately means that many women wait to be checked," Boozer said. "You don't need to wait. If you have symptoms of some kind for two weeks, you need to get to a gynecologist."
The release was co-sponsored by BlueCross Blue Shield of South Carolina, along with 19 corporate sponsors. It was an important afternoon for friends and families of victims, according to Boozer. "It's a way for loved ones to come out, and it's a connection," she added.
The public was asked to donate through a pre-order form that was available on the organization's website. They were asked to either purchase an individual butterfly for $25 or a 14-inch by 11-inch print created by artist Lucius Jumper for $30.
A number of speakers were on hand to commence the event, including award-winning local journalist Dawndy Mercer Plank, the director of strategic communications for the South Carolina Department of Administration Kelly Coakley, and Donna Jumper, who is the administrative coordinator for Palmetto Health.
Jumper dedicated the release of the butterflies with a final speech. "This wish can be for a loved one or a friend, or someone who has gone on before us, she said. Novinger's sister led the final prayer before the butterflies were released.
According to a press release from the Ovarian Cancer Coalition, the proceeds from the event help further the organization's mission of educating women in the Midlands about Ovarian Cancer. More information can be found on the organization's website, ovariancancermidlands.org.