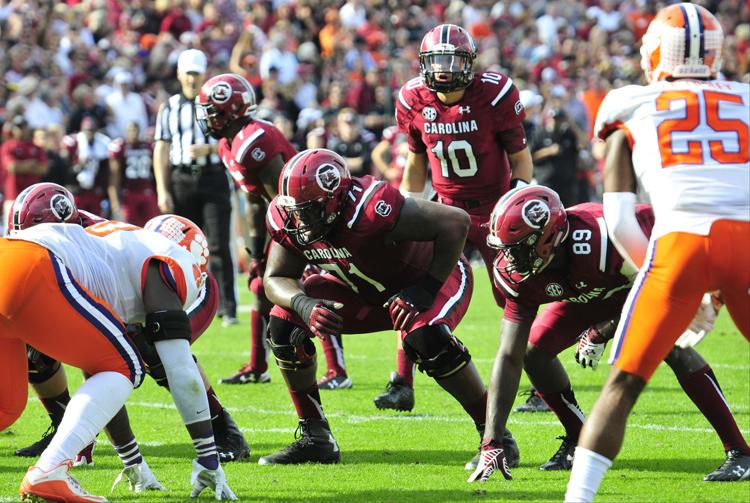 Fourth-year head coach Will Muschamp and the 4-7 (3-5, Southeastern Conference) South Carolina Gamecocks will face the 11-0 (8-0, Atlantic Coast Conference) Clemson Tigers in their regular season finale Saturday, and are 24-point underdogs to the nation's No. 3 team.
If they could somehow manage to defeat their rival though, national college football columnist Tom Fornelli has a strong proclamation for the Gamecocks:
"Clemson loses to South Carolina on Saturday, making the Gamecocks the most accomplished 5-7 team in history," he wrote.
Fornelli wasn't making a prediction, but merely detailing doomsday scenarios for each team competing for a berth in the sport's playoff.
While there's only a 7.6 percent chance of that scenario unfolding, there's a high likelihood that the Tigers could be left out of the playoff with a loss.
Clemson's schedule was listed as the No. 66 toughest of 130 teams by analyst Phil Steele during the preseason, and were ranked No. 5 in the first edition of the College Football Playoff rankings, a move that some Tigers fans viewed as a missed call.
The Tigers have remained No. 3 since Nov. 12, after losses by Alabama and Penn State during the previous weekend.
A win Saturday would extend Clemson's winning streak against South Carolina to six games, which would be the second-longest in series history. Then, they would only need to defeat Virginia in the ACC Championship Game on Dec. 8 to earn their fifth straight bid to the prestigious College Football Playoff.
South Carolina, who lags behind Clemson in most statistical categories this season, would need a nearly perfect performance to defeat their arch rival for the first time since 2013.
It almost happened four years ago for the Gamecocks, who lost to No. 1 Clemson 37-32 on Nov. 28, 2015.
South Carolina finished with a 3-9 overall record under interim coach Shawn Elliott in 2015 after Steve Spurrier left the program mid-season, the Gamecocks' worst finish since 1999.
The group holds one record, though, coming closer to knocking off Clemson than any South Carolina team since 2014, when the drought started.
"It's definitely kind of neat that a lot of people still remember it, because it's kind of sad to think it's the last time we've played competitively," said Perry Orth, who was the Gamecocks' starting quarterback in 2015.
Orth said strong tackling and three forced fumbles helped South Carolina against Clemson's high-powered offense, which was led by star sophomore Deshaun Watson, who accounted for 393 total yards.
On offense, the Gamecocks took advantage of Clemson's miscues with a strong downfield passing attack. Orth was explosive through the air, completing 13 passes
for 219 yards.
Orth's top two targets were Deebo Samuel and Pharoh Cooper, who now play in the NFL. The passing game was complimented by speedy backup quarterback Lorenzo Nunez, who gained 75 rushing yards.
A players-only team meeting was called on Monday, and the theme of the meeting was that an upset win against Clemson would right a lot of wrongs from their disastrous season.
Before kickoff, the team wasn't worried about what the outcome of the game would be. "We were going to do whatever it took to win the game." Orth said.
The atmosphere for the noon kickoff at Williams-Brice Stadium was hostile, and the Gamecocks played with a care-free mentality from the beginning. "We just played with a reckless abandon," Orth said.
Considering Clemson's ability to strike on offense and overall talent level, the Gamecocks would need to create a similarly-scripted blueprint to win on Saturday.
South Carolina would need just the right mixture, creating a balanced offensive attack with No. 1 quarterback Ryan Hilinski and No. 2 quarterback Dakereon Joyner, while finding a way to force and capitalize off of defensive turnovers.
While the Gamecocks have struggled this season, they've shown they can knock off the nation's best, defeating then No. 3 Georgia 20-17 on Oct. 12 using a similar formula.
Orth expects South Carolina to play with the same reckless abandon that the 2015 team did with nothing to lose.
"This is all they've got," he said.