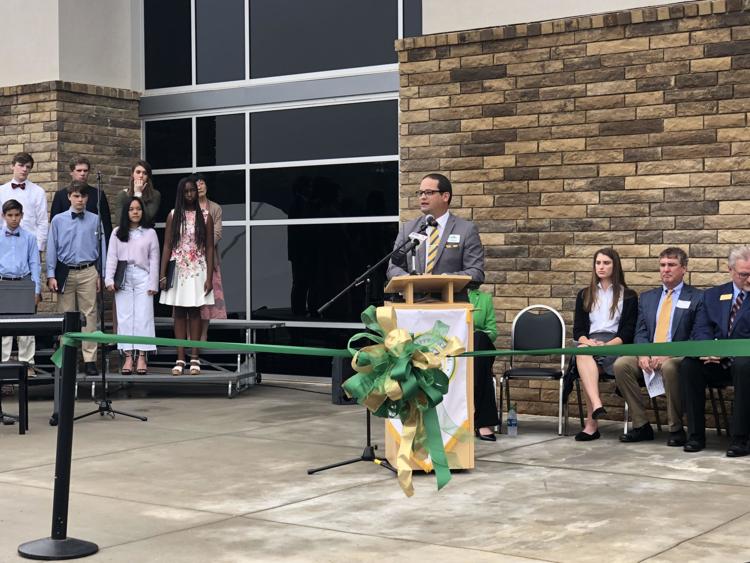 Students, faculty, board members and parents gathered Wednesday morning to witness the ribbon cutting of Ben Lippen School's newest addition.The $5.5 million, 13,500 sq.-ft. Arts and Science Center was unveiled and tours were welcomed. Despite a delayed start, Mashburn Construction was able to finish the project two months ahead of schedule.
The new facility at the Christian preparatory school includes STEM, robotics, math, physics, chemistry, technology, fine arts classrooms, an art gallery, and lobby with a conference room and video walls. According to Headmaster Tony Fajardo, it also has a brand new grand entry, with two levels of security before reaching the campus hallways.
Fajardo said the space will allow Ben Lippen to provide an even better learning environment for the students. "I think when we look at this building, what it means is that it expands opportunities for our young people here in Columbia to receive excellent academic education with a biblical world view," he said.
Seeing the project come to fruition meant more to Fajardo than just adding another building to the school's campus. "Personally for me, the accomplishment is not about what we have done with the building, but the impact that our teachers will have - it's going to change lives. To me, at the end of the day, changing lives for the Kingdom is what's most important," he said.
Ben Lippen School is an accredited Christian, college preparatory school of over 800 students in grades Pre-K3 through 12, and is a ministry of Columbia International University. It is located at 7401 Monticello Rd. More information can be found on the school's website.