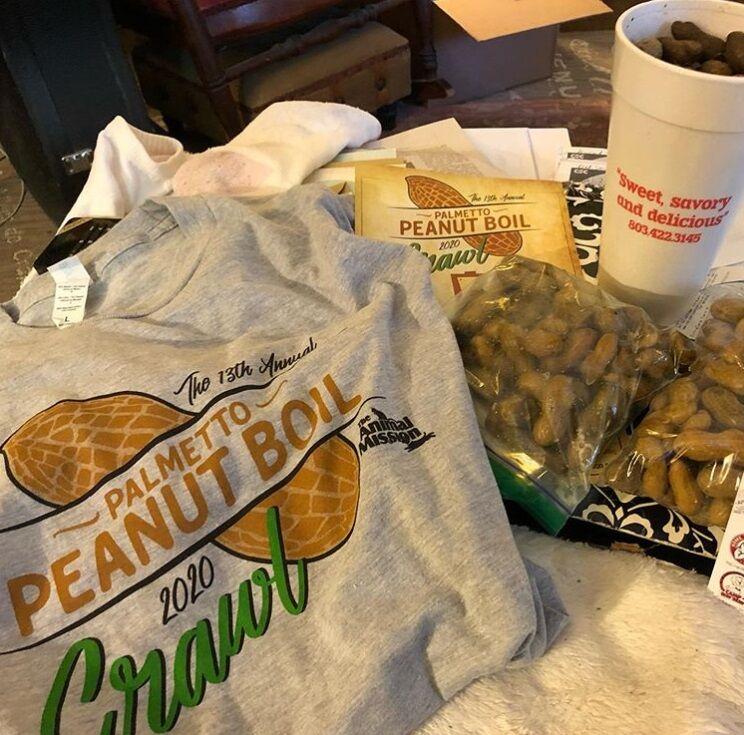 COVID-19 forced some changes in the 13th year of a popular local tradition, but could not stop it. 
The annual Palmetto Peanut Boil transformed from its usual one-stop festival-type setup into a driving tour covering five different locations. The goal, however, remained the same: helping the Animal Mission move closer to the goal of no kill status for the Midlands.
The peanut boil, which started as a small backyard event in 2008 and grew to a festival drawing thousands of people, made the shift in gears to allow safer sampling this year. Henry's and Half Moon Outfitters on Devine Street, Cromer's on N. Main, Home Team BBQ on Harden and Camp Bow Wow on Superior Street all played host to outdoor peanut stands.
Maps and Peanut Passports were distributed, and visitors received free t-shirts. Bags of peanuts sold for $5, with all proceeds going to benefit the Animal Mission. The peanuts were prepared by teams of volunteers, offering a wide variety of recipes.
Teams were required to pre-cook and bag at least 100 pounds of peanuts, with prizes to be awarded to the team with the most sales and donations. 
"There's just nothing better than boiled peanuts this time of year," said Natalie Avery, adding that she has been attending for years. "You get so many different kinds to try and you're helping a good cause too."
The Animal Mission is a nonprofit committed to providing free or low cost spay and neuter procedures for all pet owners in the Midlands in an effort to help reduce shelter overcrowding and euthanasia.
More information is available at animalmission.org.