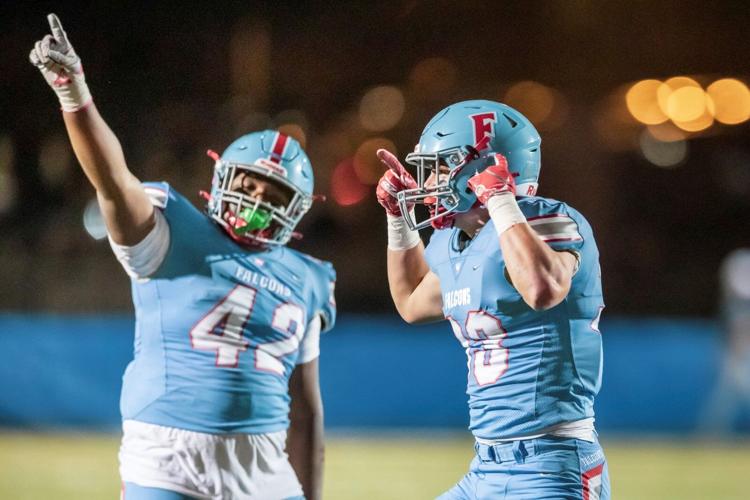 The Midlands can now boast of two top-ranked high school football teams.
Undefeated AC Flora moved up to the number one position in Class 4A following Myrtle Beach's 41-38 loss to Wilson. The Falcons return to action Nov. 6 at Lugoff-Elgin.
Dutch Fork remained the unanimous number one in Class 5A. The four-time defending Class 5A champions, who are also ranked 19th nationally by USA Today close out the regular season at fourth ranked South Pointe.
A two-game winning streak since resuming play has enabled the Pelion football team to crack this week's SC Prep Football Media poll.
The Panthers (2-1, 2-0) entered at number nine in the Top 10 Class 2A poll. They travel to Petticoat Junction to face Silver Bluff looking to win for the first time in school history.
Batesburg-Leesville also moved up a spot to sixth in the Class 2A poll. The Panthers of Batesburg-Leesville replaced Saluda, which dropped to 10th, following the 52-28 win last Saturday.
A total of six Midlands teams are ranked in Class 2A, 4 from Region 3-2A, along with second-ranked Gray Collegiate and fifth-ranked Newberry. North Central is ninth.
Camden and Gilbert are ranked fourth and fifth, respectively, in 3A, and Fairfield Central is ninth.
SC PREP FOOTBALL MEDIA POLL
CLASS 5A
1. Dutch Fork (14)
2. Gaffney
3. Fort Dorchester
4. Dorman
5. JF Byrnes
6. Sumter
7. T.L. Hanna
8. Northwestern
9. Boiling Springs
10. Carolina Forest
CLASS 4A
1. AC Flora
2. North Myrtle Beach
3. Westside
4. South Pointe (1)
5. Myrtle Beach
6. Greer
7. Beaufort
8. Greenville
9. Catawba Ridge
10. Greenwood
Also receiving votes: North Augusta, Wilson, May River, Hilton Head, West Florence
CLASS 3A
1. Dillon (11)
2. Chapman (3)
3. Daniel
4. Camden
5. Gilbert
6. Wren
7. Oceanside Collegiate
8. Aynor
9. Fairfield Central
10. Palmetto
Also receiving votes: Belton Honea-Path, Chester, Lake City, Union County, Powdersville, Hanahan
CLASS 2A
1. Abbeville (14)
2. Gray Collegiate
3. Cheraw
4. Chesnee
5. Newberry
6. Batesburg-Leesville
7. Barnwell
8. North Central
9. Pelion
10. Saluda
Receiving votes: Woodland, Andrews, Marion, Timberland, Phillip Simmons, St. Joe's, Wade Hampton, Christ Church