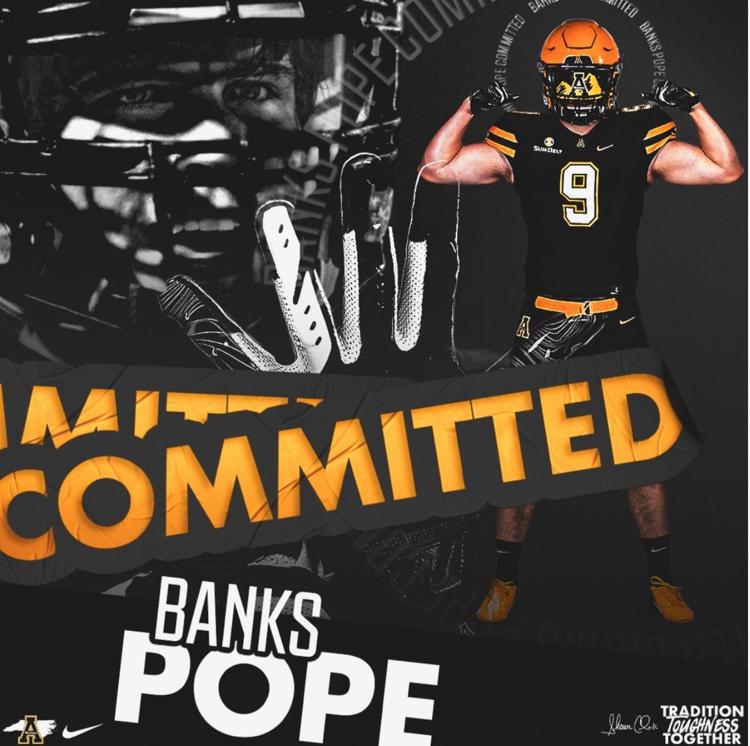 A.C Flora rising seinor tight end Banks Pope verbally committed to Appalachian State University in June. Pope was the No. 14 student-athlete to sign with the Mountaineers, who now has 16 signees from the Class of 2021.
Pope received 11 total scholarship offers, including Coastal Carolina and Georgia Southern, both of which Appalachian State plays annually in the Sun Belt Conference. The junior was also offered by Akron, Charlotte, Dartmouth, Furman, Georgia State, Liberty, North Carolina Central, Richmond, and Western Kentucky.
Banks credited his father, 52-year old Lowndes, for helping him reach his goal of signing a Division One football scholarship.
"My dad helped me become the person and athlete that I am today. I'd like to thank him for helping me through this journey," he said.
Measuring 6'4" and 234 pounds, Pope played at defensive end during his freshman season and offensive right tackle as a sophomore. Transitioning to tight end in 2019 wasn't in Pope's original career plans, but he said that encouragement from his father and specialized instruction from Falcons head coach Dustin Curtis allowed for a smoother transition.
The three-star recruit is now ranked as the No. 26 tight end in South Carolina and No. 87 in the nation for the Class of 2021 after a breakout junior season.
Pope led the Falcons to a 10-2 record last season in an increased role in the offense.
Banks recorded 432 receiving yards and four touchdowns in 2019, helping lead the Falcons to a 10-2 record in an increased role on offense. Pope was also a first-team All-Region player in the SCHSL's 4A Region 4.
Banks' stat sheet paints the picture of a standout wide receiver, but the rising senior brings much more to the table, as his multi-tooled skillset allowed him to attract the attention of colleges around the nation.
"The biggest strength that I offer is versatility. I can block and catch," he said.
A physical blocker, Pope is an all-around athlete. Banks plays on both sides of the ball for A.C Flora, starring as a lineman when the Falcons are on defense. Pope is s a two-sport star, practicing his hitting skills while playing lacrosse during the spring.
He said he aims to fine-tune his biggest weakness before he arrives in Boone next fall. "I need to work on route-running and getting open," he said.
Last season's offensive MVP, Pope returns with one last hope at hoisting the state championship trophy. The Falcons are ranked the No. 1 team in the 2020 Midlands Preseason 4A Poll, according to S.C Varsity.
Appalachian State recruiting coordinator and tight ends coach Justin Watts was instrumental in recruiting Pope to the program.
"Coach Watts is a really great guy, and I can't wait to play for him. He's also really funny and easy to talk to," he said.
When Pope arrives to Boone, he'll be joining a program that is a rising star in the college football world. The Mountaineers joined the FBS in 2014 and haven't looked back since, with four consecutive conference championships and five straight bowl appearances.
Appalachian State finished 13-1 in 2019, defeating Power Five programs North Carolina and South Carolina along the way. The Mountaineers finished No. 19 in the Final AP Poll, winning more games than any other college football team in state history.
Appalachian State also has the No. 5 most wins of any FBS program in the last five seasons.
The Mountaineers run a pro-style spread offense with a strategy focused on running the ball, so Pope could be utilized in run-blocking, pass-blocking, and routes on play-action pass calls.
An additional bonus for Pope is that he will join the program with an excellent opportunity to showcase himself against the best student-athletes that college football has to offer. Appalachian State has scheduled road appearances against Miami (2021) Texas A&M (2022) and Clemson (2024).