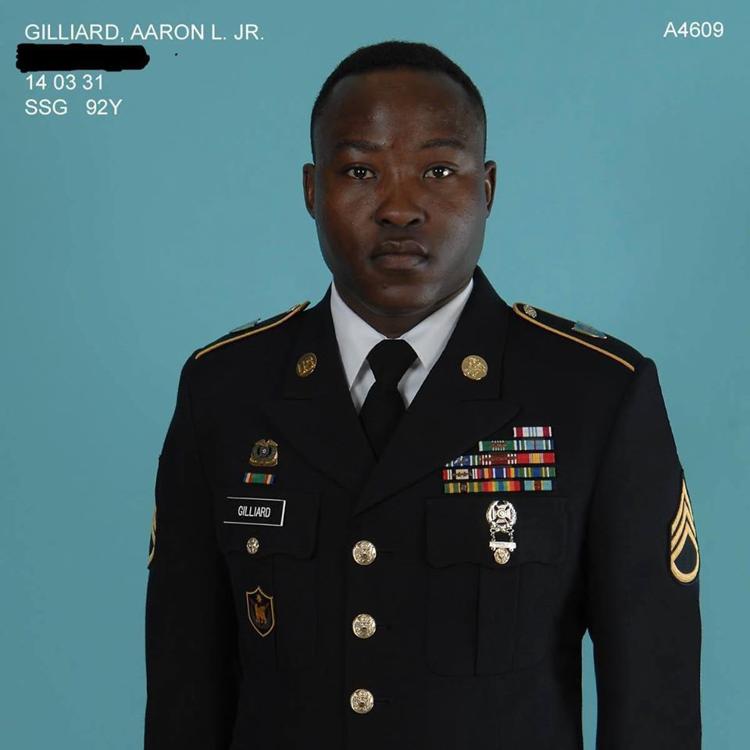 Staff Sergeant Aaron Gilliard has served for 15 years in the United States Army.
He began his career in Columbia attending boot camp at Fort Jackson. After a few deployments and other adventures, his career brought him back home to begin recruiting for the Army.
Gilliard said he came from a low income family as a child. "My mom is my hero. Even though she worked two or three jobs, it wasn't enough," Gilliard said. "At our lowest point, she was working two jobs and we were homeless." Realizing at a young age he had few options, he said the Army quickly became his saving grace.
"I knew I had no other options. I had no money for college but I had done JROTC all through high school. That prepared me for a life in the Army," he said.
Before leaving for his first duty station in Germany, Gilliard had never left South Carolina. "It was a huge transition going from little Columbia, South Carolina, to being on the other side of the world," he said. Gilliard spent his 21st birthday walking the streets of Berlin, Germany.
To add to his new experiences, Gilliard deployed to Ramadi, Iraq in 2007 as a supply specialist with the ninth Engineer Battalion. Gilliard commented on his drastic life change. Within two years of joining the Army, I had crossed the ocean and found myself in Ramadi, one of the most dangerous places in the world at the time," he said.
After two deployments to Iraq, Gilliard made the decision to switch jobs and become a Army recruiter. He is currently the US Army downtown Columbia recruiting station commander. He estimates that during his time as the station commander he has helped nearly 30 young locals from low-income families join the Army.
"There is no greater feeling in the world. Helping people come out of the hardships I faced as a kid is extremely fulfilling," said Gilliard. He continues to recruit new soldiers to the Army, and encourages anyone interested to come down to the station and speak with him.
Find out more at facebook.com/ArmyTeamColumbiaDowntown/. Learn more about Gilliard at 943TheDude.com/soldiersalute.