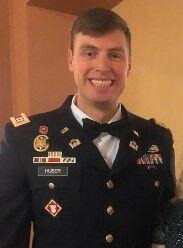 Major Chris Huber has been serving in the U.S. Army since graduating from the Citadel in 2009. The engineer originally was working as a civilian and attending drill like any normal National Guard soldier would. Now, he serves in the Active Guard Reserve.
"The way AGR works is that I'm working for the National Guard still, just with the active-duty component," Huber said. "It's a three-year contract and then when that is over, I can go back to being in the Guard or continue to do AGR."
Huber has a passion for serving those who have served, even while he is still active. He was a member of the group that founded Hunts of Honor, a nonprofit that fully equips and pays for veterans' hunting trips.
"We do everything in our power to make sure that they have the full out experience," Huber said. "You can go to the website, HuntsofHonor.org, and click a link on there to apply to be taken on one of these hunts."
Operation Bright Star 2021 in Egypt just finished a couple weeks ago. Huber along with the South Carolina National Guard and Illinois and Texas National Guard spent two weeks in support of ally components.
"We went and supported the Egyptians, Saudis and other coalition nations," he said. "We were the managing subordinate units and in charge of the orders production process."
Learn more about Huber this week on 94.3 The Dude.