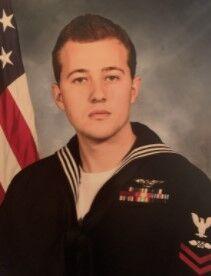 Harrison Church has been in the U.S. Navy for eight years. He was on active duty as an Aviation Boatswains Mate Equipment (ABE) specializing in Catapult Operations/Maintenance on USS George HW Bush CVN-77. Church switched to the reserves in 2018 while wanting to pursue a college degree.
"It's so different from active duty," Church said. "It's a little bit of a difficult transition. Going from living on a ship to then going to a training site just one weekend a month and figuring out what am I going to do now? It's a lot."
He discussed being a media liaison for a public affairs officer and meeting a prime minister. He joked about wanting to get a picture, but said the security were guys were clearly not going to take that lightly.
"He made a point to come and meet some of us and we gave him a tour of the ship, but there was a strict no phone policy so I couldn't get a picture. And his security team did not look like they were going to bend any rules," said Church.
Since graduating college in May, he started a career working for Navitas Credit Corp., but said he does not plan on hanging up the uniform anytime soon.
"It's only one weekend a month," Church said. "I have a lot more time to spend with my son and have a job outside of a ship but I can still serve my country and still get a retirement."
Learn more about him this week on 94.3 The Dude.