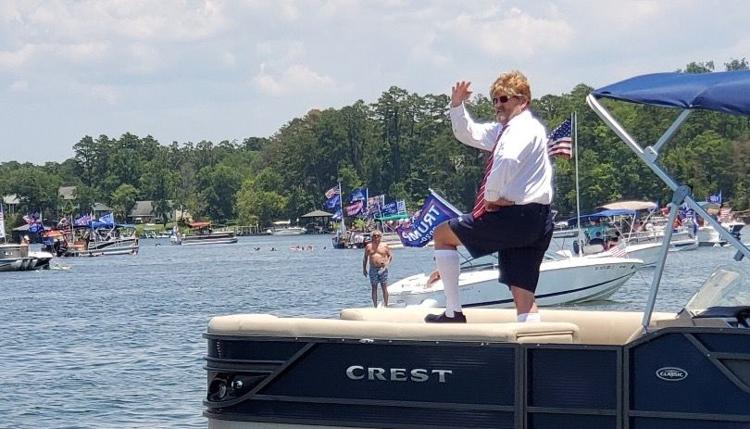 Residents from across the state, and others who traveled from out of state, could be seen Sunday on Lake Murray showing their support for President Donald Trump.
The "Trump Boat Parade" began near Dreher Island at 2 p.m., when two parachutists flew the American Flag and a Trump 2020 flag for the crowd to see. The parade route continued beside the Lake Murray Dam, and finished at Suzie Elbert Island (near Liberty on the Lake in Ballentine). The route was approximately 20 miles long.
The event was created by Jason Cline, and had more than 2,600 people who said on Facebook they would be participating. According to the event website, there were participants from eight states, and nearly every county in South Carolina. Parade-goers posted pictures on social media, some saying they traveled 800 miles to take part, another who wrote that they traveled from New York for the parade.
Chapin resident Cynthia Shepard participated with a group of family members and friends. She said there were two reasons they participated. "One, we wanted to show our support for President Trump who, despite the current climate of our country, we feel is doing a good job. Secondly, with all the bad news out there, we wanted to be part of something really uplifting. It was the perfect day, the organizers did a fantastic job, and everyone had a wonderful time," she said. 
It was estimated on the event's website that there could be several thousand boats with 15,000 to 20,000 people in attendance. The official turnout number has not yet been announced.