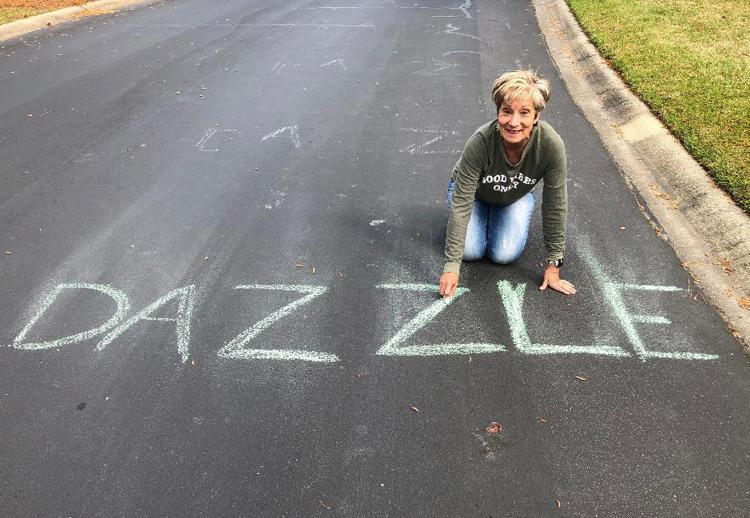 Be Kind. Grateful. Dance. Giggle. Dazzle.
The giant chalk messages have been quietly appearing — and spreading — for the past two weeks on a street in northeast Columbia's Windermere neighborhood.
The public art is the work of Nanette "Nettie" Howerin, a resident who wanted to cheer up people up during the pandemic and literally took matters into her own hands.
"I've been painting rocks and hiding them for the kids," Howerin said. "Then I thought, 'What else can I do to make people feel better?' I see so many people out walking and riding bikes. This gives them something to look at and put a giggle in their heart."
Residents are taking the messages seriously — sort of. Howerin said a couple of passersby saw the word "dance" on the road and interrupted their walk for an impromptu boogie session in front of her house.
Howerin said she tries to add two new messages daily. Even this week's storm didn't dampen her enthusiasm. She and her dog, Rusty, were back on the street early Wednesday morning to replace what washed away in Tuesday's rain.
"My dad used to say, 'All days are good. Some days are better,'" Howerin said. "I try to live that way and it becomes a habit."
Inspirational chalk art is popping up in other neighborhoods across the Midlands too, including Chapin, White Rock, Columbia, Camden, and Elgin.
More than 100 households of the Chestnut Hill Plantation in northwest Columbia participated in a neighborhood-wide sidewalk-chalk art event. Coordinator Brittany Newell said it was pure joy seeing that many neighbors take part in the activity.
"I think it drew our community even closer in the midst of a time where we feel so alone and apart," she said. "It brought people out of the dark, alone feeling that we were experiencing and reminded us that no matter what happens in life - we are neighbors, and we will always find a way to interact with each other."
Chestnut Hill's Tom Johnson flew his drone above the neighborhood to take pictures of all the art.