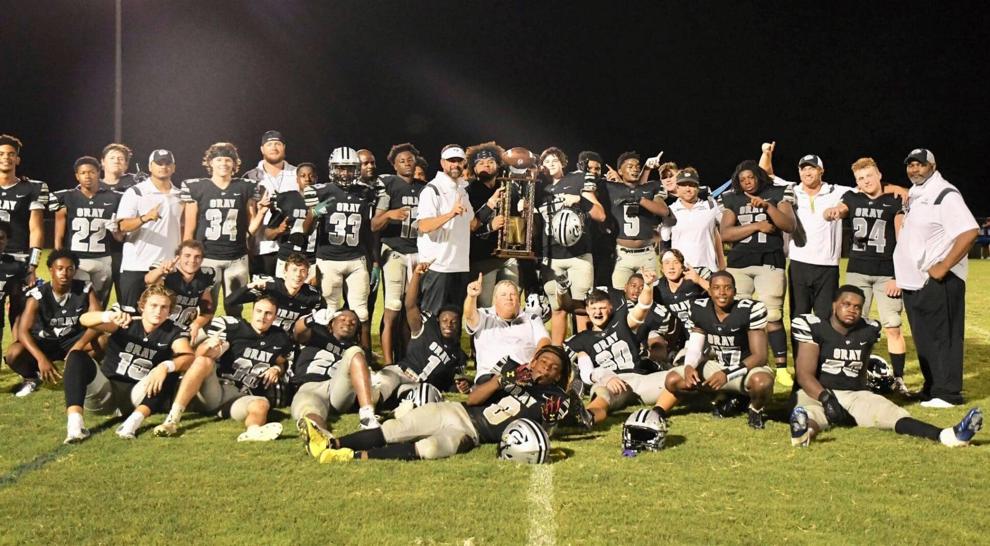 After a week dealing with the loss of teammate offensive lineman Jack Alkhatib, top-ranked Dutch Fork returns to action Friday.
The defending five-time Class 5A champions remained the unanimous top choice in the SC Prep Football Media Class 5A poll. The Silver Foxes (1-0) travel to sixth-ranked JF Byrnes for a non-region matchup.
Dutch Fork is 2-1 all time against the Rebels (2-0), all three meetings taking place in the post-season. The Silver Foxes enter the game having gone 51 straight games without a loss and victorious in 50 straight in-state games and 28 consecutive games on the road.
Defending Class 4A champion AC Flora remained atop the standings, while Irmo ranked eighth in Class 4A despite remaining inactive for a second straight week. The Yellow Jackets will finally open the season Friday at home against South Florence.
In Class 3A, Gilbert ranked fourth after a 55-29 win over Aiken in its season-opener. The Indians play host to Class 5A Lexington Saturday at 10 am. Camden was ranked fifth following its win over rival Lugoff-Elgin, while Brookland-Cayce was ninth and looks to open the season Friday at Blythewood.
Despite two straight wins over ranked teams in higher classifications, Gray Collegiate ranked at No. 2 in Class 2A behind defending champion Abbeville. The War Eagles travel to Rock Hill to face Legion Collegiate Thursday.
Saluda and Newberry were fourth and ninth, respectively, in Class A
SC PREP FOOTBALL MEDIA POLL
Class 5A
1. Dutch Fork (19)
2. Fort Dorchester
3. TL Hanna
4. Gaffney
5. Ridge View
6. Byrnes
7. Northwestern
8. Dorman
9. Spring Valley
10. Clover
Others receiving votes: Blythewood, Sumter, Mauldin, Chapin, Woodmont, River Bluff, Carolina Forest, Ashley Ridge.
Class 4A
1. A.C. Flora (18)
2. Greenville (1)
3. Myrtle Beach
4. Catawba Ridge
5. South Pointe
6. North Myrtle Beach
7. Beaufort
8. Irmo
9. Greenwood
10. May River
Others receiving votes: North Augusta, West Florence, Westside, South Florence, Indian Land, Greer, Richland Northeast
Class 3A
1. Daniel (18)
2. Dillon
3. Chapman (1)
4. Gilbert
5. Camden
6. Union County
7. Chester
8. Aynor
9. Brookland-Cayce
10. Clinton
Others receiving Votes: Seneca, Woodruff, Lower Richland, Powdersville, Oceanside Collegiate, Wren, Marlboro County, Fairfield Central, Hanahan, Broome, Crestwood
Class 2A
1. Abbeville (19)
2. Gray Collegiate
3. Marion
4. Saluda
5. Silver Bluff
6. Barnwell
7. Andrews
8. Christ Church
9. Newberry
10. St. Joseph's
Others receiving votes: North Central, Chesnee, Woodland, Batesburg-Leesville, Phillip Simmons, Wade Hampton, Chesterfield, Andrew Jackson
Class A
1. Southside Christian (19)
2. Lamar
3. Bamberg-Ehrhardt
4. Whale Branch
5. Blackville-Hilda
6. Lewisville
7. Lake View
8. Baptist Hill
9. Great Falls
10. Hannah-Pamplico
Others receiving votes: Wagener-Salley, Calhoun County, C.A. Johnson, Johnsonville, Branchville, Estill, Allendale-Fairfax, Ridge Spring-Monetta