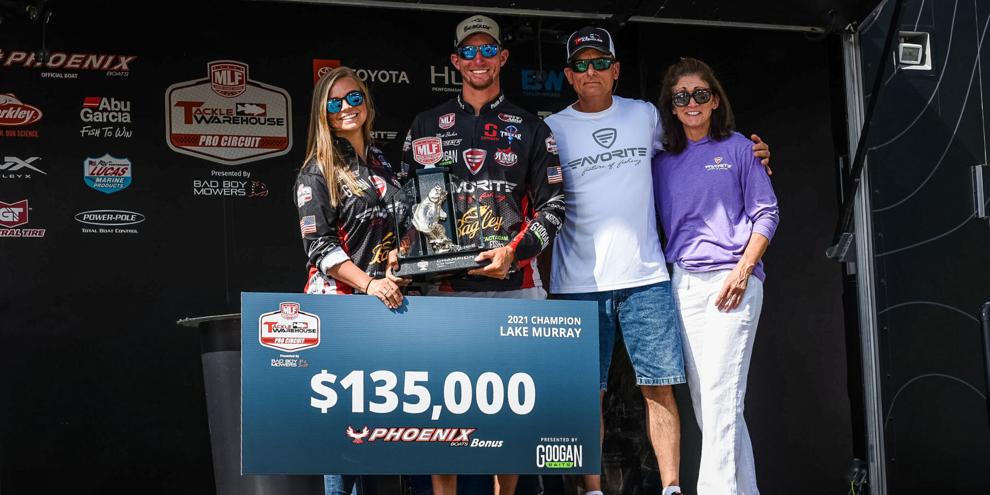 A late charge by Prosperity native Anthony Gagliardi was not enough to claim first place at Sunday's fishing event on Lake Murray.
Matt Becker of Finleyville, Penn. won the four-day Major League Fishing Tackle Warehourse Pro Circuit/Googan Baits Spot 3 championship. He reeled in a 5-bass limit of 17 pounds and 11 ounces to finish with a four-day total of 20 bass weighing 76.5 pounds to beat out Gagliardi by 2.5 pounds.
The first place win earned Becker $137,500, including the $35,000 MLF Phoenix BIG5 Bonus.
The event was presented by Bad Boy Movers and Favorite Fishing.
"This has been years and years in the making," Becker said. "I was really beginning to think that I couldn't win. I've always been consistent, near the top of the standings. But I was really starting to doubt that I could win. Just to make a top 10 against this group of hammers is unbelievable. They always say when it's your time, it's your time. And man, did I live that this week."
The 2018 Tackle Warehouse Pro Circuit Rookie of the Year started day one of the event with a plan to target docks and sight-fish spawning bass. But, before doing that, Becker slotted in a little time to try a risky timing/herring-spawn pattern, and he ended up never changing. He kept hitting, and re-hitting, as many points as possible knowing that eventually the schools of bass would move shallow to feed.
"The spot I caught them day two, I had fished three times before I caught them," said Becker. "I knew the fish were there, but I rotated through multiple times and never had a bite. Then I came back and they were there and they were eating. I went from zero to 14 pounds in minutes."
Overall, there were 46 bass weighing 151 pounds, 5 ounces caught by the final 10 pros Sunday. The catch included eight 5-bass limits.
The next event for Pro Circuit anglers will be the Grundéns Stop 4 Lake Eufaula in Eufaula, Alabama, May 13-16.
TOP FINISHERS AND PRIZE MONEY
1. Matt Becker – 76 – 05 (20) – $137,500 (includes $35,000 Phoenix Bonus)
2. Anthony Gagliardi – 73 – 13 (20) – $30,000
3. Michael Neal – 71 – 08 (20) – $25,000
4. Adrian Avena – 68 – 02 (20) – $20,000
5. David G Williams – 64 – 13 (20) – $19,000
6. Tai Au – 64 – 09 (20) – $18,500
7. Evan Barnes – 63 – 10 (20) – $17,000
8. Cody Huff – 63 – 00 (20) – $16,000
9. Derrick Snavely – 60 – 02 (18) – $15,000
10. Skeet Reese – 57 – 09 (17) – $14,000