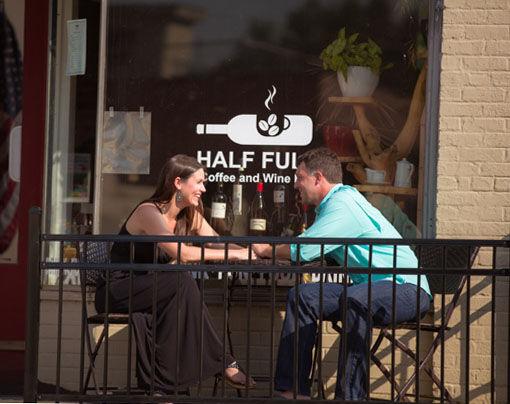 "It's magical here."
That's how Kristi Kuehl describes Newberry after uprooting her husband, newborn and vintage furniture business from northern California to the Midlands town not quite two years ago to be closer to family.
The couple now operate Pieces of Time East in an historic building on Main Street, attracting customers from across the region for Kuehl's repurposed and repainted vintage furniture and other home decor. Her husband, a retired military surgical technician, turns his skilled hands to furniture repairs and creating farm tables, barn doors and signs.
"The business is doing even better here than it did in California," said Kuehl, whose Facebook page boasts 30,000 followers. "We hit the ground running as soon as we got here."
They aren't alone — in fact, the business is one of many open and thriving in what the Travel Channel named one of the 50 most charming small towns in America. Newberry is throwing out the welcome mat to visitors, according to mayor Foster Senn.
"Everybody wants to get out a little now," Senn said. "Newberry is neat, and it's convenient for folks from the Midlands. We all need a little diversion, and this is a fun place for a little getaway."
Senn's recommended itinerary for visitors starts with a slow cruise down Main Street to admire the beautiful homes and buildings. Newberry has "new" in its name, but it celebrates deep historical roots. The area was settled by German, Scots-Irish and English settlers in 1740 who established the town in 1789. The downtown district includes entire blocks where every building is on the National Registry of Historic Places.
Tops among local landmarks is the famed Newberry Opera House, built in 1881. Although the venue is temporarily closed, ticket sales for fall performances are underway. The Old Courthouse — built in 1852 and now home to the local chamber of commerce and the Newberry Visitors Center — is another must-see.
Next on the agenda might be a stop for coffee at Genesis Hub or Half Full Coffee and Wine Bar. For more substantial fare, visitors can choose from family-oriented spots such as The Grille on Main or Steelhorse Smokehouse, or some of the state's best upscale dining, including Figaro, The Cabana and Steven W's.
Afterward, browse through downtown's many unique retailers, including clothing boutiques, gift shops and a specialty grocery store.
Also on Senn's to-do list are the Newberry Arts Center and the Newberry Museum. The arts center's Artisan Shop displays the work of local artists, potters, weavers, basket makers, woodworkers and jewelers, and also offers classes and workshops. The museum launched last December in a circa 1900 post office building with exhibits ranging from early Native American artifacts to the current era. Admission is free.
Newberry long ago adopted the nickname the "City of Friendly Folks," and Kuehl might be the first to agree it's still spot-on.
"What I love most about Newberry is the community, hands down," she said. "We feel like we've been here forever."
Learn more about Newberry's history, shops, dining and other attractions on the city's website.