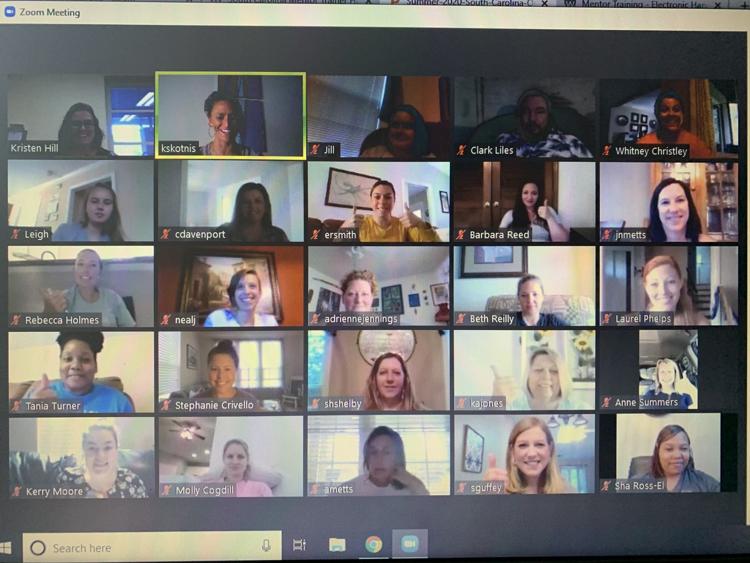 School District Five representatives announced Thursday that 25 new certified teacher mentors have been added in schools across the district. Their job will be to provide professional support and guidance throughout the school year to educators beginning their career in District Five.
Current School District Five teachers who participated in the two-day South Carolina Mentor Training include: Clark Liles and Jill Chapman (Academy for Success), Ashley Metts (Chapin Intermediate), Barbara Reed (Dutch Fork Elementary), Stephanie Crivello, Joanna Neal, Laurel Phelps, Beth Reilly, Sha' Ross-El, and Sheila Shelby (Harbison West Elementary), Whitley Christley and Tania Turner (Irmo Elementary), Ellen Smith (Irmo High), Caci Davenport (Irmo Middle), Sarah Guffie and Rebecca Holmes (Leaphart Elementary), Anne Summers (Lake Murray Elementary), Leigh Burnette, Kerry Cogdill, Adrian Jennings, Mollie Cogdill and Katie Jones (Nursery Road Elementary) and Jennifer Metts (Oak Pointe Elementary).
Beth Reilly, a special education teacher at Harbison West Elementary, recently became a certified Teacher Mentor. "I am excited to begin building relationships with new teachers; first to be a support system and resource, but also to learn the newest and most updated teaching strategies from my mentee. I can't wait to feed off his/her excitement and enthusiasm, but also to be a listening ear and help guide them through the ups and downs of the profession. Through the mentoring process, I truly believe a relationship will be built that supports and sustains teachers in the most important profession," she said.
"The success of many of the district's new teachers is directly related to the high-quality mentorship they receive," said School District Five Director of Personnel, Tamara Turner. "District Five is grateful to the many experienced educators who are willing to serve in this capacity. The district's mentoring program has been an effective strategy to improve the teacher retention rate and also accelerate the professional growth of new teachers."
The two-day virtual South Carolina Mentor Training focuses on the knowledge, skills, and understandings critical to those who work with beginning teachers. It is guided by the belief that learning to teach is a career-long developmental process that involves a continuous cycle of planning, teaching, and reflecting. At the heart of this work is the mentor's ability to respond to each new teacher's individual developmental and contextual needs and to promote the ongoing examination of classroom practice. District-wide, there are currently 225 trained mentors.
"Teacher mentors have the platform and influence to drive our profession forward," said Kylie Skotniski, reading intervention specialist at Harbison West Elementary and co-facilitator for the Mentor Training Certification course. "The ultimate impact that teacher mentors have is shown in the academic success of our students. By fulfilling their roles, teacher mentors have the ability to build trusting relationships with mentees to improve teacher retention while also supporting and improving instructional strategies, enhancing communication, and building confidence in our next generation of teachers."