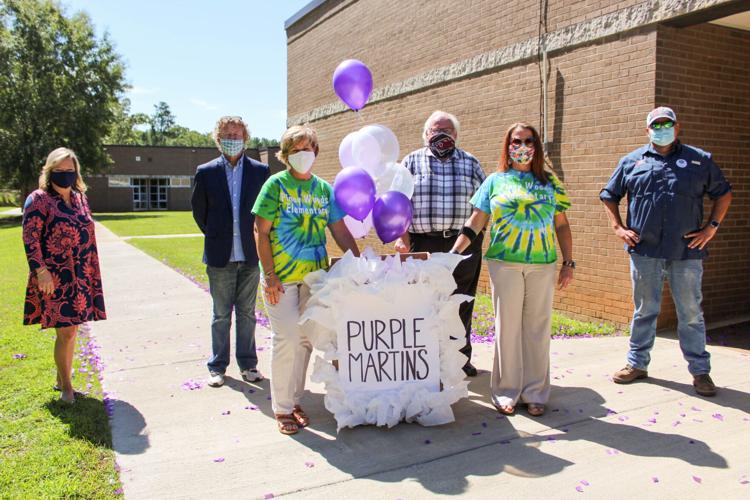 Piney Woods Elementary, Lexington-Richland School District Five's 13th elementary school, revealed their mascot chosen by the community during the September 28 Board Meeting.
Three options were available for the community to choose from: the Purple Martins, the Bears or the Ospreys. According to the district, just over 54 percent of the votes out of more than 2,300 submissions were for the Purple Martins, making it the mascot of Piney Woods Elementary School.
"I am grateful to our community for participating in helping us name our mascot, the Purple Martins," said Piney Woods Elementary School principal Cassy Paschal. "We greatly appreciate their support and cannot wait to start working on our school logo, colors and so much more with this decision by the School District Five community. I am so excited to be a Piney Woods Purple Martin!"
Purple martins migrate to South Carolina every summer to roost on Bomb Island, the largest purple martin sanctuary in North America, located on Lake Murray. Locals of the Midlands flock to Lake Murray around dusk while the purple martins visit to take in the sights and sounds of the birds swarming together circling the island for several minutes before they disappear into the trees on Bomb Island.
"I love the Purple Martins. I think just like the Piney Woods name for the school, tying the community in, the purple martins obviously pays great homage to the Lake and the area that we live in, I think it is an awesome tie in," said naming committee member Norman Agnew.
Piney Woods Elementary is slated to open in the fall of 2021. More information on the district's new elementary school can be found at lexrich5.org/pineywoods.