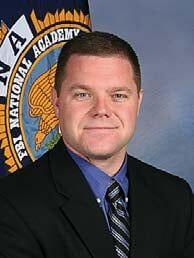 Chapin Police Chief Seth Zeigler officially stepped into retirement as of 3 p.m. Friday. He said earlier that morning it was a bittersweet feeling.
"I'm going to miss the wonderful staff here in the Town of Chapin, it's the people who make the job the great thing that it is," he said. "But I'm excited about the next chapter."
Zeigler has been in law enforcement for 25 years, and has served as Chapin's police chief since 2016. He is also a Chapin native, and said he's enjoyed serving in the community where he grew up.
"It's been a great honor to come back home and protect the people that I grew up with, and follow in my dad's footsteps. He was the fire chief," said Zeigler.
He said he'll now be moving into a part time job working in a private sector, allowing him to spend more time with his family.
The town held a retirement drop-in for Zeigler Friday from 1 to 3 p.m. at the Chapin Town Hall Community Room. All were invited to attend and take part in the celebration.
Captain Thomas Griffin will now be promoted to the new police chief of the Town of Chapin.