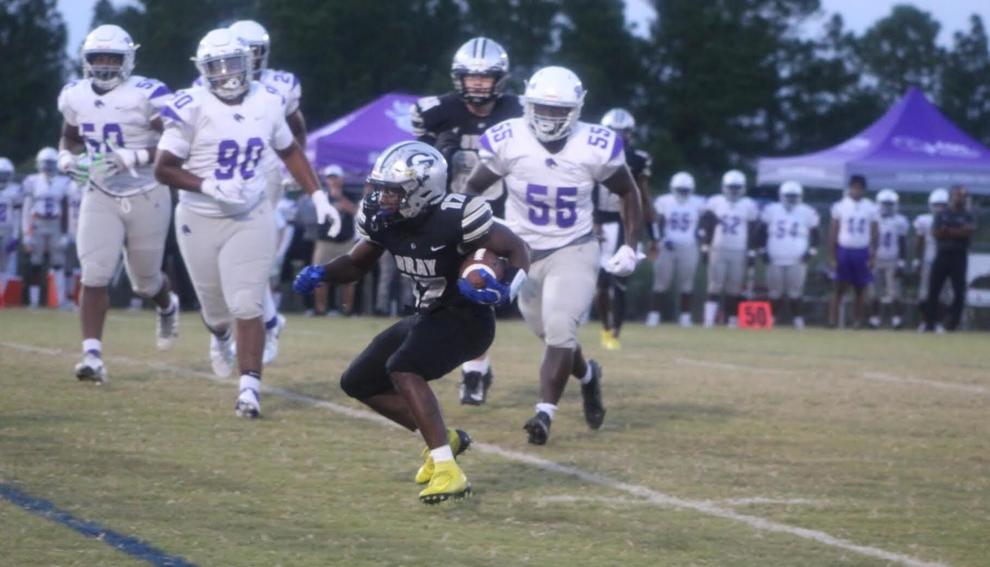 Week 3 was an evening for the "Giant Killers".
Both Gray Collegiate Academy and Gilbert High School posted victories over teams in higher classifications, while Brookland-Cayce got a road win over third-ranked Chapman.
Gray Collegiate 28, Ridge View 18
For the third time this season, the Class 2A second-ranked War Eagles defeated a ranked opponent from a higher classification.
The latest was undefeated Ridge View, ranked fifth in Class 5A that arrived at Midlands Sports Complex also sporting a 3-0 record. They also apparently got the attention of Gray Collegiate Academy players on social media with pre-game talk.
Led by a motivated senior running back KZ Adams, Gray Collegiate defeated the Blazers 28-18 for its first ever win over a Class 5A opponent.
"When you go 4-0 against the teams that we've played in Camden, Oceanside and Legion and then, obviously Ridge View, we've showed we can play with anybody," Gray Collegiate head coach Adam Holmes said.
The Georgia State-bound Adams rushed for 210 yards and three touchdowns. He also had a 24-yard touchdown reception and 2-point conversion in accounting for 27 of his team's points.
Down 28-6 in the fourth quarter, the Blazers scored scored two touchdowns in 21 seconds. Quarterback Andre Washington scored on a 3-yard run and, after recovering an onside kick, completed a long pass to set up Matthew Gibbs' 4-yard touchdown run with 6:31 left.
Like the previous drive, Gray Collegiate's Tori Kelly made a crushing tackle to prevent the two-point conversion. The War Eagles managed to run out the remaining minutes as Robinson found Savion Smith at the 1-yard line in the final seconds.
Gilbert 48, Hartsville 47
The 10th ranked Indians were making their first trip to Hartsville. It was also the first time it had a female placekicker in girls soccer player Riley Barnes.
Barnes went 2-4 on PATs. Gilbert needed four touchdowns and a career-best 320 rushing yards from Alias Graham-Woodberry, a pair of two point conversions by Gray Leaphart and a defensive stand on a potential game-winning two-point conversion in the final seconds for the 48-47 win.
The Indians trailed 28-13 at halftime before opening the second half with 21 unanswered points.
A 2-yard run by Gray Leaphart, who then scored the two-point conversion, brought the Indians to within 28-21. After a Hartsville punt, Graham-Woodberry scored on a 16-yard touchdown run and Barnes tied the game at 28-28 with the PAT.
The Red Foxes were forced to punt again and Gilbert capitalized with a go-ahead scoring drive capped by Jennings' 6-yard touchdown run. He finished with 169 rushing yards to go with 85 passing yards.
Barnes' PAT was blocked for a second time by Hartsville, keeping the score at 34-28 entering the fourth quarter.
The fourth quarter saw four lead changes and the two teams combine for 33 points. It started with McDaniel's 36-yard scoring run with 9:46 left to put Hartsville ahead 35-34. Woodberry answered it with a 65-yard touchdown run 11 seconds later to make it 40-35 after the failed two-point conversion.
With 5:04 left, Roddi Morris scored on a 16-yard run to regain the lead for Hartsville at 41-40.
Starting from the Gilbert 22, Jennings found an open Gage Gunter on third and six for a 34-yard completion. The two connected on another thid down conversion for 10 yards to the Hartsville 35.
A 12-yard run by Woodberry was followed by a 16-yard run by Jennings to the Hartsville 8. A personal foul penalty on the run by the Red Foxes moved the football to the 5, setting up Woodberry's go-ahead score.
Leaphart caught the two-point conversion with 1:49 left to make it 48-41.
The extra point proved critical as Hartsville quickly drove downfield and J'Shawn Anderson's eight-yard touchdown run with 15 seconds left brought it within a point.
The Red Foxes (0-3) went for the victory, only have Anderson stopped short of the goal line. Gilbert recovered the onside kick to run out the clock.
Lexington 41, Airport 14
Taiden Mines threw for 142 yards and two touchdowns, both to Kamadi Maxwell, and Jonah Norris rushed for 104 yards and two scores to lead the Wildcats.
Maxwell also had a 45-yard punt return for a touchdown to give Lexington a 34-0 lead in the second half.
Immanuel Bovain put the Eagles on the board with a four-yard touchdown run. Lexington answered 12 seconds later with a 66-yard scoring run by Keshawn Gladden to make it 41-7.
Tyler Dasher closed out the scoring with three-yard touchdown pass to Layne Turner.
Airport is idle next week, while Lexington plays host to Ashley Ridge at noon Saturday, Sept. 18. The Wildcats were originally scheduled to face Spring Valley.
Brookland-Cayce 42, Chapman 35
Tanner Staton threw for 405 yards and a touchdown and Skylar King caught eight passes for 161 yards and a score as the 5th ranked Bearcats rallied from 15 points down to defeat the third-ranked Panthers.
Jahmari Kennerly had six catches for 105 yards and also threw a touchdown pass in the comeback win. 
Camden 27, Lakewood 6
Despite head coach Brian Rimpf's uncertain status entering the game, the Bulldogs won their third straight game of the season.
Rimpf had been initially placed on paid leave for undisclosed reasons by the Kershaw County School District. He was reinstated prior to kickoff, but worked from atop the pressbox.
The Bulldogs got touchdowns from 4 different players for their third straight win.
AC Flora 31, Lower Richland 7
Quarterback Phillip Daniel threw three touchdowns and Chris Lofton had a second half kickoff return for a touchdown for the defending Class 4A champions.
WJ Keenan 42, CA Johnson 16
Hernandez O'Neal threw three first half touchdowns and Marquece Williams rushed for two touchdowns to lead the 2-0 Raiders.
Blythewood 14, Richland Northeast 10
Harrison Collins and Desmond Boatwright both scored touchdowns for the Bengals.
Irmo 45, Crestwood 18
Izayah Whiteside threw for 256 yards and three touchdowns, two to DeAree Rogers who had six catches for 175 yards, in the win by the Yellow Jackets.
Hammond 23, Charlotte Country Day 7
CJ Stokes and Thomas Epps each rushed for touchdowns and the Skyhawks outscored Country Day 16-0 in the second half for the win. 
First Baptist 17, Ben Lippen 16
First Baptist erased a 14-0 deficit with 17 unanswered points, capped by a 27-yard field goal as time expired for the victory.
Heathwood Hall 25, Cardinal Newman 14
Will Frick had three field goals and Walker Draffin scored a touchdown in the fourth quarter to lead the Highlanders.
OTHER MIDLANDS SCORES
Brookland-Cayce 42, Chapman 35
Fairfield Central 42, Westwood 35
Saluda 52, Midland Valley 19
Richard Winn 30, WW King 0