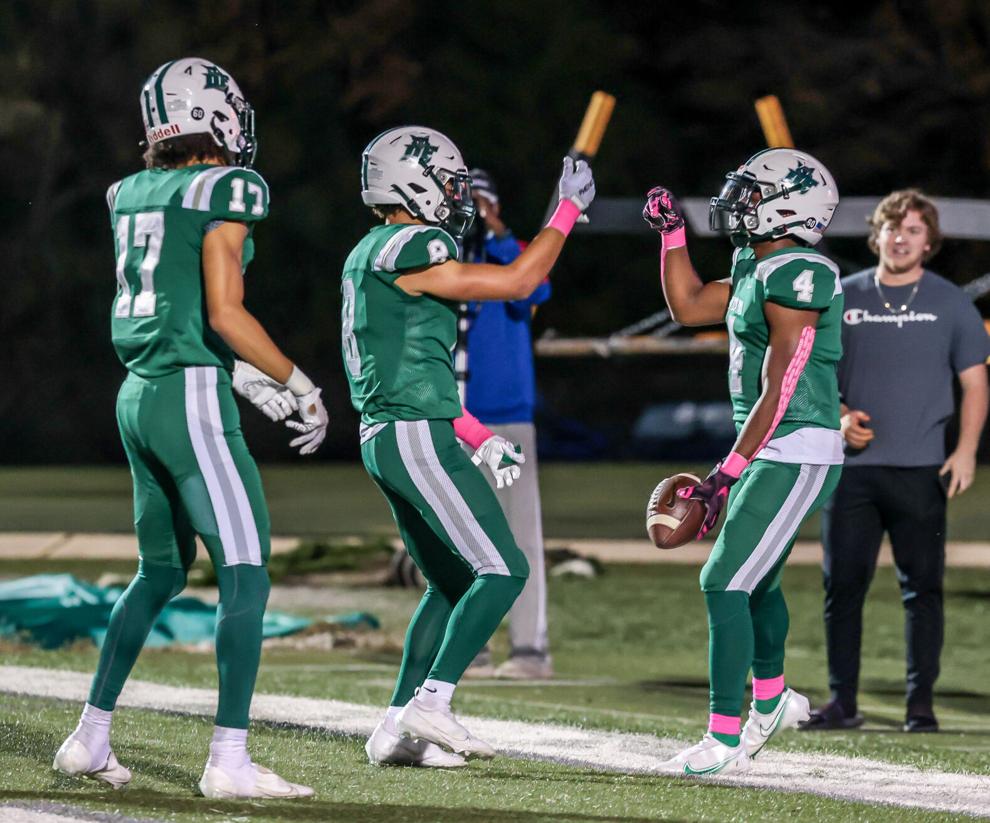 Dutch Fork began its "Shoot for 6(0)" in typical dominating fashion Friday at home.
Davin Patterson threw for 267 yards and three touchdowns, wide receiver Antonio Williams had five receptions for 131 yards and a touchdown and Jarvis Green rushed for 123 yards and two touchdowns to lead the Silver Foxes (9-0).
It was the program's 59th consecutive game without a loss, the 58th straight victory over an in-state team and extended their state record playoff win streak to 25.
Dutch Fork also remained perfect in first-round games under Tom Knotts at 13-0. In addition, the Silver Foxes posted their 16th shutout victory since 2016.
Defensively, the Silver Foxes held the Braves to 112 total yards and collected two interceptions.
The Silver Foxes will remain at home for their second round contest against Cane Bay.
AC Flora 34, Indian Land 10
After a close first half, the defending Class 4A champion Falcons outscored the visitors 28-0 in the second half led by Markel Townsend's 149 rushing yards and three touchdowns.
Hammond 31, First Baptist 0
Dyland Richardson threw two touchdowns, rushed for two scores and accounted for 232 total yards to lead the defending SCISA Class 3A champions.
Lexington 24, Conway 0
Keyshawn Gladden rushed for three touchdowns and the Wildcats forced four turnovers and allowed -4 rushing yards to lead the Wildcats to their first playoff win since 2016.
Lexington (8-2) travels to Goose Creek for the second round Friday.
Spring Valley 32, Nation Ford 24
Dequandre Smith threw for 119 yards and rushed for 175 yards and four touchdowns to lead the Vikings to the first-round win at Harry Parone Stadium.
Ridge View 46, Clover 14
Andrew Washington threw three touchdown passes for the Blazers, who travel to Hillcrest for the second round.
Saluda 38, Andrew Jackson 14
Jonah McCary accounted for four touchdowns (two passing, two rushing) to lead the Tigers to the second round of the Class 2A playoffs.
Up next is a trip to Abbeville to face the defending Class 2A champions.
CA Johnson 39, Wagener-Salley 8
The Hornets celebrated their first playoff home win in 36 years by getting two touchdowns each from Isom Harris and Dawan Rice.
Up next is a visit to top-ranked Southside Christian.
Lower Richland 27, Seneca 21
Robert Adams threw three touchdowns to three different wide receivers as the Hornets jumped out to a 27-0 lead before holding on for the victory.
Gilbert 53, Loris 13
The trio of quarterback Chance Jennings, wide receiver Gage Gunter and running baks Jaden Allen-Hendrix and Alias Graham-Woodberry all accounted for two touchdowns each in the first-round victory.
Jennings was 7-12 passing for 133 yards, 111 on three receptions by Gunter, Allen-Hendrix rushed for 127 yards as he moved 22 yards shy of 1,000 on the season and Graham-Woodberry finished with 105 yards.
Up next for Gilbert (9-2) is a second-round road game against Oceanside Collegiate.
Gray Collegiate 63, North Central 0
"Mr. S.C. Football" finalist KZ Adams rushed for 255 yards and five touchdowns in the first half to surpass 2,000 yards on the season in the War Eagles' first-round victory.
Gray Collegiate (10-1) plays host to Crescent at Midlands Sports Complex.
Chapin 50, Carolina Forest 14
Running back Bennett Galloway rushed for three touchdowns in surpassing 1,000 yards and caught one of quarterback Jayden Bradford's three scores as the Eagles picked up the first-round road victory.
The Eagles capitalized off the injured-riddled Panthers' team by scoring 50 unanswered points to open the game. Galloway opened the game with a 39-yard touchdown, then followed with a one-yard score and 81-yard scoring run to make it 20-0 in the second quarter.
Following a safety, Bradford threw a 15-yard touchdown run. After the Eagles scored on a fumble recovery on the endzone, Bradford threw touchdown passes of 30 yards and 65 yards to Galloway.
Up next for Chapin (8-3) is a road trip to top seed Fort Dorchester.
Sumter 28, Whike Knoll 8
Zyeir Gamble returned a kickoff for a touchdown, rushed for two of his three scores and had an interception, all in the second half to lead the Gamecocks.
The Timberwolves' lone score came on a 66-yard touchdown pass from Landon Sharpe to Jalen Watson with 3:19 left in the game.
found the end zone after a Sumter punt on a 66-yard touchdown pass from Sharpe to Jalen Watson with 3:19 left to close out the scoring.
Camden 56, Bishop England 0
The Bulldogs posted their third shutout of the season as Avaree Hickman rushed for two touchdowns in the first-round win.
Up next is a home matchup against Aynor in the second round.
OTHER PLAYOFF SCORES
Irmo 21, York 10
Catawba Ridge 28, Westwood 20
Wren 46, Fairfield Central 13
Hartsville 70, Airport 13
Daniel 52, WJ Keenan 6
Newberry 43, Landrum 7
Brookland-Cayce 33, Waccamaw 0
Christ Church 38, Batesburg-Leesville 7
Timberland 39, Pelion 0
CA Johnson 39, Wagener-Salley 8
Patrick Henry 31, WW King Academy 0
Trinity Collegiate 57, Ben Lippen 42
Clarendon Hall 54, Richard Winn 40