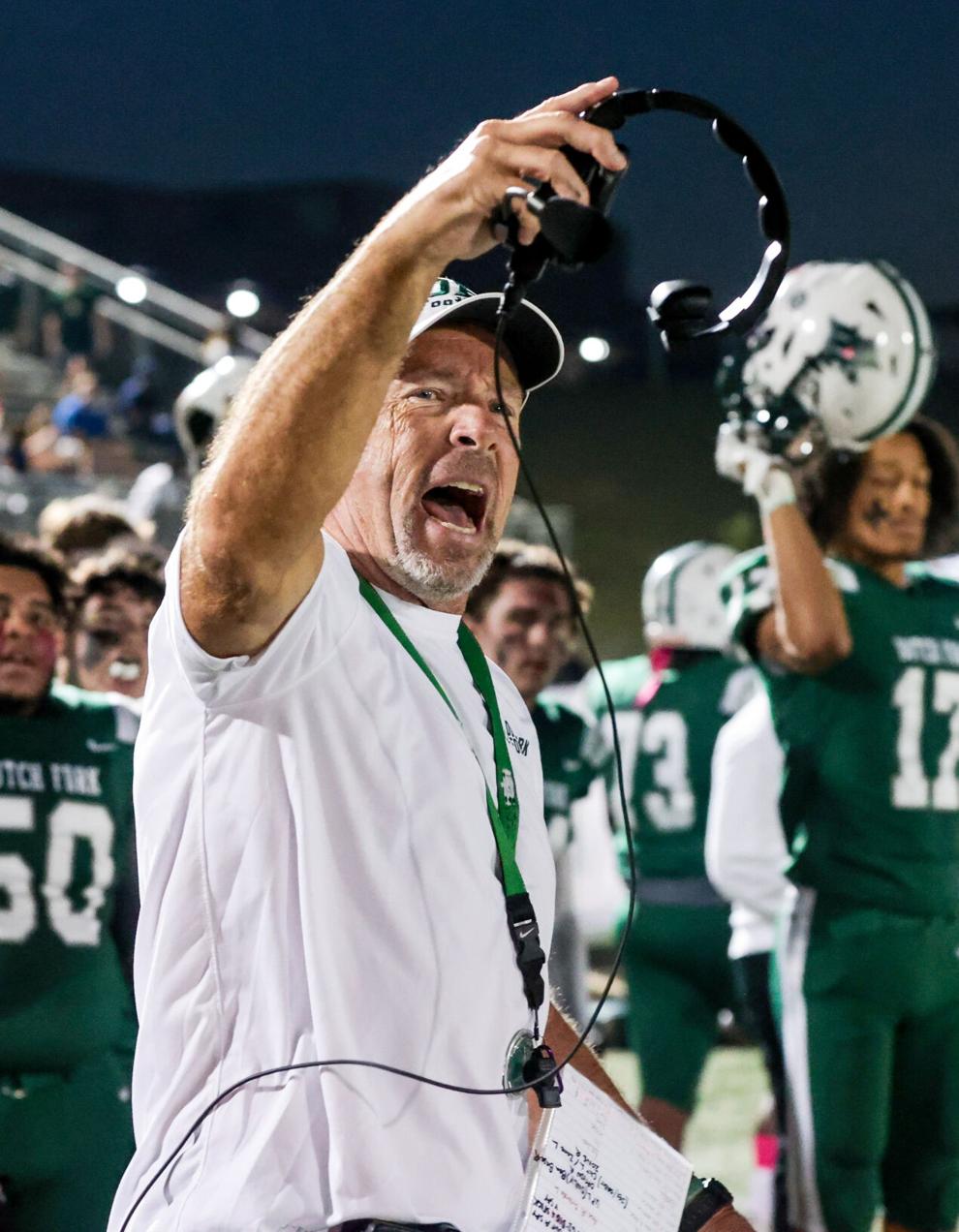 Add winning region titles under head coach Tom Knotts as one among life's guarantees.
Since arriving from Charlotte, NC in 2010, Knotts has led Dutch Fork to a region champion every season of his tenure.
The five-time defending Class 5A champions added another Region 5-5A title to their list of accomplishments Friday, following the 49-3 home win over eighth ranked Lexington.
Jarvis Green had five touchdowns, four rushing in the first half for the second time this season, and quarterback Davin Patterson threw for 236 yards and two touchdowns to lead the offensive. The defensive allowed just 133 total yards and lifted the Wildcats to a 33-yard field goal by Tyler Chavis.
The win by Dutch Fork (8-0, 4-0) also extended its ongoing winning streaks to end the regular season:
58 consecutive games without a loss
57 consecutive wins over in-state teams
30 consecutive home games without a loss
29 consecutive home wins over in-state teams
28 consecutive region wins
Green finished with 133 rushing yards and had four rushing touchdowns in the first half. He had one of the two touchdown pass from quarterback Davin Patterson, who finished with 236 passing yards.
Under Armour and Touchstone Cooperative Energy North-South Bowl selection wide receiver Antonio Williams had 10 receptions for 169 yards.
Lexington (6-2, 2-1) plays host to Chapin next week in a matchup to determine second place in Region 5-5A.
Gilbert 21, Strom Thurmond 7
Jaden Allen-Hendrix rushed for two touchdowns and Jackson Caulder was responsible for two of the Indians' three turnovers forced in the first half.
Gilbert (7-2, 3-1) took a 7-0 lead with 38 seconds left in the first quarter on a 13-yard touchdown pass by Chance Jennings to Touchstone Cooperatives Energy selection Gray Leaphart.
Jaden Allen-Hendrix accounted for the Indians' final two scores on touchdown runs of four and nine yards in the second and third quarters to make it 21-0.
Strom Thurmond's Chris Barnes scored on a one-yard touchdown run with 2:09 left to snap his team's scoreless streak of nine quarters. The Rebels were held to seven rushing yards.
Gilbert, Brookland-Cayce and Orangeburg-Wilkinson are tied for first place in Region 5-3A. The Indians travel to Swansea, while the Bearcats play host to the Bruins.
Brookland-Cayce clinches the region with a win, while a loss and Gilbert win gives the Indians the top seed.
Brookland-Cayce 44, Swansea 0
Skylar King was a one-man scoring machine in the Bearcats' victory.
He opened the game with a 80-yard kickoff return for a touchdown. He then caught two touchdown passes from quarterback Tanner Staton and threw a 45-yard touchdown pass to Will Young with 39 seconds left in the third quarter.
Chapin 47, River Bluff 21
Jayden Bradford threw for 326 yards and five touchdowns, three to Appalachian State commit Zavier Short, and the defense forced five turnovers to lead the Eagles to the Region 5-5A win.
Bennett Galloway had a 25-yard touchdown reception and rushed for a 24-yard score to lead Chapin (7-2, 2-1) visits Lexington next week to decide second place in Region 5-5A.
Westwood 42, Irmo 37
The seventh ranked Yellow Jackets were minutes away from their first region title since 2009.
Instead, the Redhawks marched downfield and got a touchdown pass from Camron Brown to Noah Jennings with 16 seconds left to cap a rally from 20 points down in the second half.
The victory creates a three-way tie for first place in Region 4-4A with Irmo, Westwood and defending state champion AC Flora. The Yellow Jackets (4-3, 3-1) close out the regular season at Lugoff-Elgin needing a win and a Westwood loss to Richland Northeast to claim a share of the region title.
Richland Northeast 19, Dreher 10
It's a four-way tie for the final playoff spot in Region 4-4A following the Cavaliers' win.
Quarterback Will Wilson rushed for two touchdowns for Richland Northeast.
Ridge View 27, Rock Hill 6
The Blazers snapped a four-game losing streak and moved into a third place tie in Region 4-5A following the win over the Bearcats.
Quarterback Andre Washington threw for two touchdowns and ran for one for Ridge View (3-4, 1-2), who close out the regular season against arch rival Blythewood.
Spring Valley 45, Blythewood 28
The Vikings clinched second place in Region 4-5A as Dequandre Smith threw for 193 yards and three touchdowns.
Newberry 20, Batesburg-Leesville 14
The final home game for coaching legend Phil Strickland ended with the Bulldogs prevailing over his former team.
The victory also kept Newberry's region title hopes alive entering next week's game versus Gray Collegiate. The War Eagles earned a forfeit win over Eau Claire.
The loss clinched fourth place in Region 3-2A for the Panthers
WW King Academy 56, Newberry Academy 6
The Knights (6-2, 3-1) won their fifth consecutive game of the season Friday and close out the regular season Friday at Jefferson Davis Academy.
Laurens 19, White Knoll 14
Landon Sharpe threw for 188 yards and two touchdowns, one to Austin Cunningham, in the loss by the Timberwolves.
The Raiders trailed 14-10 before scoring nine unanswered points in the fourth quarter.
White Knoll (1-8, 0-3) can still clinch a playoff berth with a victory next week at River Bluff.
Hammond 55, Cardinal Newman 0
The Skyhawks' extended their streak of shutouts to five following the win over the Cardinals.
Dylan Richardson threw three touchdown passes and rushed for another score and CJ Stokes had touchdowns rushing and catching.
Heathwood Hall 34, Wilson Hall 20
Rondarius Porter rushed for three touchdowns as the Highlanders picked up a win prior to their season-ending showdown with Hammond School.
South Aiken 50, Airport 12
Ridge Spring-Monetta 50, Wagener-Salley 8
Saluda 65, Columbia 12
Keenan 45, Lakewood 37
Camden 46, Manning 0
Richard Winn 54, Jefferson Davis Academy 18
Porter-Gaud 29, Ben Lippen 26
THURSDAY'S GAME
Pelion 39, Barnwell 34
Quarterback Peyton Whitten threw two fourth quarter touchdowns and his late interception on defense preserved the comeback win by the Panthers.
Whitten finished with 231 passing yards, rushed for 114 yards and had 4 touchdowns.
Pelion (3-5, 1-2) is currently third in the region and closes out the regular season at Edisto.