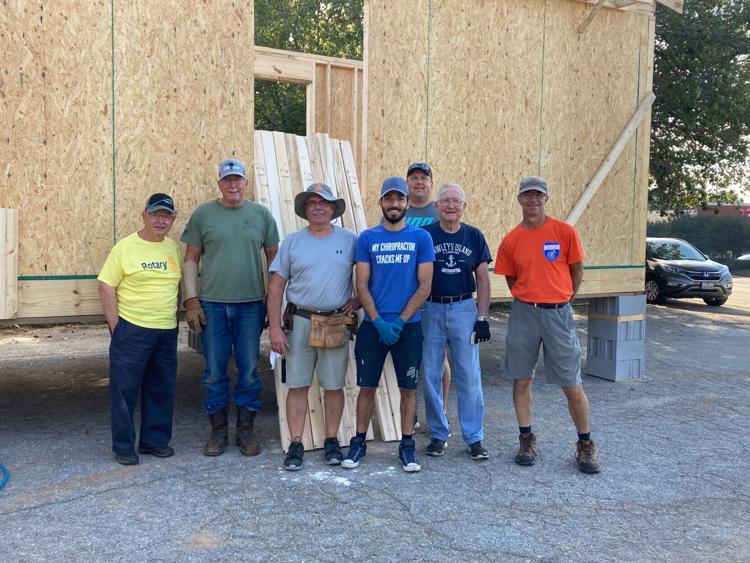 GOoD Works of Chapin, with the help of volunteers, is in the process of constructing a tiny house for someone in need. The nonprofit will be fully furnishing the home, making it move-in ready for an individual or couple at the start of next year. So far, a group of about 25 volunteers has finished constructing the shell of the house over a six-day period.
GOoD Works helps to improve living conditions of local residents who may need home repairs due to a disability or financial strain. The group has been assisting clients for 18 years, and this will be the first tiny house they have built.
According to executive director Mary Higginbotham, the 504 sq.-ft. home will have a covered front porch, an open living/kitchen area, dishwasher, a bathroom with a combined tub/shower, a stackable washer and dryer, a linen closet, and a bedroom with two closets. There will also be a small side porch with covered stairs. The house will have vinyl siding with shakes to accent the top. "We want it to have a nice aesthetic look," said Higginbotham.
The appliances inside will all be donated from local businesses.
The future owner of the house is still unknown. Higginbotham said GOoD Works will be in charge of determining who moves in - taking into consideration the need, current living circumstances, and if the individual or couple would be a good fit in terms of the house size.
She encourages anyone interested in owning the home to reach out to her. "We're always happy to talk to anybody in need. God speaks to us in so many different ways and it may be that someone doesn't know about this house who may be the perfect fit," she said. "Or, if this house doesn't end up being the right fit, maybe there could be another one down the road."
Higginbotham said they anticipate making more in the future. "We have not decided how many or when, but we do think this could be a really great, needed resource in the community," she said.
The project is being sponsored by the Rotary Club of Chapin Sunrise, and the Chapin Junior Woman's Club. It is currently being built in the parking lot beside the former Chapin Town Theatre on Columbia Avenue. It will be moved to a location in Little Mountain in a few weeks to finish construction at the permanent site.
Anyone interested in the home ownership or volunteering during construction can call 803-345-2030, or email maryh@goodworksc.org. The future homeowner should be from the Irmo, Ballentine, Chapin, Pomaria or Prosperity area. Individuals/couples interested in ownership have through the end of the year to reach out.