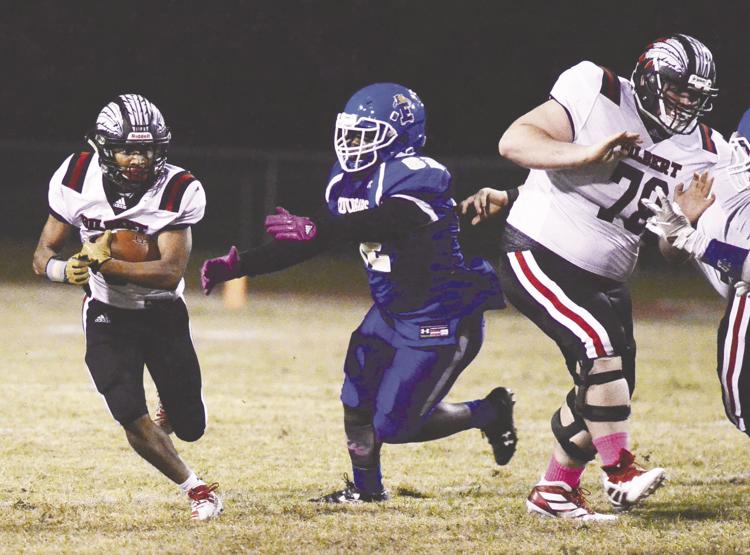 Prior to Chad Leaphart becoming head coach at Gilbert High School, his alma mater had never won a region title in football.
Friday night in Cordova, the third ranked Indians made short work of Edisto in a 55-6 rout to clinch a second Region 5-3A title in three years.
"Our guys are very excited about being region champs again," Leaphart said. "It was something we missed out on last year, so our guys were hungry for it."
Gilbert took a 28-0 lead at the end of the first quarter. It would score 49 unanswered points before the Cougars' Jalin Green returned a kickoff 93 yards for a touchdown in the third quarter.
It was the only offense mustered by the Cougars (6-3, 1-2) as they were held to just two first-down and committed two turnovers.
Just hours after winning the Palmetto Champions' Class 3A Back of the Year Award, quarterback Jy Tolen threw three first-half touchdowns and finished with 221 yards. Matt Reed had two of the touchdown receptions and led the team with 96 receiving yards and Alec Holt had a 56-yard touchdown reception on the Indians' first possession.
The win improved Gilbert to 8-1 overall, 3-0 in Region 5-5A heading into the home finale against Pelion. It will seek to not only win the outright region title, but also post nine or more wins for the fifth time in school history and third time in four years under Leaphart.
"Pelion is a big rival game for us, so our guys will be ready to play and we will want to finish the season sharp and strong heading into the playoffs," Leaphart said.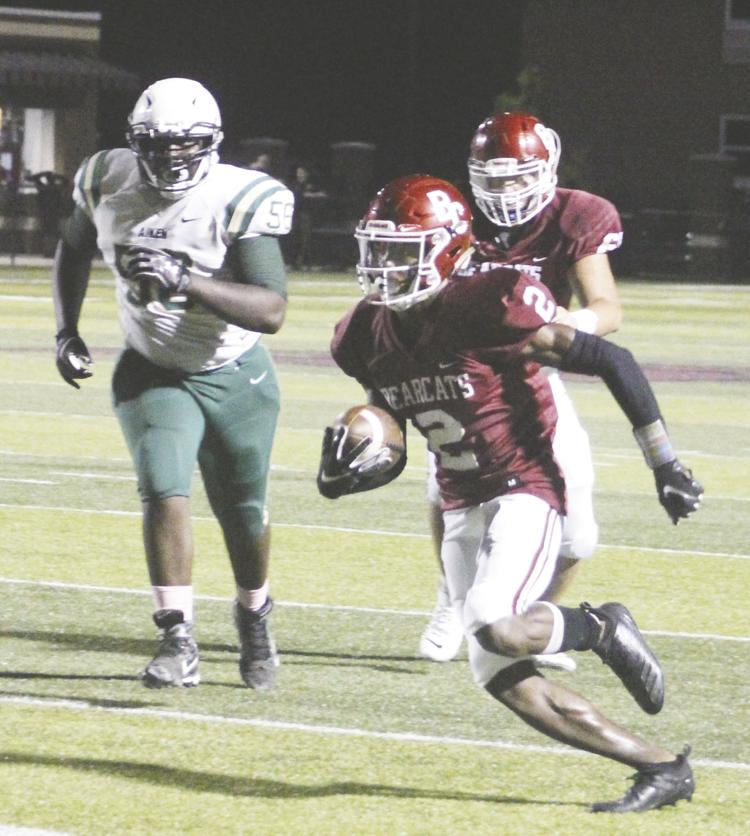 Brookland-Cayce 45, Aiken 7
Malachi Brown, Skylar King and Deondre Baker all had two touchdowns each as the Bearcats (6-3, 4-0) won their 5th consecutive game.
B-C will look to clinch the Region 5-4A title next week against Airport. It won the first meeting 35-32 in Week 1.
Airport 17, South Aiken 16
Markco Gilmore had two scores, rushing and passing, and Haden Rimer had a 29-yard field goal that was the difference for the Eagles.
It was the fifth consecutive win for Airport (7-2, 4-0), which looks to repeat last year's region-clinching win over Brookland-Cayce next week at home.
Lexington 41, Chapin 14
Ahmad Bynem-Scott and his fellow Wildcat seniors were motivated to have at least one more home game at Wildcat Stadium. A victory over the Eagles and next week in The Swamp against River Bluff would guarantee a first-round home game.
Sparked by a dominant first half in which Bynem-Scott ran rampant for 183 of his career-best 243 rushing yards and quarterback Elijah Ogden and Dionta Sanders connected on two touchdown passes, Lexington jumped out to a 27-0 halftime lead.
Scott added a touchdown in the third quarter to extend the lead to 34-0. He also surpassed the 1,000-yard mark for the season.
"Knowing I was going into the season I was playing behind some other backs that had 1,000 yards, I know I had to carry that along with me, I just knew I was trying to reach 1,000 (yards) this year," Bynem-Scott said.
After Chapin answered with back-to-back touchdown pass plays by quarterback Roger Pedroni to Zavier Short, Ogden found Coleman Voncoutren for a 55-yard scoring play in the fourth quarter to close out the scoring.
"He did a great job running with his eyes," Lexington head coach Perry Woolbright said. "His vision was great and that was a big thing we talked about all week - 'Run with your eyes' and stuff like that and he did a good job with that."
The loss dropped Chapin (4-5, 1-3) into last place in Region 5-5A. It closes out the regular season at Nation Ford. Despite the loss, Pedroni became the school's all-time leading passer after finishing with 200 yards.
White Knoll 14, River Bluff 10
The Timberwolves were playing their third straight game without senior standout quarterback Aveon Smith.
Early in the first half, they suffered another personnel loss as Touchstone Energy Cooperatives Bowl South All-Star placekicker Luis Orellana suffered a leg injury and did not return.
Add the fact White Knoll was facing a Gators' team playing to finish in second place and have a first round home game and the odds appeared stacked against it. Instead, the resilient Timberwolves put forth an inspired second half defensive end to hold on for the victory in The Swamp.
Braden Walker put River Bluff (7-2, 1-2) ahead 7-0 with 9:07 left in the second quarter. The Timberwolves answered a couple of minutes later with a 10-yard touchdown pass from Jaelin Gray to Darius Derrick-Jones. The two hooked up again with four seconds left in the first half on a two-yard touchdown pass play. Gray finished with 155 passing yards to go with the two scores.
A 27-yard field goal by Braden Rivers brought the Gators closer with 1:13 left in the third quarter. The Gators' last three possessions ended with a punt, fumble and turnover on downs.
 White Knoll (6-3, 1-2) can still earn a playoff berth. To accomplish that, the Timberwolves would have to upset a Dutch Fork which has defeated them nine straight times, have gone undefeated in 34 straight games, defeated 33 consecutive Palmetto State teams, have won 22 straight region games and been victorious in 21 straight road games.
Meanwhile, River Bluff can still clinch second place and a first round home game with a home win versus Lexington.
Gray Collegiate 62, Eau Claire 0
The War Eagles (6-3, 3-0) wrapped up a share of a second consecutive Region 3-2A title Friday on the road. Gray Collegiate can clinch the title outright in its regular-season finale next week against C.A. Johnson at a site to be determined.
OTHER LEXINGTON COUNTY SCORES
Batesburg-Leesville 55, Fox Creek 13
Holly Hill Academy 56, Northside Christian 20
Strom Thurmond 42, Pelion 0
Richard Winn 63, W.W. King 6