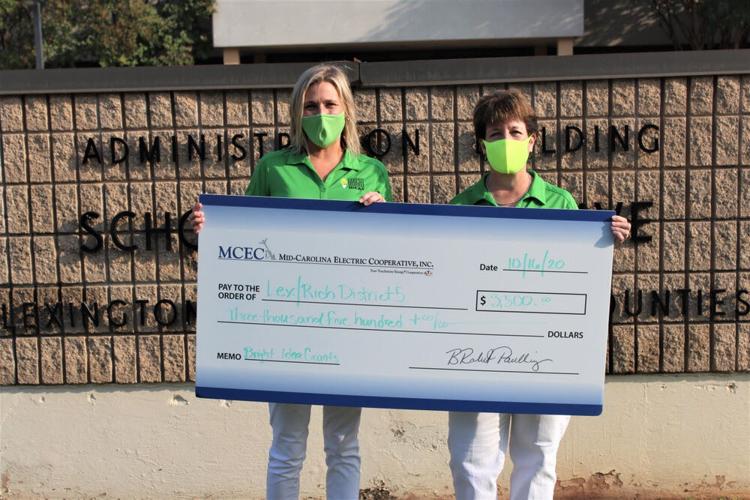 Several Lexington-Richland School District Five classrooms will soon benefit from grants provided by Mid-Carolina Electric Cooperative.
The Cooperative's annual Bright Ideas program grants provide funding to teachers who have demonstrated innovative ideas for classroom projects. District Five received a total of $3,500.
The grant recipients include: Craig Andrysczyk (Oak Pointe Elementary), Paula Batholomew (Chapin High), Kary Dufault (CrossRoads Intermediate), and Emily Ray (Oak Pointe Elementary). The grants will support a variety of projects that address social and emotional needs for sixth graders, biotechnology in the classroom, bringing the museum to school, materials to build social emotional skills, and more.
Teachers receiving this year's grants were surprised virtually by the "Bright Ideas Grant Patrol," who announced their awards during a Zoom call. CrossRoads Intermediate counselor Kary Dufault says the grant will help allow her school to place calm down boxes in the classroom. A calm down box contains sensory items to help students with self-regulation within the classroom, decrease anxiety and missed instruction time.
"Our students are facing new challenges and learning how to do school in a completely different way because of the pandemic which can create additional stress and difficulty with self-regulation of emotions," Dufault said. "Our school has been incorporating social-emotional lessons to give our students the tools they need to manage intense emotions and develop coping skills to self-regulate. The calm down boxes will help our students feel more confident and secure and ready to learn. We are so incredibly grateful for this opportunity." 
On the elementary level, one grant will benefit students by helping them problem solve in new, innovative ways. 
"I am honored and excited to receive a $1,000 grant for my classroom at Oak Pointe Elementary," Craig Andrysczyck said. "The project is called Online Engineers and the money will go a long way towards virtual problem solving and group work with our classroom 3D printer. It's generosity from organizations like Mid-Carolina Electric that make learning opportunities like this possible." 
This year's awards mark the 16th annual Bright Ideas program recognition. MCEC gave approximately $16,000 in grants to teachers in several districts this year.
"The idea behind Bright Ideas is to help empower good teachers, to provide support outside of normal public school funding for great projects that deserve to be used in the classroom, yet need that extra assistance, said MCEC CEO Bob Paulling.