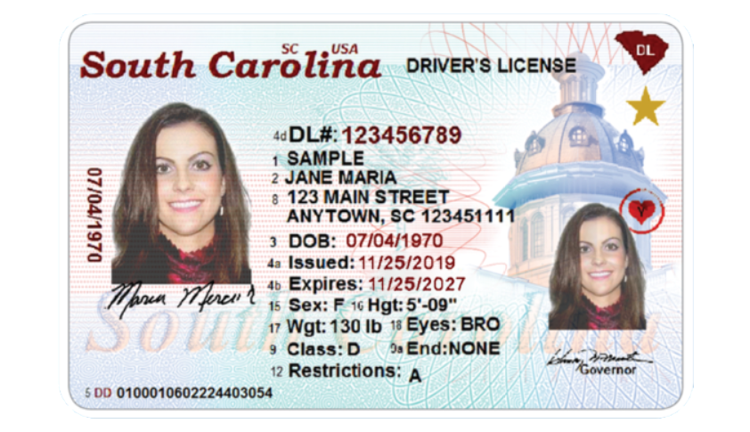 The South Carolina Department of Motor Vehicles will soon embark on a statewide tour, aimed at getting more residents their REAL ID driver's licenses or identification card.
Beginning Oct. 1, residents must have a REAL ID license or ID, or another federally accepted identification to board a domestic or commercial flight, enter a secure federal building, or visit a military installation.
Mobile office placement across SC counties will begin Jan. 6. According to representatives, it will be located in Lexington and Richland counties between March 23 and 27. One will be placed March 25 at the State House. The Lexington County location has not yet been determined.
"The agency is equipped with three mobile offices," said SCDMV Executive Director Kevin Shwedo. "Two of these offices can be setup anywhere, and the other is on wheels. We're going to visit every county over the next five months to make sure more South Carolinians have a convenient option to purchase a REAL ID."
The mobile units will be strategically placed for one day in each county over the next five months to serve as an additional convenient way to purchase a REAL ID. The offices will be operational from 10 a.m. to 2 p.m. and serve as another avenue for residents, if visiting a brick-and-mortar branch is not convenient.
The REAL IDs customers purchase at the mobile offices will be mailed to them after completing the transaction. No one will immediately walk away with the ID when they leave. The ID should arrive in the mail within ten business days of completing the transaction. If a customer is interested in completing other transactions, they should visit a branch office.
To purchase a REAL ID, customers must bring with them all of the following:
Proof of Identity (Government-issued birth certificate or valid US Passport)
Proof of Social Security Number (Social security card, 1099, non-1099, W-2)
Two Proofs of Current, Physical SC Address
Proof of All Legal Name Changes
Applicable payment ($25; cash, check, or card accepted)