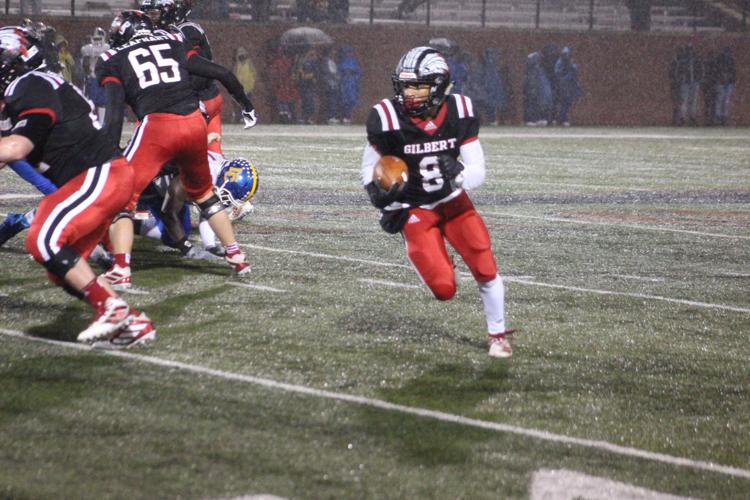 The last time Gilbert visited River Bluff High School, it left with the lone loss suffered this season.
Inclement weather Friday created what Indians head coach Chad Leaphart described as "swamp-like" conditions at Leonard Price Field. As a result, Gilbert found itself going back to The Swamp to play their second round Class 3A playoff game against Lake City.
The return visit had a much different outcome for the Indians. The 45-6 victory over Lake City saw them score 42 unanwered points after trailing in the first quarter.
Quarterback Jy Tolen threw for 296 yards and four touchdowns, two to Matt Reed, and the defense held the Panthers to 180 total yards. The win helped Gilbert (11-1) match its single-season school record for victories set two years ago and was the 40th for Leaphart at his alma mater.
"Our guys had a great attitude," Leaphart said. "They embraced what tonight was with the rain and cold and played up here at River Bluff. This was a good thing. Our field was a swamp and water standing on it. It really was not suitable to play at all for safety results. River Bluff folks stepped up, offered the stadium to us tonight and we really appreciate that. Our guys just had a great attitude, embracing all the challenges tonight to beat (Lake City). I'm real proud of them."
Gilbert caught adversity early in the first quarter. Avery Harrison scored from six yards to fall behind 6-3 with 4:55 remaining.
From there, it was all Tolen and the Indians. In a span of five minutes, he threw touchdown passes of 17 and 12 yards to Reed and a 12-yard score to Dre Harris to extend Gilbert's lead to 24-6 in the second quarter.
Ty Walker added a 11-yard touchdown run with 6:30 left in the first half. Leading 31-6 entering the second half, the Indians got a 92-yard kickoff return TD by Alec Holt and a seven-yard touchdown pass from Tolen to Jamais Holiday.
"From the start of the pre-game, it was all hyped up," Tolen said. "We were ready to go, so it just kind of carried through the game. Even though we got a field goal (29 yards from Rajan Cheema) on the 1st drive, we were still able to move the ball well."
As the lone top seed remaining in the Class 3A Lower State playoffs, Gilbert could potentially play two more home games to reach its first-ever state final. The first task awaiting the Indians next week is Dillon (10-1), a team which defeated them at home 34-7 in the third round two years ago.
"Our guys have gotten a little more experience at the playoff level now," Leaphart said. "A lot of these guys, a matter of fact, were sophomores in 2017 when they played in that Dillon game and now they're seniors. So, we've been through a couple of seasons. We've been through a couple of battles, so that experience I feel like will help us a lot and give us an advantage maybe we didn't have back in 2017."
Dutch Fork 45, Wando 0
The winning ways continued in the post-season for the defending 3-time Class 5A champion Silver Foxes.
Quarterback Ty Olenchuk and wide receiver Jalin Hyatt connected on four touchdowns and Jon Hall rushed for two scores to lead Dutch Fork (11-0-1). The newest Clemson University baseball signee finished with 228 passing yards, 127 caught on five passes by Elijah Spencer. Hyatt also caught his 50th career touchdown pass.
Hall finished with 124 rushing yards, 33 more than the entire Warriors' roster. Dutch Fork's defense held Wando to just 109 total yards with Tyrik McDaniel and Anthony DeMasi finishing with 7 tackles each.
The victory extended the Silver Foxes' undefeated streak to 37 games, their in-state winning streak to 36 and consecutive playoff wins to 17. They now head to Fort Dorchester for the third round playoff contest looking to extend a 22-game road winning streak. The Patriots were the last team to defeat the Silver Foxes on Sept. 1, 2017 which is their only win in six meetings.
Gray Collegiate 44, St. Joseph's Catholic 18
K.Z. Adams rushed for 205 yards and 3 touchdowns and added 50 receiving yards and two TDs as the War Eagles posted their school-record 10th victory of the season.
Quarterback Hunter Helms was 12-13 passing for 139 yards and two TDs. Gray Collegiate capped off its scoring in the fourth quarter with a defensive touchdown off a blocked punt.
Up next is a third round home matchup against defending four-time Class 4A champion Abbeville at a site to be determined.
Airport 42, Lower Richland 12
Bruce Staley rushed for 231 yards and three touchdowns and Nanders Lawrence added 123 rushing yards, including a 90-yard scoring run, as the Eagles defeated the Diamond-Hornets on the road to advance to the 3rd round for the first time since 1999.
Airport (9-3) will head on the road again next week to face undefeated defending Class 4A champion Myrtle Beach.
OTHER LEXINGTON COUNTY PLAYOFF SCORES
Brookland-Cayce 40, Wilson 6
Southside Christian 23, Batesburg-Leesville 7
Carolina Forest 36, River Bluff 25
(PHOTO BY THOMAS GRANT JR.) Gilbert wide receiver Jamais Holloway with the catch and run.