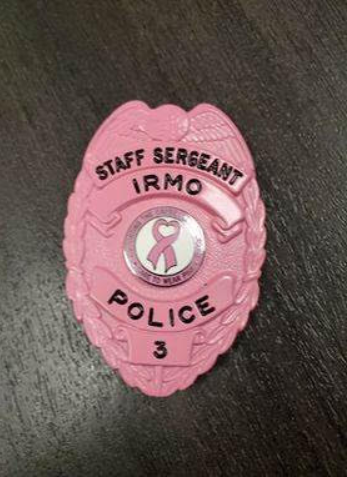 October is Breast Cancer Awareness Month, and there are a few departments in the Midlands making some additions to their daily appearance to promote awareness.
Members of the Irmo Police Department are sporting pink patches, badges, bracelets and pink ribbon car magnets on their patrol vehicles throughout the month. According to Captain Bobby Dale, The Karate Dojo provided the patches, and Cassell Brothers Heating & Cooling provided the funds to create the car magnets. Each officer wearing a pink patch and/or badge made a monetary donation in order to receive them.
"The whole idea behind it was to have the community spark conversations with our officers, and it also brings the awareness of breast cancer," Dale said. "Topics come up about getting checked, and we can refer them to websites like the American Cancer Society."
Other businesses like the Lexington County Coroner's Office are also participating by adding pink ribbon car magnets on their vehicles, and wearing the #operationcure bracelets.
Chief Deputy Coroner Candace Berry said she has a great appreciation for all who have realized the importance of raising awareness. "Without the enormous amount of support and research that has emanated from the attention breast cancer has received over the years, my mom may not have survived," she said. "I've known several women who, despite battling courageously, were taken from us far too soon."
Organizations like the Cayce Department of Public Safety are also participating. Additionally, the #operationcure bracelets, prompted by Irmo Police Chief Courtney Dennis, were provided to other local law enforcement agencies across the Midlands including the Lexington County Sheriff's Department.
"If this pink badge or pink patch brings up a conversation, and that conversation turns into a citizen researching and getting checked out, it's preventative. And it could save a life," said Dale.